PERU CLASSIC TOUR 14 DAYS
PERU CLASSIC DESTINATIONS
Lima - Paracas - Ica - Nasca - Arequipa - Colca Canyon - Puno - Lake Titicaca - Cusco - Sacred valley of the Incas - Ollantaytambo - Machu Picchu - Cusco - Lima.
TourPeru - PeruTravel - PeruTourPackages - DiscoverPeru - PeruTourOperator - MachuPicchuTours - NascaTour -PeruHotels - PeruHistory - PeruCulture - PeruBusses - Peruhighlights - PeruTourGuides - PeruExcursion - PeruTravelTours - Peru4You - MachuPicchu - CuscoPeru - ArequipaPeru - PunoPeru - LimaPeru -ToursInPeru - IncaTrailPeru - MachuPichuPeru - SandboardPeru - Perubuggy - LimaTours - Ollantaytambo - Trip To Sacred Velley Of The Incas - Fly Over Nazca Lines - Tour To Lake Titicaca - Excursion To Colca Valley - Private Transport In Peru - Luxury Public Busses In Peru - Peru Standard Tours - Classic Tours In Peru - Hotels In Peru - Trip To Ballestasn Islands - Guides For Paracas Nasca Reserve - Flora & Fauna Of Peru
TOUR DISCRIPTION
DAY 1: ARRIVAL TO LIMA - WELCOME TO PERU
Reception at airport of Lima and transfer to the selected hotel located in Miraflores or downtown of Lima - Each customer need to inform us their arrival flight to Lima to contact at correct time otherwise will be under customer responsibility.
If there is any change of your flight, or is delayed, or is cancelled for any reason please contact us by phone or e-mail as soon as you can.
DAY 2: LIMA - PARACAS - PISCO (SEA LEVEL)
At 6AM pick up from your hotel and then transfer to bus stop and then 4 hours of travel to Pisco/Paracas by luxury public bus (Private transfer is available under request with additional payment only) - Arrival to Paracas and around 11AM begin the first tour to the national reserve of Paracas - Coastal landscape with sea fauna - Short hike inside of this reserve where you will visit the natural rock formation as known as the Cathedral located next of Pacific Ocean - Mirador de lobos is located at the top of the huge cliff with nice view of the ocean scenery - Around 2PM stop in Lagunillas bay to enjoy beach and OPTIONAL lunch - For lunch you can try local dishes prepared with sea food - Late afternoon return to the selected hotel in Pisco or Paracas (B).
DAY 3: PISCO - SANDBOARDING & SAND BUGGY TOUR - NASCA (600M)
At 7:45AM pick up from your hotel of Paracas and short walk to port and there aboard one speed boat (up 25 people) and begin guided trip to Ballestas Islands - The tour includes to navigate around small rocky islands watching lot sea lions, pelicans, penguins of humboldt and more sea fauna - This tour takes not more than 3 hours and then retunr to Paracas bay.
Around 11AM will be a private transfer from Paracas to Ica - The journey takes 1 hour and includes drive along the desert and finally arrive to first place as known as "El Catador", this is small artisanal wineyard where local people still working using ancient technics to produce wine and Pisco (Grape brandy) - The Pisco is recognized as the national drink of Peru.
The next stop for will be in oasis La Huacachina located in middle of lot sand dunes - Here you will have a buggy for driving up and down on the dunes and practice sandbaording for about 2 hours - The buggy and sandboard will be the highlight of today - OPTIONAL lunch next of the lagoon and around 3PM private transfer from La Huacachina to the hotel in Nasca, this transfer takes 2 hours and end of activities of this day (B).
DAY 4: NASCA - NASCA LINES - AREQUIPA (2300M)
Today we begin the activities at 8AM without breakfast and transfer from hotel to airport - We really advice to bring your passport for check in the airport otherwise you are not going to aboard the light plane - In the airport maybe you have to wait more or less than 30 minutes to catch the flight, this is thanks to the air traffic over the lines or other reason can be the weather conditions in this region.
The flight over the Nasca lines will be in a light plane for 4, 6 or 12 people capacity - Each seat have windows to make good pictures of mysterious figures and lines on the Nazca plateau - The flight takes 35 minutes to watch more than 18 figures and many lines.
After the flight return to hotel to get your breakfast and around 11AM begin guided land trip to Chauchilla cemetery where there are real mummies as old as 2000 years, located on the right bank of the Chowchilla valley - The trip also includes visit to artisanal museum to get demonstration how the ancient Nazca civilization did their ceramics considered one of the best and finest one in South America - Free afternoon for personal activities or ALTERNATIVE trip.
At 10PM transfer to bus stop and and travel to Arequipa by luxury public bus for about 9hrs (B).
DAY 5: AREQUIPA - SANTA CATALINA MONASTERY - COMPLETE GUIDED CITY TOUR
Reception at the bus station and transfer to the hotel - Morning city tour to visit the Santa Catalina Monastery and the museum of Santuarios Andinos, were is the Juanita mummy; also know such as "The ice maiden". Afternoon is leisure for your personal activities - Stay at the selected hotel (B).
DAY 6: AREQUIPA - HUAMBO - CABANACONDE - COLCA CANYON (3280M)
At 7AM pick from your hotel and departure to the Colca canyon in our private 4WD, travel to see the rest of the north part of Desierto de Atacama and drive up to the highlands crossing the valley of Vitor, Alto Sihuas, El Pedregal - short explore the remains of Wary culture as knows Huacan - Visit the south part of the Volcanoes range named Pampa Qerqe - Ampato Mountain viewpoint (4300m). Descend to Huambo town (3200m) and short explore countryside surrounded by pre Inca terraces and huge mountains complete cover by wild flora.
At 1PM arrive to Cabanaconde (3280m) to have lunch and lodging. Late afternoon short trek to Mirador de Achachigua, nice lookout of the Colca canyon and villages located on the left bank of the canyon. Stay at the selected hotel of Cabanaconde (B - L - D).
DAY 7: COLCA CANYON - PUNO (3820M)
At 6AM country breakfast and 2 hours of trekking along the canyon following nice even trail with chance to appreciate condors flying the second deepest canyon in the world. At 9AM arrive to the Condor Cross viewpoint and wait for the Condors flights. Continue our private tour visiting several remote villages on the right bank of Colca canyon, where is possible to see colonial churches, handicraft markets and local, mountainous range and large area of terraces. Arrival to Chivay to have lunch and if time permit visit the hot spring of LA CALERA. Transfer to Puno through active volcanoes and snow-capped as Misti, Chachani, Chucura, Mismi, and Ubinas volcano. After 6 hours of nice journey arrive to the hotel in Puno located at 3800m (B - L).
DAY 8: PUNO - UROS AND AMANTANI ISLANDS (4200M)
At 6:45AM you will be picked up from your hotel. Travel and after 2 hours by motor boat and then you will arrive at the Uros Island. Fishermen and hunters inhabit the floating islands of the Uros. The residents of the Uros use the cattail, a type of rush, which grows in the lake, to create the conditions that ensure the islands stay afloat. The dense roots that the plants develop support the island. The roofs are waterproof and the houses are extremely humid because of the surrounding water.
Continue traveling in our boat, we will get the next island called Amantani, just arriving there will be first contact with local's families, they bring you up to the homes, there you get your accommodation for one night in basic typical room between the agriculture fields. The local family will supply yours all foods (1L - 1D - 1B). After lunch all the group together walk up to highest point of island, called Pachatata temple = 4200m. Is the best place to get pictures from all surround views of this blue sacred lake of the Incas. After the explanation of your tour guide, back to the homes to get your dinner and then you can go to enjoy typical dances with the local music players. Overnight in local family home (B - L - D).
DAY 9: EXPLORE TAQUILE ISLAND - PUNO (3820M)
At 7AM after family breakfast meet the entire group and travel by boat to the Taquile island, 2 and half hours crossing the lake you will arrive at the last place to visit. Visit and explanation about the live, culture, typical costume and every common activity at the main square, short treks around the island including lunch in the co-operative restaurant, there is also a co-operative shop on the plaza that sells exceptional woollen goods which are not cheap but of very fine quality. Taquile Island is famous for its craft production, particularly for its beautiful textiles. The island is narrow only about 1 KM wide, but 6 to 7 Km. long, on Taquile there are numerous pre-Inca and Inca ruins and Inca terracing.
At 4 or 5pm you will return to Puno (B - B - L).
DAY 10: PUNO - CUSCO (3400M)
At 6:45AM pick up from your hotel and transfer to bus stop - Today the bus ride takes around 10 hours with 5 stops along the way between Puno and Cusco - The bus joruney includes highlights of La Raya pass (4250m), Sicuani (Lunch), Raqchi and Pikillaqta archaeological sites - Arrival to Cusco (3500m) and transfer to the hotel - Stay at the selected hotel of Cusco (B - L).
DAY 11: DISCOVER CUSCO - COMPLETE GUIDED CITY TOUR
Morning Is Leisure For Personal Activities Or Optional visits - After lunch is a half day tour to visit the plaza de Armas, colony Churches, Qorikancha sun temple, Saqsayhuaman moon temple, Qenqo, Pucapukara and Tambomachay. Stay at the selected hotel (B).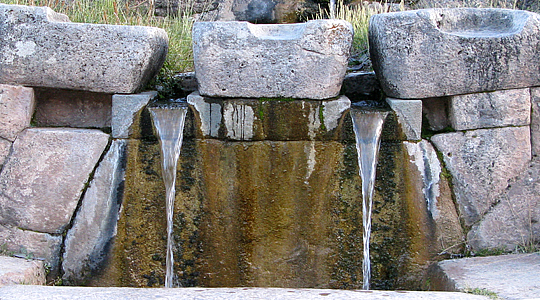 DAY 12: CUSCO - SACRED VALLEY - OLLANTAYTAMBO (2700M)
At 9AM you will be pick up from your hotel and start completely guide tour to lovely Sacred Valley of the Incas.
This tour includes visit to the Andean native markets and ruins of Pisac and Calca, stop for lunch in Urubamba, a visit to the beautiful Inca village and fortress of Ollantaytambo considered one of the most complex construction made by ancient Inca's civilization - Free time to walk around with local guide support.
At 4PM transfert to select hotel in Ollantaytambo and free time to explore this amazing town located int he heart of the sacred valley of thre Inca's(B - L).
DAY 13: OLLANTAYTAMBO - MACHU PICHU - CUSCO
At 5AM pick up and transfer from your hotel to the train station of Ollantaytambo - From Cusco to Ollantaytambo we travel by private van and this journey takes around 2 hours - Pluss other 2 hours travel by train to through the sacred valley of the Incas and the remote canyon of Vilcanota to Aguas Calientes village. Around 10AM aboard shared tourist bus to take us to up to main gate of Machu Picchu - This last part by bus includes to drive on unpaved road making more challenge the way up and seeing nice canyon and massive rock walls - Around 11AM begin private guided tour to Machu Picchu archaeological site, you will recognize the spectacular and mystical place of the last Inca royalty. The guided tour includes walk through the different section such as urban, agriculture, and the religions zone was used by the Inca Culture. According the coordination with the guide and your permit climb to Huayna Picchu Mountain (Young Mountain) this climbing take around 1 hour to get the summit from where you can have the best photos of all Machu Picchu and of deep green canyon surrounding the sacred Inca city - The permit to climb Wayna Picchu already included in the tour package, this permit need to be booked at booking time - In case you decide not to climb to Wayna Picchu the price will be same. At mentioned time descend to Machu Picchu and then free time to explorer on your own.
IMPORTANT: If you decide to climb the Huayna Picchu Mountain you must need to know the limit number for visitors is not more than 400 tourists per day, the climbing depends of the weather conditions.
At mentioned time aboard a tourist bus to descend to Aguas Calientes town. Optional lunch and then we travel by train to Ollantaytambo and then we catch the van to drop us to hotel in Cusco (4 hours) en end of service (B - L).
DAY 14: CUSCO - LIMA (SEA LEVEL)
The morning is leisure for shopping or personal activities follow by buffet lunch - Afternoon transfer to the airport and flight to Lima and end of the trip to Peru (B - L).
NOTE: If you like to stay one more night in Lima, let know us at the booking time to make reservation in the hotel.
B = American breakfast / L = Buffet lunch / D = Tourist dinner / S = Snack
PERU CLASSIC TOUR INCLUDES
All transfers IN/OUT in each city
Luxury public transport according the program
Private transport for whole trip under request (Private Service only)
All mentioned tour with local official tour guide
All entrance fees according each excursion
All mentioned meals in each tours
12 nights in the selected hotels according the program
1 night stay with local family in the Amanatani island (Lake Titicaca)
Assistance in each airport/bus/train stations
Daily briefing of the next day tour
Internal flight tickets according the program
Airport tax according each domestic flight
TRIP RATE 2015
CATEGORY
OF ACCOMMODATION
SINGLE
OCCUPANCY
DOUBLE
OCCUPANCY
TRIPLE
OCCUPANCY
Backpacker
2* Hostels
$2452 USD each
$2264 USD each
$2143 USD each
Standard
3* Hostels or 2* Hotels
$2504 USD each
$2378 USD each
$2223 USD each
Comfort
3* or 4* Hotels
$2756 USD each
$2500 USD each
$2581 USD each
Luxury
4* or 5* Hotels
$3347 USD each
$2994 USD each
$2870 USD each
All prices stated above are subject to change.
Exchange rate $1 USD = S/. 3.02 (rate may vary daily).
Before you book this tour we recommend to check our terms and conditions,
CLICK HERE....

Tour
Schedule
2015 (Confirmed departure)
Everyday during all year.
PERU ADVENTURE TOURS recommend to book your tour 3 or 4 months prior you arrive to Peru.
Discounts
Discount: $10 USD of discount for South American Explorers Club Members
Discount 3%: Tour Operators or Travel Agencies Only
Students: $35 USD of discount only with valid green ISIC card
Group size
Up to 12 people per tour leader.
Organized Groups
We offer private service at any time/day according your request.
Rain season
December to April (Andes and Jungle), but some days are with blue sky permiting to get good views of the zone.
Best time to visit
The best time to visit Peru and explore is between April and June, before the high tourist season.
DON'T INCLUDED
Alcoholic drinks
Not mentioned meals
Optional excursions can be arranged in each destiny
International flight tickets from/to Lima
International airport tax $28.24 USD
Extra nights in hotels
Travel insurance
Alternative local tours
Laundry and phone calls
Tips for guide and camp staff
ADVICE FOR TRAVELERS
This tour is organized for all edges of travelers, don't demands good physical condition because there not hard activities to do. This package is dedicated to families.
WHAT DO YOU NEED TO BRING/CARRY
Rain jacket for the Andes and the Jungle
Waterproof boots
One complete change of clothing
Flashlight and batteries
Hat or cap to protect you from the sun
Sun block (sun protection cream)
Insect repellent
Toiletries, towel and toilet paper
Camera, plenty of film and spare batteries
Good sunglasses
Swimsuit is recommended to bring because there are some possibilities to find hot spring
Personal first aid kit
Extra money (soles)
CONTACT US
For more information about the tour or you request a new date to departure for this tour, please contact us....
Some of our clients e-mail us saying our confirmation e-mails are placed to their spam folder rather than their inbox. We recommend to modify your JUNK or SPAM FILTER SETTINGS to receive our e-mails
peruadventurestours@hotmail.com
on the correct inbox. You may also want to add this email address to your list of known contacts. This will prevent our responses from being filtered into your Junk or Spam mail folder.