ADVENTURE TOUR IN THE COLCA CANYON SINCE $1115 USD Per Person
Rock Climbing – Mountain Bike - Zip Lining – Horseback Riding – Hiking and Off-roading Tour In 6 Days
The Colca canyon is the most popular destination for tourism in
Peru
– The land of the Colca canyon offer a remarkable variety of experiences as snowcap and volcanic wonders to watching condors soaring majestically on thermal currents over the Colca canyon and enjoys a friendly welcome with local people at homestays.
Adventure travel or adventure tours in the Colca canyon as known as the second deepest canyon in the world was design involving exploration to remote, amazing and possibly hostile areas. Adventure sports offer tourism is rapidly growing in popularity thanks to our experienced tour guides and our tour company (
www.peruadventurestours.com
).
The adventure tour in the Colca canyon offer a wide selection of outdoor activities as rock climbing, mountain biking, zip lining, horseback riding, hiking, camping and other experience as hot spring therapy and fully cultural and historical information of the Colca valley.
If you are adventure travel and looking for amazing adventure vacation join our 6 days tour to the Colca canyon available from April to December – One of our professional tour guides will bring you to discover and explore every corner of the Colca region living its history, culture, nature, ADVENTURE and much more in a single destination.
Welcome Peru …. Welcome to enjoy the adventure with us….
Colca Canyon Adventure Tours - Adventure Tours In The Colca Canyon - Adventure Sports In The Colca Canyon - Peruvian Colca Trails - Colca Valley Adventure Trips - Peru Adventure Tours - Peru Tour Colca Trek - Tour Colca Canyon Adventure Trekking - Adventure Source For Colca Canyon - Adventure Travel Guide In The Colca Canyon - Kolka Canyon - ToursColkaPeru -
DAY 1: AREQUIPA – MOLLEPUNKO CAVE PAINTINGS – LA VENTA DEL COLCA ROCK CLIMBING – LOS CASTILLOS ENCANTADOS DEL COLCA - SIBAYO/CALLALI HOMESTAY ABOVE 3800M
Today you will be picking up from your hotel at 7AM and aboard the private transport and travel to the second deepest canyon in the world, driving on the left side of Chachani mountain (6070m), continue going up to 4200m, is a Natural Reserve of
Salinas and Aguada Blanca
, is the nature habitat for the Vicuñas, one of South American camelidos, groups of Llamas, Alpacas, small lakes (Bofedales as known as wetlands) which is home for andean birds as andean goose, pink flamigos and others, highlands views of huge volcanoes and volcanic range of south of Peru.
After 3 hours of driving on good highway we take a gravel and bumpy road to
Las ventanas del Colca
(The rock windows of Colca canyon) located on the upper zone of the canyon from where you can see the Andean valley and rock formations thanks to volcanic eruptions, the wind and heavy rains for hundred thousand years – Around 11am we arrive to the base of the huge rock walls up to 150m high – The tour guide will start with safety instructions and recognize of the rock climbing equipment/gear to be used to enjoy the walls above 4300M about sea level – The route to climb are available for beginners and experience rock climbers (top rope & free style)– We rock climbing until 5pm and then transfer to Callaly or Sibayo (3800M) to enjoy diner with local family and homestay (L - D).
If time permit you can visit the thermal baths of Callalli located next of the town - The familiar lodge offer rooms with shared bathroom/cold shower and plenty Alpaca blankets to sleep warm.
DAY 2: SIBAYO/CALLALLI – BIKING IN THE COLCA CANYON – SIP LINING OVER THE COLCA RIVER – HOT SPRING – CHIVAY
Today the tour guide will be prepare memorable breakfast offering you plenty of pancakes, fry eggs, coffee or coca tea, granolas with yogurt or fruit salad and local bread – big breakfast for challenge biking and zip lining in the Colca canyon.
Around 8AM we take the helmets, gloves, sunglass, bottle of water, camera, sunscreen to do mountain bike tour from Sibayo to Chivay (3600M) following gravel road and then Inca path along the canyon – Mostly of the route is flat, some sections of uphill but mostly downhill seeing lot pre Inca terraces, remote village, friendly local people harvesting potatoes, beans, corn or quinua – During biking you can see narrow canyon making very attractive for best pictures of unique places where other tourists never go thanks to guides without experience.
After 5 hours of fully mountain biking tour in the upper zone of the canyon we arrive to Chivay to have buffet lunch and around 3pm transfer to do zip lining over Colca canyon – This trip takes 1 hour and includes few times of zip lining to cross from one side to other side of Colca River above 3oom of high and you will feel flying as Condor conquering cold winds of the Andes. After zip lining you can jump to the thermal pools for 1 hour – Thanks to 45°C you can enjoy the medicinal water relaxing your muscles or you can order ADDITIONAL massage for $15 USD. Around 6:30PM transfer to Chivay for diner and rest in comfortable hotel (B – L - D).
ALTERNATIVE: After diner you can visit the planetarium of Maria Reiche (Hotel Casa Andina) where experienced exhibitors show and explain about Andean constellation, about the stars and offer to watch using professional telecopy – This cost $12 USD per person and can be paid directly just before the show.
DAY 3: HORSEBACK RIDING THROUGH THE OLCA CANYON – PINCHOLLO
At 7AM is the breakfast at the hotel and travel to Yanque village, from where we will star to ride our horses, this day you will go on a longer ride through the Colca valley with our friendly horseman, you will see spectacular pre-Inca terraces along the Colca river, colony churches, pre Incas ruins, Ichupampa and Lari village, they are typical villages on the left bank of the river and the trail is mostly even.
At 12PM after four hours of riding arrive to Lari, where we will have lunch and continue riding between the terraces, going down to the bottom of the Colca River and crossing to right side of the Canyon and then we uphill to Pinchollo village (3400m) where will stay in a basic accommodation, but in a nice green area surrounded by high mountains like Mismi, Hualca Hualca and Bomboya (B - L - D).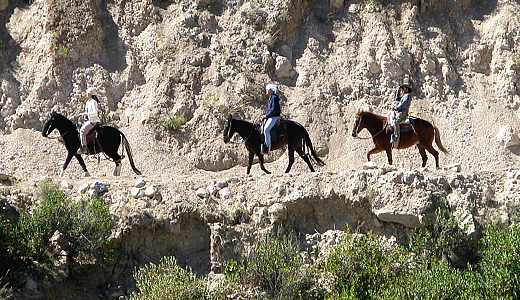 DAY 4: CONDOR CROSS LOOKOUT – HIKING INTO THE COLCA CANYON – SAN JUAN DE CHUCCHO
At 6AM is the breakfast and travel 2 hours on our transportation to the famous Condor Cross, at this place is possible to appreciate the fly of Condors or sometimes seating on the big rocks, two hours spending looking this amazing and biggest flying bird in the world and then transfer to the trailhead on the left bank of the canyon - At 10AM we start the trekking in the Colca Canyon descending for 4 hours to the Colca River (2160m) and then descent of 1300 meters above sea level. We will arrive to the bottom of the canyon and cross the river by suspension bridge to the other side of the canyon and begin our ascent upward following nice path through terraces and fruit trees.
2PM we arrive to the lodge and resting place in San Juan de Chuccho village (2300 meters above sea level) and the local family will serve delicious and energetic lunch to recover energy – Siesta and then OPTIONAL walk around to recognize this nice valley into the canyon – Diner and stay in a room with private bath and hot shower (B – L - D).
DAY 5: SAN JUAN DE CHUCCHO VILLAGE - COSÑIRHUA AND MALATA VILLAGE - PACLLIA CACTUC FOREST - LLAHUAR HOT SPRING
At 7AM country breakfast and then star the trek through pre Inca terraces and fruit trees along the way. After 1 of hiking up arrival to Cosñirhua village where we visit a local family, they will show how make their own economy according nature resource of this area. Continue hiking we stop to visit a local museum of flora and fauna of this region. Cosñirhua and Malata (2600m) are located on right bank of the canyon and protected by mountainous range.
Hiking through cactus forest and seeing the majestic Colca River and huge volcanic cliffs on the both side of the river, along the way is possible to pick up plenty of cactus fruits (January to May) and if you are lucky is possible to see Condor flying over the mountains look for their food. After 4 hour of trekking across Pacllia valley, this village is complete cover by Tuna cactus and makes very interesting to see many type of birds, medicinal plants and local people working on their daily activities just next to our trail. After 6 hours we cross the Llatica River by raft bride and from there continue to Llahuar lodge. Llahuar is a nice and peaceful place running by local family. Lunch is located between the encounter of Colca and Llatica Rivers and that makes very nice place to spend the night. After lunch you are free all afternoon to enjoy the hot spring (40ºC) next of the river.
OPTIONAL fishing river trout or walking around the lodge seeing hummingbirds, falcons, eagles and if you are lucky is possible to watch Condors flying around.
At 7PM nice dinner accompanied by wonderful starry sky over the mountains, tonight we stay in bamboo cabins (B – L - D).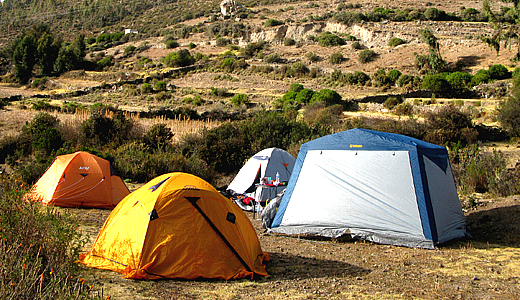 DAY 6: OFF-ROADING IN THE COLCA CANYON - AREQUIPA
You can wake up at 5AM or 6AM we breakfast as we watch the sunrise light up the canyon. A short (two hour) relatively level trek along the left bank of the Colca River, takes us across abandoned terraces completely covered by cactus through a small valley called Soro (2050m). All too quickly we pass abandoned farms and several working farms, pick our last tuna (January to April), offered by the farmers and then we cross a suspension bridge over the Colca River to meet our 4WD.
It's a breathtaking drive back up the canyon along a serpentine road smoothly executed by our experienced drivers. The views beckon us to make several photographic stops because it's hard to imagine that what's to come can quite match the current scene. The magnificent views continue for the next as we make our way to Huambo (2900m), a village surrounded by green terraces, a lovely town square, and a different group of people (do you know their ethnic identity?) wearing different local dress. At the highest point of our journey in the Andean range, at the "Mirador del "Ampato" we have a good view of the Ampato, a snow covered mountain. In 1995 the mummy of 14 year old "Juanita" was found by climbers. We continue on to see two small volcanoes in the vast Pampa de Qerqe (whose summit is only 300m). Descend to the coast of Arequipa and then we take the Pan-Americana highway to your hotel in Arequipa and end of this adventure tours(B – L).
ADVENTURE TOURS IN THE COLCA CANYON INCLUDES
Certifiedl English-speaking guide
Private four wheel drive (4x4)
1 night with local family in Callally or Sibayo
2 nights of comfortable hotel
2 nights of accommodation in bamboo huts
Entrance to the park and hot spring pools
All the foods (5 breakfasts - 5 lunches - 5 diners)
Safety gear for rock climbing, biking and zip lining
All food and accommodation for our camp staff
Food and place to stay for the horses
Camping gear (Four season tents & mattresses) only if you like to camp next to the river between the pre Inca terraces, confirm at the booking time
Oxygen bottle and first aid kit for participants and our camp staff
TOUR SCHEDULE & COST 2015
DATE
TOUR
COST
Any day between April to December

ADVENTURE COLCA CANYON HORSEBACK RIDING TOUR $1115 USD Per Person

Rock Climbing – Mountain Bike - Zip Lining – Horseback Riding – Hiking and Off-roading Tour In 6 Days


Backpacker Service
Not applicable

Private Service (Private van And Guide)
2 participants $1115 USD each
3-4 participants $934 USD each
5 to more participants $850 USD each
Discount: $5 USD of discount for South American Explorers Club Members
Discount 3%: Tour Operators or Travel Agencies Only
Students: $5 USD of discount only with valid green ISIC card
Organized Groups: We offer private service and any time/day according request
Group size: 6 participants per guide
BOOK HERE: We highly recommended to book space prior you arrive to Arequipa and take Private Service
NOT INCLUDED
Travel insurance
International or national flights
Hotel in Arequipa
Alcoholics and soda drinks
Breakfast on the first day
Tip for camp staff
WHAT YOU NEED TO BRING
Day backpack to carry personal items during riding time
Sleeping bag (can be hired from our office for $5 USD per day) only if you like to camp on the first or second day.
Rain jacket or poncho (December - April).
Strong comfortable and waterproof footwear.
One complete change of clothing.
Sweater and jacket (something warm).
Bottle of water and purification tablets (Micropur are recommended and can be bought in local pharmacies in Arequipa).
Flashlight and batteries.
Hat or cap to protect you from the sun.
Sun block (sun protection cream).
Toiletries, towel and toilet paper.
Swimsuit (for the hot springs in the Colca canyon).
Selection of small snacks, chocolate, dried fruit, biscuits, etc.
Camera, plenty of film and spare batteries.
Sunglasses.
Extra money (soles) for tiping or to buy some souvenirs.
CONTACT US
For more information about the tour or you request a new date to departure for this tour, please contact us...
Some of our clients e-mail us saying our confirmation e-mails are placed to their spam folder rather than their inbox. We recommend to modify your JUNK or SPAM FILTER SETTINGS to receive our e-mail
peruadventurestours@hotmail.com
on the correct inbox. You may also want to add this email address to your list of known contacts. This will prevent our responses from being filtered into your Junk or Spam mail folder.