4x4 EXPEDITION AND TOUR FROM CUZCO COLCA CANYON AND AREQUIPA $994 USD Per Person
From Inca's Empire To The Deepest Canyon In The World 3 Days - 2 Nights
PERU ADVENTURE TOURS begins to offer this tour on 2006 with the best available 4x4 trucks to guarantee a comfortable journey on the most remote places of the high Andes.
This tour was created after received many requesting from our customers, who wants to travel directly from Cusco to the Colca Canyon and end of 4x4 expedition is in Arequipa.
During this tour the 4WD drop us by the dirt road, green valley, and Andean plateau, remote Andean villages, passing between blue lagoons and seeing lot of flora and fauna on the Altiplano of Peru.
All this tour is possible be done only with our experienced tour guides and drivers, who know very well every corner of this region between Cusco and Arequipa, the tour package include also lodging in the Colca canyon (Chivay or Yanque), and other needs to visit the wonderful Colca Valley.
For more adventurous people like to spend more days and discover more attraction walking through the Andean scenery, we recommend to book three days tour, include one night camping and another night stay in hotel in the Colca Canyon. The Tour from Cusco to the Colca Canyon and Arequipa can be done only on the dry season, the rain begins on December and ends on April.
We recommend making your reservation 4 or 3 months prior you arrive to Peru and make sure your tour departure.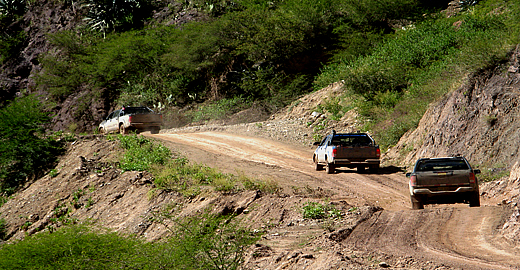 DAY 1: CUSCO - ANDAHUAYLILLAS - CUSIPATA - PUMACANCHIS LAGOON - ACOPIA LAGOON - LANGUI LAGOON - CAMPING OR YAURI/ESPINAR
The tour begins from your hotel at 6am, the tour guide, the driver and our 4x4 machine will be there waiting for you.
The travel goes through the southern of Cusco, we will pass Saylla, Quispicanchis, Huacarpay, Andahuaylillas; the main attraction is the "Church of San Pedro of Andahuaylillas". Using a common form of intimidation throughout the new world, by the Conquistadores; this Catholic Church, was built in 1631, after the conquest, on the base of an ancient Inca temple.
Cusipata is the last small town located on the southern of Cusco, from there we will take unpaved road up to Pumacanchis Lagoon, where is possible to visit the trout farmers and short trek along the blue lagoon.
After 2 hours of trekking we drive to visit other lagoons as know Acopia, Yanaoca and finally arrive to Langui lagoon, this last lagoon is the biggest on this circuit as know "Cuatro Lagunas" (4 lagoon circuit).
After lunch served around the lagoon we will set up the tents and free afternoon to walk through the village and the lagoon.
Campfire and camping under starry sky (L - D).
IMPORTANT:
If the weather is not good or customers decide not making camping around the lagoon and easily you can be drop off in a comfortable hotel in Yauri (Espinar) and spend the night there.
DAY 2: LANGUI - YAURI/ESPINAR - CHIVAY - CONDOR CROSS - CABANACONDE - LLAHUAR LODGE
Before breakfast you will appreciate spectacular view of the big lagoon located between two mountain ranges as known Cerro Condorsenca and Cerro Yanaorco. Wonderful sunrise over the mountains and the lagoon. Breakfast and packing the camping gear and continue driving up to 4600m is the highest pass until the next Andean town named Yauri (3870m), there the population are dedicated to be farmers with minimum possibilities to practice agriculture activities. The 50% of men population work as miner for huge mining company (gold, silver and cooper). From Yauri we will take a dirt road through the mountains and small flogs of Llamas, Alpaca along the road. Arrive to Condoroma repress and short stop at lookout to see the color contrast between the lagoon, grass, rocks and the mountains.
After 5 hours of nice drive looking the real Andean scenery and human life of this part of Peru, we descent to begin of the Colca canyon, located above 4000m. This canyon is named Los Castillos de Callalli, where are huge cliffs and rock formation since thousands of years ago located next of Colca River.
Callalli is small farmer's town located in the intersection of two rivers, they are trout farmers and also the people here practice rudimentary agriculture system all year.
Two hours more traveling on unpaved road arrive to Chivay (3600m), the lunch will be served in Chivay and from here we travel through pre Inca terraces along the Colca River, visiting small colonial towns, colonial churches, viewpoint of the canyon and also stop at the Condor cross lookout to appreciate the magnificent of the second deepest canyon in the world.
Continue driving we arrive to Cabanaconde for late lunch, this little town is surrounded by pre Inca terraces to cultivate the best maize in the canyon.
At 2pm we descend to the bottom of the canyon following serpentine a dirt road getting spectacular view of the contrast of colors on the wall of the canyon. After one hour descending in the 4x4 truck arrive to Soro Valley, this is abandoned valley located in the right bank of Colca River. We cross suspension bridge over the river and we walk 2 hours along the river to get the lodge named Llahuar - The lodge is close to the thermal baths which is located between the encounter of Colca and Llatica Rivers.
Enjoy the thermal baths, dinner and then rest in small bamboo huts without bath but with impressive view of starry sky (B - L - D).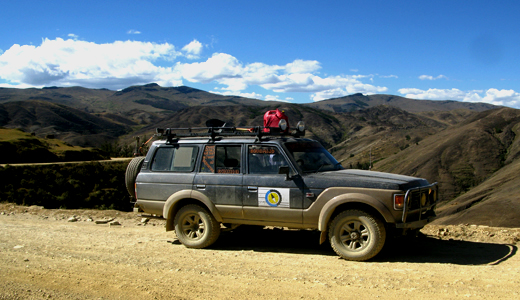 DAY 3: LLAHUAR LODGE - HUAMBO - EL PEDREGAL - AREQUIPA
Today we will wake up at 5 or 6am we breakfast as we watch the sunrise light up the canyon. A short (two hour) relatively level trek along the left bank of the Colca River, takes us across abandoned terraces completely covered by cactus through a small valley called Soro (2050m). All too quickly we pass abandoned farms and several working farms, pick our last tuna (January to April), offered by the farmers and then we cross a suspension bridge over the Colca river to meet our 4WD. It's a breathtaking drive back up the canyon along a serpentine road smoothly executed by our experienced drivers. The views beckon us to make several photographic stops because it's hard to imagine that what's to come can quite match the current scene. The magnificent views continue for the next as we make our way to Huambo (2900m), a village surrounded by green terraces, a lovely town square, and a different group of people (do you know their ethnic identity?) wearing different local dress. At the highest point of our journey in the Andean range, at the "Mirador del Ampato" we have a good view of the Ampato, a snow covered mountain. In 1995 the mummy of 14 year old "Juanita" was found by climbers. We continue on to see two small volcanoes in the vast Pampa de Qerqe (whose summit is only 300m). We travel to the coast.
El Pedregal (1400m) long green valley in the middle of the driest area located on the both site of the Pan Americana highway; from here we drive on nice paved road passing small canyon valleys as Silluas, Vitor and La Joya.
Around 6pm arrive to the selected hotel in Arequipa (not included) and end of this amazing tour (B - L).
NOTE
If you like to visit the Condor cross lookout, we recommend to wake up at 4:30am to have breakfast and then walk to find our 4x4 transport and 1 hour drive to see the condors at the Cruz Del Condor.
Today lunch will be box lunch (cold lunch) somewhere on the way, with nice view founded by your guide.
INCLUDED
Official English speaking guide who knows very well this route
Private 4x4 transport with 6 seats capacity and rack for luggage (Cusco - Colca canyon - Arequipa)
1 alternative night of camping, include 3 capacity tent (four season tent) - 2 persons per tent with plenty space for backpacks
Double thickness foam sleeping mattress or inflate mattress
1 night of lodging in the bottom of Colca canyon
Entrance to Andahuaylillas church
Entrance fee to the National Park - Colca Canyon (some tour operators don't include this ticket)
2 breakfasts - 3 lunches - 2 dinners
First aid kit for all participants and our cam staff
Food and camping gear for our camp staf
TOUR SCHEDULE & COST 2014
DATE
TOUR
COST
Any day
(April - November)
4x4 EXPEDITION AND TOUR FROM CUSCO COLCA CANYON AND AREQUIPA $994 USD Per Person

From The Andes To The Colca Canyon In 3 Days - 2 Nights
Backpacker Service
Not applicable

Private Service (Private 4x4 and guide)
2 participants $994 USD each
3-4 participants $851 USD each
5 to more participants $734 USD each
Discount: $5 USD for South American Explorers Club Members
Discount 3%: Tour Operators or Travel Agencies Only
Students:$5 USD of discount only with valid green ISIC card
Organized Groups: We offer private and any time departure
Group size: 4 participants for each 4x4
We highly recommended to book space prior you arrive to Peru
NOT INCLUDED
Travel insurance
Hotel in Cusco & Arequipa
Alcoholic and soft drinks aduring the whole tour
Breakfast on the first day and dinner on thelast day
Laundry service and taxi services
Tip for guide and camp staff
WHAT TYOU NEED TO BRING/CARRY
Summer and winter clothes
Rain jacket or poncho (plastic ponchos can be purchased in Cusco. raim season between December to April)
Swimsuit for the hot spring of La Calera
Hat or cap to protect you from the sun
Sun block (sun protection cream)
Toilet paper
Selection of small snacks, chocolate, dried fruit, biscuits, etc
Camera, plenty of film and spare batteries
Sunglasses
CONTACT US
For more information about the tour or you request a new date to departure for this tour, please contact us....
Some of our clients e-mail us saying our confirmation e-mails are placed to their spam folder rather than their inbox. We recommend to modify your JUNK or SPAM FILTER SETTINGS to receive our e-mail
peruadventurestours@hotmail.com
on the correct inbox. You may also want to add this email address to your list of known contacts. This will prevent our responses from being filtered into your Junk or Spam mail folder.