SEMI & PRIVATE TRANSFER FROM CUSCO TO PUNO OR VICEVERSA SINCE $75 USD Per Person
PRIVATE TRANSFER FROM CUSCO TO PUNO OR VICEVERSA - RATE 2012

2 People

3 People

4 People

5 People

6 People

7 People

$358 USD
each

$335 USD
each

$320 USD
each

$300 USD
each

$270 USD
each

$253 USD
each

INCLUDES: Pick up from your hotel in Cusco/Puno - Private transport automobile or van, the vehicel vary according the size of travelers – Luggage rack – English-Speaking tour guide – Entrance to Andahuaylillas, Raqchi, Pucara – 4 stops during the guided tour - Drop off in your hotel of Puno/Cusco.

DEPART: This tour can be leave from Cusco or Puno at any time (according the passanger request). Don't forget to tell us what time do you will like to start this service.

NO INCLUDED: Hotel in Cusco or Puno - Soft and alcoholic drinks and lunch.

IMPORTANT: The costumers most tell us the name, address and phone number of the hotel in Cusco or Puno to contact of drop off after the service. The journey takes between 9 to 10 hours according the time your expend in each place where the tour stop to see the attraction.
DAILY BUS GUIDED TOUR FROM CUSCO TO PUNO OR VICEVERSA $75 per person
This tourist service leave every day during all year, we recommend to make your reservation in advance to guarantee your number seats. After you make book online booking we will bring the bus ticket to your hotel in Puno or Cusco. At booking time don't forget to tell us the name, address and phone number of the hotel to contact you one day before the bus journey.
The tourist bus depart at 7am from the bus station in Cusco or Puno. The journey takes around 9 hours making 5 stop along the way to visit archaeological sites, colonial churches and spectacular view point of Vilcanota range and amazing bus ride on the grassland - Altiplano.
PERU ADVENTURE TOURS offer special price for large group of travelers on this route... don't hesitate to ask for any advice or question about this amazing tour on Altiplano of Cusco and Puno.
GUIDED BUS TOUR INCLUDES
Transfer from hotel to bus stop
Aboard English-speaking tour guide
All entrance fees to National reserves or archaeological sites
Buffet lunch served in Sicuani
Luggage storage
NOT INCLUDED
Hotel in Cusco or Puno
Internal flight tickets
Breakfast and dinner on the day of travel
Hotel or flight confirmations
Soft or alcoholic drinks
Transfer from bus stop to hotel after you arrive to the destiny
All prices stated above are subject to change.
Exchange rate $1 USD = S/. 3.02 (rate may vary daily).
BUS STOPS
CUSCO: Avenida La Paz A-3 - Urbanizacion El Ovalo – Huanchaq.
PUNO: Avenida La Costanera 430 (half block from the hardboard).
BUS GUIDED TOUR ITINERARY
ANDAHUAYLILLAS VALLEY
The village of Andahuaylillas (3450m/11335 ft) is about 36 km southeast of Cusco. The original name is Antawaylla, Quechua name means "field of copper" - is a small village said to have a benign climate and easy-going people.
The main attraction is the "Church of San Pedro of Andahuaylillas" Using a common form of intimidation throughout the new world, by the Conquistadores; this Catholic Church, was built in 1631, after the conquest, on the base of an ancient Inca temple. The church is a simple construction, made of thick adobe mud-brick walls, common in colonial buildings, and features a relatively modest structure: a single nave with a bell tower and a facade with two solid stone columns that stand out against the others around the main entrance. While the exterior of the church looks rather humble, it is the interior, that makes this one of the most valuable jewels of the colonial art in Peru, sometimes called the "Capilla Sixtina" or "Sistine Charpel" of America.
RAQCHI INCA COMPLEX
Raqchi is located on one side of the Vilcanota river at 3500 meters (11500 feet). It seems that its Prehispanic name was "Cacha" instead of "Raqchi". Archaeological complex featuring stone pillars topped with adobe. This complex town of multiple constructions, even the terraces to cultivate had different purposes. "Kanchas" (apartments), "wayranas" (three walls building), "qolqas" (storages), urns, he religious fountains, etc. The most important building is the "Wiracocha temple" that was built by the Inca Wiracocha in honour to the superior God for the Andean people: "Apu Wiracocha".
SICUANI TOWN
Sicuani is a relatively large highland town. The town is a major intersection, with the road to Puno/Arequipa passing through here. This town is surrounded by some very pretty hills.
Afterwards, you have a buffet lunch in our exclusive restaurant with family atmosphere.
LA RAYA PASS
This is La Raya pass Mountain views, 4310m - 14172 ft above sea level, here we have the chance to get out and breathe the air and take some photographs of grazing llamas and alpacas extend to the broad Altiplano horizon. This point is the conjunctions of the cordillera and the origin of the Vilcanota knot.
PUKARA COMPLEX
Pukara has been declared National monument in 1983, there exist the nice complex dating of 3000 years ago, considered the first civilized Andean culture. This culture was settling in the Andes before the Inca. They were a complex society, farming the hillsides much like modern Peruvians still do. images on Pukara pottery suggest the mountain dwellers valued the jaguars found in the Amazon lowlands. Spanish believes the Pukara would have settled near a route that gave them access to trade with the Amazon tribes who could provide them with the pelts.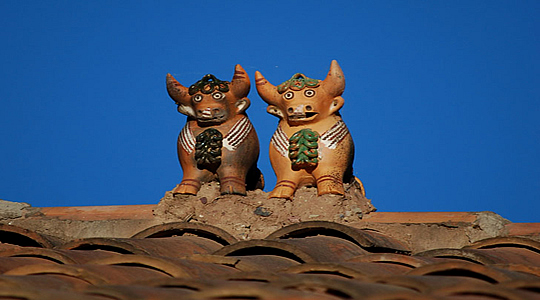 PUNO CITY
Puno is located in south-eastern Peru, about 3860m / 12421ft at the edge of Lake Titicaca; the world's highest navigable lake is surrounded by a group of beautiful islands full of color and wildlife. Puno is surrounded by 41 floating islands, such as Uros, Amantani, Taquile, Suasi and other islands. This is a historical land with ancient Quechuas communities as the Aimaras, Uros, Pacajes and Paquinas and also one of the most important cultures of the Andes. The Spanish found the ancient city of Puno in 1668. It is colourful and hospitable, a place where we could appreciate mixtures and tradition.
Visit the Uros, Amantani & Taquile islands, Sillustanis, Catamaran to the sun & moon islands on the Bolivian site with guide tour with PERU ADVENTURE TOURS.
CONTACT US
For more information about the tour or you request a new date to departure for this tour, please contact us.... Some of our clients e-mail us saying our confirmation e-mails are placed to their spam folder rather than their inbox. We recommend to modify your JUNK or SPAM FILTER SETTINGS to receive our e-mails
peruadventurestours@hotmail.com
on the correct inbox. You may also want to add this email address to your list of known contacts. This will prevent our responses from being filtered into your Junk or Spam mail folder.