LIMA CUSCO AND AREQUIPA COMPLETE GUIDED TOUR SINCE $1787 USD Per Person
Travel To The Ancient Peruvian Cultures 8 Days - 7 Nights
Lima Cusco and Arequipa tour combine the perfect program to visit the most popular region in south of Peru. Lima Cusco And Arequipa are dominated World Heritage Site by the UNESCO. These entire regions keep live Incan culture, colonial remains and modern style with charm people, nice geography, Pre and Incas archaeological sites, deep canyons, traditional food, spectacular seeing of the past.
Lima Cusco And Arequipa tour is dedicated for travelers lovers do discover the essence of capital of the kind, the empire of the Incas, and second deepest canyon in the world, considerate home of the Andean condor.
Lima Tours - Cuzco Tours - Machu´Picchu Tours - Arequipa Tours - Colca Tours - Chivay Tours - Information About Tours To Cusco And Arequipa - Escorted Tours To Visit MachuPicchu - City Tours In Cusco - Guided Tours In Arequipa - Peru Customized Tours In Peru - Information Of Traditional Tours In Peru - Peru Travel & Lodging - Andean Condor - Mirador Cruz Del Condor - Colca Canyon Information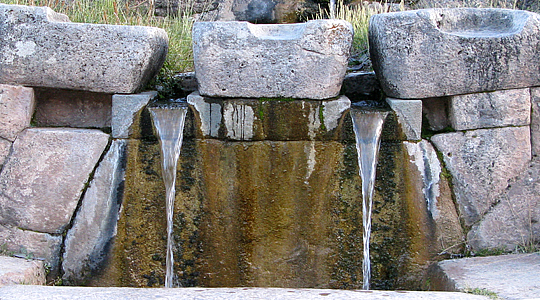 LIMA CUSCO AND AREQUIPA COMPLETE GUIDED TOUR DESTINATIONS
Lima - Pachamac ruins - Cusco - Urubamba - Ollantaytambo - Aguas Calientes - Machu Picchu - Pisac - Arequipa - Colca Canyon - Santa Catalina Monastery.
LIMA CUSCO AND AREQUIPA COMPLETE GUIDED TOUR ITINERARY
DAY 1: LIMA CITY - TOUR TO PACHACAMAC RUINS
At 8AM the tour begins in your hotel (Lima), first we drive into the hard of Lima were we will visit the Paseo de la República, San Martín Square, Main Square, Government Palace, Basilica Cathedral, the Archbishop's Palace, City Hall Palace, the old streets with colonial mansions and Moorish-style balconies, the Convent and Church of San Francisco and The Catacombs, underground crypts from the colonial times. At 1PM we stop for lunch in typical restaurant (included) to taste the best Peruvian art culinary.
After lunch one hour drive out of Lima where is the ancient pre-Columbian Pachacamac Pilgrimage Centre, this impressive archaeological site is located at the top of one hill next of fertile valley of Lurin and the Pacific Ocean. Our guide will start the walking tour into the most important sectors of Pachacamac as a temple for worshipping the Sun God, the complex is mostly constructed from mud bricks or adobe. The Temple housed an oracle and is considered as one of the Main Ceremonial Centres of pre-Hispanic Peru. Visit the great pyramid, going up by the ancient ramps that will lead us to the highest point, from where we will have a stunning view of Valley of Lurin and the Pacific Ocean. Afterwards we will go to the Temple of the Sun, built with four platforms with a trapezoidal shape, forming another pyramid. The Temple of the Sun was built by the Incas when they expanded their forces on the Peruvian coast. In its architecture is possible to recognize the classic Inca style. Pilgrims flocked here from far and wide to worship Pachacamac, believed to be the Creator of the World and all of its creatures. The best preserved area is the Inca-built section (1440-1533). One of the most preserve buildings is the Acllahuasi or place of the Chosen Women, a religious place dedicated solely to the service of the temples and the manufacture of fine textiles for the nobility. After to visit the complex we walk downhill to the visit the local museum housing where will see remains of the artistic expressions from the various cultures that inhabited the Sanctuary of Pachacamac, such as pottery, textiles and a great carved wood, which is believed to be representing the divine image of Pachacamac God.
Late afternoon come back to the client hotel (Lunch).
DAY 2: LIMA - CUSCO - SACRED VALLEY - OLLANTAYTAMBO - AGUAS CALIENTES
At 7AM transfer to the airport and flight to the heart of the Incas Empire, the flight takes one hour. Welcoming reception in the airport of Cusco by our official tour guide, then one hour of transfer to Urumbamba and Ollantaytambo (2700m) were you will receive complete guided tour of this wonderful sacred valley of the Incas, also we visit the archaeological site of Ollantaytambo, to visit this inca remain we climb the stony stairs to get the complex located on the slopes of the mountains. After visit Ollantaytambo site we have lunch at this charm town surrounded by the river and impressive snow-capped.
At 5PM we aboard our train to Aguas Calientes, journey take 2 hours in comfortable class through rocky mountain and cloud forest along the Urubamba River.
Stay in a hotel of Aguas Calientes town (2100m), if the time permitting you can visit the thermal pools (optional) located next of the hotel (Breakfast - Lunch).
DAY 3: AGUAS CALIENTES - FULL DAY MACHU PICCHU GUIDED TOUR
At 6AM breakfast and aboard the first tourist bus to drop us to Machu Picchu main door, and to be the first visitors Inside Machu Picchu archaeological site you will have complete guided tour of this spectacular and mystical place. The guided tour include walk through the different section such as urban, agriculture, and the religions zone was used by the Inca Culture.
According with your feeling will coordinating with the guide to climb Huayna Picchu (Young Mountain) this climbing take around 1 hour to get the summit from where you can have the best photos of all Machu Picchu and of deep green canyon surrounding the sacred Inca City. At according time descend to Machu Picchu and then free time to explorer on your own. Late afternoon we aboard a tourist bus to come back to the hotel in Aguas Calientes town (2100m). Optional visit the hot spring (Breakfast - Lunch).
DAY 4: AGUAS CALIENTES - CUSCO GUIDED CITY TOUR
At 8AM after breakfast aboard our train (Vistadome class) and 2 hours of travel back to Ollantaytambo. From Ollantaytambo continue to visit the second part of the Sacred valley of the Incas, today we visit Calca, Lamay, Coya and Pisac. The attraction we will the inca fortress along the valley, Andean markets such as Pisac and others. Stop for lunch in Pisac Town. Continue visiting this wonder region we drive up mountain to visit other Incas archaeological sites such as Tambomachay, Puca Pucara, Qenqo and finally Saqsayhuaman fortress. Early afternoon arrive to the selected hotel in Cusco and free time for personal activities (Breakfast - Lunch).
DAY 5: CUSCO - AREQUIPA - PAMPAS CAÑAHUAS VICUGNA RESERVE - COLCA CANYON - CHIVAY HOT SPRING
Today after breakfast at 7AM transfer to Cusco airport and 45 minutes of flight to Arequipa. Welcoming reception in the airport of Arequipa and start private tour to the second deepest canyon in the world, driving on the left side of Chachani Mountain (6070m), continue going up to 4400m, is a Natural Reserve of Salinas and Aguada Blanca, is the nature habitat for the Vicuñas, one of South American camelidos, groups of Llamas, Alpacas, small lake (Bofedales), highlands views (Pata Pampa 4850m), snow caps and volcanoes, will stop every place to get short break getting pictures from all each place you like.
At 2PM we will arrive in Chivay town, located over 3600m, there you will have Andean lunch, after that we supply your room, leaving our stuff and ready to a short hike for two hours to the pre Incas ruins called Uyo Uyo (optional) and then continue driving to the thermal's pools, two hours enjoying the hot spring.
At 7PM visit the Maria Reiche Planetarium, we invite you to immerse in the mysteries of the Colca Valley sky and enjoy the performance "Colca deep Canyon, deep sky". You can learn how the ancient inhabitants of the Andes interpreted the night sky according to their myths and beliefs. The performances include projecting constellations in the Planetarium dome as well as observing the stars of Colca's sky through a professional telescope. Overnight in the selected hotel (Breakfast - Lunch).
DAY 6: COLCA CANYON - CONDOR CROSS VIEWPOINT - CABANACONDE
At 6AM is the breakfast and travel 2 hours on our transportation to the famous Condor Cross, at this place is possible to appreciate the fly of Condors or sometimes seating on the big rocks, two hours spending looking this amazing and biggest bird in the world, also there are many villages at the deep part of this spectacular Canyon.
At 11AM continue we driving - Off Road tour by abandoned road to Cabanaconde home of the Cabanas people, this town is very recognized by local people because produce one of the best maize of the Andean. Stop for lunch at this town surrounded by pre Incan terraces and highest mountain on the both sites of the canyon. At 1pm continue driving to the deepest point of the canyon located down of Huambo. Huambo is farm town between mountainous ranges.
Continue traveling we climb up to 4300m is the Ampato viewpoint, were Juanita mommy (Ice maiden) was founded in 1995. Also is possible to appreciate Queñuales forest, the Queñuas is trees grow in the high Andes. Small volcanoes on the Qerqe plains, these volcanoes are part of the Andagua volcanoes valley located on other side of the Colca canyon.
We descend following a dirt route through small canyon to the coast, stop at Huacan valley were is possible to see the remains of the wary culture and the driest desert of Arequipeños plains.
At 4PM arrive to El Pedregal and from here we take the Panamerica highway to enter Arequipa, on the way we stop to see the Tuna cactus plantation, Siguas and Vitor valley and finally we pass the north of desierto de Atacama range, this desert comes from Chile and end in west of Arequipa city. Evening arrive to the selected hotel in Arequipa (Breakfast - Lunch).
DAY 7: AREQUIPA GUIDED CITY TOUR - FREE AFTERNOON
At 9AM begins of complete guided tour of the city. Arequipa is a city in southern Peru and the nation's second most important city. The city stands at the foot of the Misti volcano in the highlands. Arequipa has many fine colonial/Spanish buildings built of sillar, a pearly white volcanic rock used extensively in the construction of the city, from which it gets its nickname La Ciudad Blanca ("the white city"). On the tour you will see Yanahuara Main Square, Mirador de Carmen Alto, Plaza Mayor, Cathedral, Church and Jesuit Cloisters, Santuarios Andinos Museum of the Juanita Mummy "The ice maiden";, Santa Catalina monastery, Church and Cloister of San Lazaro and San Agustin Church and Fundo El Fierro.
Free afternoon for personal activities and stay in the selected hotel (Breakfast).
DAY 8: AREQUIPA - LIMA
At mentioned time we will transfer you to the airport and flight back to Lima to connect with your flight back home (B).
LIMA CUSCO AND AREQUIPA COMPLETE GUIDED TOUR INCLUDES
English-Speaking Guide for every tour mentioned in the program
Private van or public bus, according the program
Assistance in every airport, train or bus station
All mentioned food at program
6 nights of selected hotels
All mentioned tours according tour itinerary
Internal flight tickets from Lima - Cusco - Arequipa - Lima
Airport tax according each flight
Oxygen and first aid kit for participants and our camp staff
Train ticket from Ollantaytambo - Aguas Calientes (Backpacker class) - Ollataytambo (Vistadome class)
Food according tour itinerary
Entrance to every mentioned tourist attraction
TRIP RATE 2015
CATEGORY
OF ACCOMMODATION
SINGLE
OCCUPANCY
DOUBLE
OCCUPANCY
TRIPLE
OCCUPANCY
Backpacker
2* Hostels
$1833 USD each
$1804 USD each
$1787 USD each
Standard
3* Hostels or 2* Hotels
$1888 USD each
$1864 USD each
$1833 USD each
Comfort
3 or 4* Hotels
$2119 USD each
$2056 USD each
$1975 USD each
Luxury
4* or 5* Hotels
$2443 USD each
$2354 USD each
$2278 USD each
All prices stated above are subject to change.
Exchange rate $1 USD = S/. 3.02 (rate may vary daily).
Tour
Schedule
The tour can be depart any day according the request of costumers
Discounts
Discount: $5 USD for South American Explorers Club Members
Discount 3%: Tour Operators or Travel Agencies Only
Students: $5 USD discount only with valid green ISIC card
Group size
8 - 15 participants per guide
Organized Groups
We offer private service and any time/day according request
Rain season
December to April (Andes and Jungle), but some days are with blue sky permiting to get good views of the zone
Best time to visit
The best time to visit Peru and explore is between April and June, before the high tourist season
NOT INCLUDED
Hotel in Lima
Not mentioned meals and drinks
Not mentioned tours
International flight tickets from to Lima
International airport tax $28.24 USD
Extra night in hotels
Travel insurance
Rain gear
Tip for guide and camp staff
ADVICE FOR TRAVELERS
Book your space months prior your arrival to Peru, for booking and payment this tour you need to fill our
booking form
.
This tour designed for people never been over 3000m of altitude.
WHAT YOU NEED TO BRING/CARRY
Rain jacket is needed for the rain season (December to March)
Sandals and personal towel for the hot springs
One complete change of clothing
Hat or cap to protect you from the sun
Sun block (sun protection cream)
Insect repellent for Machu Picchu zone
Camera, plenty of film and spare batteries
Good sunglasses
Swimsuits, on the tour are many possibilities to find hot spring
Personal first aid kit
Extra money (soles)
CONTACT US
For more information about the tour or you request a new date to departure for this tour, please contact us....
Some of our clients e-mail us saying our confirmation e-mails are placed to their spam folder rather than their inbox. We recommend to modify your JUNK or SPAM FILTER SETTINGS to receive our e-mails
peruadventurestours@hotmail.com
on the correct inbox. You may also want to add this email address to your list of known contacts. This will prevent our responses from being filtered into your Junk or Spam mail folder.