NAZCA LINE FLIGHTS FROM PISCO $362 USD Per Person
Aerial Excursion To The Mysterious And Enigmatic Ancestral Draws
The flight over the Nazca Lines from Pisco is the excellent option to save your time. Mostly people travel down to Nazca expending 3 strenuous hours traveling each direction by bus along hot deserts of the coast line.
PERU ADVENTURE TOUR organize this flight tour package over the Nazca Lines from Pisco thinking about people like to enjoy more the coastal landscape from the air, the vast desert and large green valley's irrigated by rivers flu down from the high Andes of Peru.
To do this tour you must be in Pisco or Paracas where are the major hotels next of Paracas bay. The airport is located only 10 minutes away from Pisco or Paracas. The flies leave since 7AM until 3PM every day and but are subject to weather conditions and air traffic of the region - In case the weather in Pisco/Paracas or over the Nazca Lines is not clear enough for visibility of the pilot and the lines easily the the flight can be delayed one or two ours.
The fly from Pisco to the Nazca Lines is taking the Cessna Grand Caravan 2008 model for 12 people capacity and each seat have window down of the winds making easy to take good pictures of the scenery during your flight time. The flight about 1 hour and 20 minutes (more less) to see more than 23 figures, hundreds of lines and many valleys.
Aerial Tours To Nasca Line - Flight Over Nazca Line From Pisco - Nazca Lines Flight Departing From The Airport Of Pisco - Nazca Lines Flights - Nazca Lines Over-Flight From Pisco - NazcaFlights - Classic Nazca Lines flight - Information About Nasca Lines Trips - Nasca Airport Information - NazcaFlightsTours - Peru Nasca Line - Mysterious About Nasca Lines - Guided Tour To Nasca Lines - Tour A Las Lineas De Nasca - NazcaPeru - Nazca Lines Photo Gallery - Lines and Geoglyphs of Nasca & Pampas de Jumana - Trip Reviews About Nasca Lines - Nazca Travel Guide - Air Companies For Flight Over Nasca Lines - Figuras y Lineas de Nasca Peru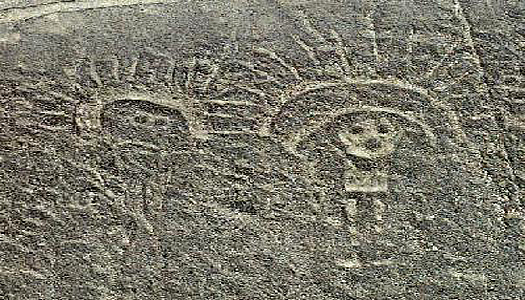 NAZCA LINE FLIGHTS FROM PISCO TOUR ITINERARY
At 8AM or late pick up you from hotel of Paracas/Pisco or from Ica and transfer to airport. Firstly our camp staff will show you a film about the aerial tour where we make special mention about Paracas and Nazca cultures, the film takes about 45 minutes and includes views of the lines and figures in different zone between Pisco, Palpa and Nazca.
Then you receive safety talking and basic information about the Nazca Lines and then aboard the Cessna Grand Caravan 2008 model.
The first you will see from the plane is Ocucaje valley (panoramic view of the mountains which are marine fossils 150 million years old), valley of Santa Cruz, valley of Palpa, valley of Viscas, valley Ingenio, where some of the Paracas and Nazca culture was located (800 BC - 700 AD ). The large ceremonial and administrative center of the Nazca culture (Cahuachi archaeological site), The Trapezoids (Airports ET), The Compass. Astronaut, The Monkey, The Dog, The Condor, the Spider, The Hummingbird, The Alcatraz or Flamingo, The Parrot, The Hands, and the Tree.
In addition fly show the pilot will show you six drawings NOT represented on the protected map of the INC (National Institute of Culture): The Jíquima (extinct potato), The Tupu (pin), The Pelican, The Zargazo, The Trident, and The Fan.
After 1 hour and 30 minutes of flight you will land in the airport of Pisco and then transfer to your hotel and end the service.
NAZCA FLIGHTS FROM PISCO INCLUDES
Pick up you form hotel or bus station of Pisco or Paracas
Transfer from your hotel or bus station to airport
An introductory historical video/film about the Nazca and Paracas culture
1 hour 30 minute flight over the Nazca Lines
Transfer from the airport back to your hotel
Airport tax
Drop off at your hotel or bus station in Pisco/Paracas
TOUR SCHEDULE & COST 2015
DATE
TOUR
COST
Any day


NAZCA LINE FLIGHTS FROM PISCO $362 USD Per Person

Aerial Excursion To The Mysterious And Enigmatic Ancestral Draws

Backpacker Service (Shared aircraft)
1 to more participants $362 USD each one

Private Service (Private van/guide)
Under request only
Discount: $5 USD of discount for South American Explorers Club Members
Discount 3%: Tour Operators or Travel Agencies Only
Students: $5 USD of discount only with valid green ISIC card
Organized Groups: We offer private service and any time/day according request
Group size: 12 participants per each aircraft
BOOK HERE: We highly recommended to book space prior you arrive to Peru
All prices stated above are subject to change.
Exchange rate $1 USD = S/. 3.02 (rate may vary daily).
NOT INCLUDED
Travel insurance for flight/trip cancel thanks to weather conditions
Hotel in Pisco or Paracas
Not mentioned meals
Not mentioned tours
Internal flight tickets from Lima - Pisco - Lima
International flight tickets from to Lima
International airport tax $28.24 USD
Extra nights in hotels
Travel insurance
Personal medicines
Tip for guide and camp staff
Phone calls, radio calls or messages
Reconfirmation of flights
Items of personal nature
WHAT YOU NEED TO BRING/CARRY
Summer clothes
One complete change of clothing
Hat or cap to protect you from the sun
Sun block (sun protection cream)
Insect repellent
Camera, plenty of film and spare batteries
Good sunglasses
Personal first aid kit
Extra money to buy some handycraft (soles)
IMPORTANT RECOMMENDATIONS
Every participant must bring their own valid passport for safety reason and
CHECK IN
before boarding the aircraft - The total weight of the aircraft is carefully controlled by the airline staff, If your weight is greater than 90 kilos (200 lbs) please let us know as at booking time - We strongly recommend to bring minimum personal things as camera and wear light clothing - We really recommend
NO
eat before your flight because easily you can get motion sickness or seasick. Please take advantage and get some generic sickness medication for better flight performance.
For more information about the tour or you request a new date to departure for this tour, please contact us....
WE WILL RESPONSE AS SOON AS POSSIBLE.
Some of our clients e-mail us saying our confirmation e-mails are placed to their spam folder rather than their inbox. We recommend to modify your JUNK or SPAM FILTER SETTINGS to receive our e-mail
peruadventurestours@hotmail.com
on the correct inbox.You may also want to add this email address to your list of known contacts. This will prevent our responses from being filtered into your Junk or Spam mail folder.