PERU ADVENTURE TOURS 24 DAYS
Horseback Riding - River Rafting - Quad Bike Tour - Mountain Bike - Amazon Jungle Expedition - 4x4 Off-Road - Mystical Experience - Dune Buggy - Sandboarding - San Fernando Marine Reserve - Downhill MTB
Discover why to come to
Peru
is such a great experience. PERU ADVENTURE TOURS invite you to visit the environmental diversity, the arid
coastal deserts
, the tall
Andean Sierras
and the
Amazon basin
.
Let us to show you the spectacular varied scenery, preserving the natural beauty of the snow-capped mountains, deepest canyon in the world, the longest chain of actives volcanoes, the thousand lagoons located between the Andes and the cloud forest, mysterious and remote places of
Peru
where you will appreciate the truly legacy on the Incas involved with rich archaeology and fascinating history of
Peru
.
That's
Peru
the most popular and amazing country to practice trekking, rock and
mountain climbing
,
mountain cycling
,
horse riding
,
white river rafting
,
kayaking
, fishing,
birding
,
sandboarding
,
sand buggy
,
quad bike
,
4x4 expedition
, living culture, and much more for backpackers and luxurious service.
PERU ADVENTURE TOURS offer custom adventure tours throughout
Peru
with extraordinary
guides
, charming hotels or the best camping equipment, the most selected private or public transportation and responsible camp staff. Our Adventure Tour is develop in the south coast and Andes of
Peru
, where is located the mythical capital of the
Inca Empire
and today is recognize as one of the seven wonder of the world. This ruin is known as
Machu Picchu
, the lost city of
the Incas
.
Don't wait more and make your reservation and come enjoy the best adventure tour in
Peru
.
Adventure Tours In Peru - AdventurePeruTours - Peru Tours & Travel Adventure - Eco Adventures In Peru - Adventure Holidays Peru - Adventure Vacations All Over Peru - AdventureTripsInPeru - Peru Adventure Hikes - Peru Adventure Travel Specialists - Peru South Adventure Tours - Peru Off The Beaten Track - Adventure Outdoor Activities In Peru - Adventure Trekking And Camping Activities - Peru Adventure People - Adventure Tours Guides In Peru - Peru Adventure Destinations
TOUR DESTINATION AROUND PERU
Lima - Sacred Valley Of The Incas - Machu Picchu - Cusco - Ocongate Region - Puerto Maldonado Jungle - Tambopata Macaws Clay Lick - Community Of Llachon - Lake Titicaca - Amantani Taquile And Uros Floating Islands - Puno - Chachani Mountain - Colca Canyon - Arequipa - Nasca - San Fernando Marine Reserve - Pampas Galeras National Reserve - Nasca Lines - Oasis La Huacachina - Ica - Lima.
DAY 1: WELCOMING TO LIMA
Reception Lima airport and transfer to the selected hotel, located in the heart of Miraflores district.
DAY 2: LIMA - SACRED VALLEY OF THE INCAS - HORSEBACK RIDING
At 7AM transfer to the airport of Jorge Chavez and flight to Cusco (1 hour). Reception in the airport Of Cusco (3400m) and then transfer by private van to the heart of the Sacred Valley of the Incas (2700m). Welcome lunch to taste the Andean cuisine. At 2pm we start our adventure itinerary with horseback riding through this wonderful fertile valley. The trip on the horse runs on the both side of the Urubamba River near of Ollantaytambo town. Visit the Ollantaytambo archaeological site located on the slope of huge snow-capped. Stay in nice selected hotel surrounded by pure nature and under tarry sky (B - L).
DAY 3: URUBAMBA RIVER RAFTING - SACRED VALLEY - AGUAS CALIENTES
Today we will have nice country breakfast served in the middle of nice garden and spectacular views of the mountains. Transfer to the river and after our safety briefing about the next tour we start to do river rafting on the water of the Urubamba River, you can enjoy rapids class II-III-IV according your requesting and cared by our professional tour guide and the emergency kayaker. After 6 hours in the river we come back to hotel to have lunch, and late noon aboard the train (Vistadome) and 2 hours of amazing journey from the Andes to the tropical jungle of Machu Picchu. Late evening arrive to Aguas Calientes and stay in the selected hotel, if the time permitting you can visit the hot spring next of the town (B - L).
DAY 4: MACHU PICCHU FULL DAY - CUSCO
At 6AM breakfast and aboard the first tourist bus to drop us to Machu Picchu main door, and to be the first visitors Inside Machu Picchu archaeological site you will have complete guided tour of this spectacular and mystical place. The guided tour include walk through the different section such as urban, agriculture, and the religions zone was used by the Inca Culture. According with your feeling we coordinating with the guide climb to Huayna Picchu (Young Mountain) this climbing take around 1 hour to get the summit from where you can have the best photos of all Machu Picchu and of deep green canyon surrounding the sacred Inca City. At according time descend to Machu Picchu and then free time to explorer on your own. At mentioned time aboard a tourist bus to descend to Aguas Calientes town. Lunch and then we travel by train to Cusco (4 hours), stay in the selected hotel in Cusco (B - L).
DAY 5: CUSCO FREE DAY
Today will be leisure day for personal activities or optional tour around Cusco. Stay in the selected hotel (B).
DAY 6: CUSCO - ATV TOUR - CAMPING IN URCOS VALLEY
At 8AM after breakfast you will feel the thrill of four-wheeling, while tuning with the region's natural beauty. Your adventure will start in Ticapata, nearby of San Sebastian, along dirt roads and through the Ticapata Canyon, discovering natural springs, visiting Pumamrka's Incan Palace, the peasant communities of Pumamarka and Yuncaypata, going through beautiful green surroundings and contemplating the magnificent Lake Puyoc, as well as much more for your eyes to rejoice.
Today camping we will camp around the southern valley of the Incas, near of Urcos valley (B - L).
Day 7: URCOS - OCONGATE - HUALLA HUALLA PASS - MARCAPATA HOT SPRING
Today fater country breakfast we drive up for 4 hours and passes through numerous rural villages and hamlets. As the road winds its way out of the Cusco valley the view expands into a patchwork of small fields which cover the surrounding mountains and Ocongate valley towards the village of Ocongate where we spend our first night. The village is typical of the region, having a small plaza where markets are regularly held.
At the top of the 4950m Hualla Hualla pass (views of Mt Ausangate (6340m) and the glacier (Caravaya Mountainn chain) which is the focus of the Qoylluriti festival where thousands of pilgrims flock each year to pay homage to the "Apus" or spiritual mountain, and pass grazing flocks of Alpacas watched by shepherds in traditional Andean dress. Once over the pass the eastern side of the Andes fills the view. Deep glacial valleys strewn with giant boulders and remote hamlets surround us we start to descend. There are many opportunities here to take exciting off road shortcuts and further down the mountainsides are covered in steep terraces before the high scrubland gives way to cloud forest. We finish the day at Marcapata (2900m), a mysterious town cloaked in cloud by afternoon but offering spectacular views in the clear mornings. Hot springs wait to loosen your aching muscles, and a hearty meal to replenish your energy levels. Stay in tents or basic local accommodation with shower and bath availability (B - L - D).
Level of difficulty: Difficult, with steep downhill and optional single track routes, taking 4 - 5 hours downhill with an optional 2 - 3 hours if you choose to cycle up to the top of the Hualla Hualla pass.
Distance: 4x4 12km - Biking 47km.
DAY 8: MARCAPATA - DOWNHILL BIKING TO QUINCEMIL JUNGLE
From then cloud forest to the high jungle After an energizing breakfast in Marcapata and a quick look around the town we start our rapid descent through the cloud forest. Dramatic green mountain sides meet in the valley bottoms where streams turn into rivers and waterfalls run like ribbons down the slopes. Coffee beans can be seen drying next to the road, while early morning fresh forest smell and fantastic views make this a beautiful downhill ride. As our road winds down the cloud forest flattens out and we enter the jungle. The second half of this day is spent fording streams and cycling on more of an even road. Giant ferns and cliffs hug the roadside and hundreds of butterflies flutter around you. We finish the day at Quincemil (755m), a small gold mining community. Stay in tents or basic local accommodation with shower and bath availability (B - L - D).
Level of difficulty: Medium, mostly downhill with sharp rocky bends and some flat sections, 5-6 hours.
Distance: 4x4 0km - Biking 70km.
DAY 9: QUINCEMIL JUNGLE - CROSS COUNTRY MOUNTAIN BIKE TO MAZUKO JUNGLE
Through the high jungle Leaving bright and early to make the most of the cool morning we follow on the left bank of the river out of town and spend the first three hours alternating between fairly steep up and downhill sections. The road is fairly smooth on this day offering some lovely descents and some interesting stream and small river crossings which is a lovely way to cool off in the heat of the day! We pass through several small jungle villages including San Lorenzo and Inambari, constructed out of wood and raised off the ground to avoid the flooding in the rainy season. Though we obviously cannot promise wild life the sorts of animals that can be seen include Squirrel monkeys, Macaws, Wild boar, Orapendulas, Parrots, snakes and Vultures. Toward the end of the day the road flattens out and we finish the day in the lively town of Mazuko (440m).Stay in tents or basic local accommodation with shower and bath availability (B - L - D).
Level of difficulty: Medium, but a long day and hard work on the uphill sections. The jungle is hot and humid from midday. 6 - 7 hours biking, if you don't want to continue pedaling you can stay in the 4x4 to end of the day (B - L - D).
Distance: 4x4 0km - Biking 68km.
DAY 10: MAZUKO JUNGLE - PUERTO MALDONADO JUNGLE
Into the low jungle Staying in the jungle gives you many opportunities to taste fresh fruit drinks and dishes such as fried bananas and a jug of papaya juice for breakfast. This day we take our 4WD vehicle until Santa Rosa pass, from where we get nice view of the low jungle and the dirt road disappear in hug canopy. From Santa Rosa jungle village we have the last opportunity to continue pedaling on even dirt road to hundred ten (110km village). From here we normally use our 4x4 to do last hundred kilometers to Puerto Maldonado. Stay in a comfortable Amazon lodge (B - L).
Level of difficulty: Easy, taking approximately 3 hours on the flat and deep low jungle.
Distance: 4x4 131km - Biking 40 km.
DAY 11: CUSCO - TAMBOPATA RESERVE - BOAT TRIP - CLOUDS OF BUTTERFLIES
Morning transfer from your hotel in Cusco to the airport and 40 min of flight to Puerto Maldonado Jungle. After arrival in Puerto Maldonado, welcoming and take a brief tour of the village, before boarding a motorized canoe. During the trip you may see Caimans, clouds of Butterflies, river Turtles and other jungle life. After traveling 3 hours down river, arrive at the lodge located in the Tambopata Wildlife Reserve. You are now deep inside the pristine rain forest. Once settled and after a brief rest, take a short walk to a nearby small lagoon, returning in time to observe the fantastic sunset at "Sunset Point". Once back at the lodge, board a canoe for a short night trip to spot caimans on the riverbanks. After dinner at the lodge, the resident naturalists will brief you on the Amazon. Stay in bungalows with shower and baths availability (L - D).
DAY 12: TAMBOPATA - MACAWS CLAY LICK - WILDLIFE WATCHING
Early morning travel by canoe on the Tambopata river to Bahuaja Sonene national reserve, just in time to see the amazing sunrise, also to see many types of wildlife watching like Deer, Capibaras, Tapir in the deep rainforest. After short trip we will be in the best location to appreciate hundreds of Parakeests, Parrots and Macaws clay, around the springs enjoying their daily diet of salts on the banks of the river. Short hike looking for monkeys. Return to the lodge to have our breakfast, plenty of time to rest.
After lunch will enter walking to observe wildlife, like peccaries, deer, and others, with the possibility to hear or see the tracks of them, or discovering a troop of monkeys traveling through the forest in search of food. Time permitting; we will be able to enjoy a relaxing swim in the cascade of the cat. After dinner relax in our lodge surrounded by exotic nocturnal jungle sounds. Stay in bungalows with shower and baths availability (L - D).
DAY 13: WASAI - PTO. MALDONADO - CUSCO - JULIACA - LLACHON COMMUNITY
Today we will have early breakfast (6am) and then we aboard our 4x4 vehicles and drive on the way to Inambari Bridge, and from here we take dirt road to Altiplano. Passes through small village on the both side of the road, the road drive us to Lanlucani and Ollachea villages located between the encounter of the Andes and the jungle, will be nice cloud forest over the dense jungle. After 6 hours of driving arrive to Marcabaya Mountain chain and then to Macusani (4300m) Andean town. From Macusani continue traveling through Andean scenery, snow-capped, savage geography to Santa Rosa and from here we drive on asphalt route to Juliaca and then enter the road to Llachon at Illpa, passing the villages of Huata and Coata. Here we enter the peninsula of Capa Chica, arriving at the main village of the same name. The road follows the lake shore at this point and we pass two communities before arrive to village of Llachon (3800m). We spend the night in rural lodges with shower and bath facilities. The lodge was build with natural resources of the zone and make very mystical accommodation and you fell the contact with the Pacha Mama (mother earth). The family will provide a basic room with enough blankets and hot drinks keep in the room (B - L - D).
DAY 14: LLACHON COMMUNITY - AMANTANI AND UROS ISLANDS - PUNO
Today we will have nice country breakfast accompanied by the local family, will be unforgettable experience to know the richest ancestral customs of Tiahuanaco culture. We aboard the boat to travel on the highest navigable of the world, first we visit the Amantani island were will walk 2 hours on the plateau seeing wonderful scenery of Lake Titicaca and locals. Continue traveling by boat arrive to Taquile island. Trekking from the north to the south region of the island, visit the handicraft market based in the small main square. Time to taste lunch viewing the lake and then aboard to travel to Puno, on the way stop in Uros floating island to recognized how people live on this island even in the hard rain season. 1 hour more in the boat arrive to Puno, transfer to the selected hotel (B - L).
DAY 15: PUNO - CHACHANI BASE CAMP
Today we offer plenty Andean buffet breakfast served in the hotel. At 7am aboard our private 4X4 to travel through Cordillera de los Andes, the journey pass Lagunillas lagoon, Imata rock forest, Pampas Cañahuas Vicuña park.
After 5 hours of driving from Puno will be Off Road tour on the slopes of Chachani Mountain, our 4X4 vehicle drop us up to 5000m. At 1pm begins our climb (1hour) on the serpentine and sandy trail up to 5300m were will set up the base camp in in the middle of Monte el Trigo and Angel peaks. Late lunch and noon optional hike around for acclimatize to the altitude. Early dinner in the dining tent and overnight in the four season tents (B - L - D).
DAY 16: CHACHANI SUMMIT - COLCA CANYON - CHIVAY HOT SPRING
At 2AM or 4AM wake-up time depending on how is the weather and after a hot energetic breakfast we start to attack the summit. If Chachani is completely covered by the snow, we take all our necessary climbing equipment such as crampons, ice axe and rope. From the base camp to Chachani summit (6070m) takes between 4 - 6 hours doing slow steps and battling with the altitude, the climb follow single track through el Angel, Fatima a finally Chachani slopes. This climb doesn't demand a technical rock or ice wall climb, the climbing gear will be for security only, you don't need real climbing experience because Chachani is just trekking in high altitude.
After reaching the top, there we stay for a nice time getting spectacular views of the landscapes of Coropuna, Ampato, Hualca Hualca, Sabancaya, Misti, Ubinas, the city of Arequipa and other landscapes.
After the stay at the top of Chachani, we go back down approximately 2 or 3 hours to our base camp, downhill depend how strong you will feeling after reach the summit. Lunch at the base camp and after packing all the camping equipment 15 minutes of descend to our private 4x4 vehicle. From Chachani we drive directly to the Colca passing the huge national reserve of Salinas and Aguada Blanca, seeing more Lamas, Alpacas, Andean birds, huge mountain accompanied with the best drive.
Around 4AM-5AM arrive to the selected hotel in the Colca valley, visit to the thermals baths of la Calera.
At 7AM visit the Maria Reiche Planetarium, we invite you to immerse in the mysteries of the Colca Valley sky and enjoy the performance "Colca deep Canyon, deep sky". You can learn how the ancient inhabitants of the Andes interpreted the night sky according to their myths and beliefs. The performances include projecting constellations in the Planetarium dome as well as observing the stars of Colca's sky through a professional telescope. Dinner will be served accompanied with live Andean music show (B - L - D).
DAY 17: CHIVAY - HORSEBACK RIDING FROM YANQUE TO PINCHOLLO
At 7AM is the breakfast at the hotel and travel to Yanque village, from where we will star to ride our horses, this day you will go on a longer ride through the Colca valley with our friendly horseman, you will see spectacular pre-Inca terraces along the Colca river, colony churches, pre-Inca ruins, Ichupampa and Lari village, they are typical villages on the left bank of the river and the trail is mostly even.
DAY 18: COLCA HORSEBACK RIDING - CONDOR CROSS - CABANACONDE - DONWHILL BIKING TO SORO VALLEY - LLAHUAR LODGE
At 7AM after breakfast we go riding the horses for 2 hours to the famous Condor Cross (3600m), at this place is possible to appreciate the fly of Condors or sometimes seating on the big rocks, two hours spending looking this amusing and biggest flying bird in the world, also is possible to seeing many villages at the deep part of this spectacular Canyon.
At 10AM we take our mountain bikes and downhill on the dirt road along the left side of this canyon. Nice downhill through pre Inca terraces and mountainous range. Short stop in Cabanaconde (3280m) for a energetic snack, after continue downhill to the deepest part of the canyon, descend on dirt serpentine road feeling the change of different ecological floors along the way. For experienced bikers are available technical single track along the way. For beginners we suggest to take the main road and enjoy the best views of the second deepest canyon in the world. At 2pm arrive to Soro (2000m) abandoned valley we cross the Colca River by suspension bridge build long time ago. We walk in a cactus forest and following nice track used by local people. Llahuar lodge is considerate the most quiet and recently discover place for stay in the bottom of the canyon. After late lunch you can enjoy the nature thermal baths next of the river. Stay in nice bamboo room accompanied by starry sky (B - L - D).
DAY 19: OFF ROAD TOUR TO HUAMBO - EL PEDREGAL - AREQUIPA
At 6AM after packing everything we take our country breakfast under sun rising and wonder view of a new day. Trekking by the same trail used day before until Soro valley where will be waiting our own private 4x4 vehicle and drive up to the pass (4100m) and downhill to Huambo town (3000m) and we will see some quite and nice farmers living from the agriculture, spectacular views of this dry and deepest area of this canyon. Continue travel in our 4x4 we will reach the highest point (4300m) of this day where is a perfect lookout of Ampato Volcano, driving around this volcano we will in the middle of two small Volcanoes of Qerqe plain. From here is possible to ride our MT bike all the way down from the highlands to the coast, descending 2800m at 40km. After 3 hours on our bikes we will be in EL PEDREGAL, from here we will take our 4DW and drive into the Panamericana highway to Arequipa. At 7-8 pm enter to Arequipa, directly to the selected hotel (B - L).
DAY 20: AREQUIPA LEISURE DAY
Today will be free for personal activities or optional adventure tour around Arequipa, see some tour links below:
http://www.peruadventurestours.com/en/arequipa/misti_downhill.html
http://www.peruadventurestours.com/en/arequipa/horseback_riding_arequipa.html
Also you can make easy touring in the city, see links of classical tours in Arequipa:
http://www.peruadventurestours.com/en/arequipa/arequipa_city.html
http://www.peruadventurestours.com/en/arequipa/countryside_tour.html
Any optional tour mentioned above can be booked one day before in our local office. Tonight will be perfect to enjoy the night life of Arequipa in a nice and safety discotheque recommended by your tour leader. Stay in the same selected hotel (B).
DAY 21: AREQUIPA - NASCA
At 7AM breakfast and start of long journey in our private van to coast of Peru, following the Panamericana highway you will appreciate last north part of Desierto de Atacama, were never fall the rain. We will drive through coastal cities, green valleys and rivers flowing in the Pacific Ocean. Stop at Puerto Inca beach for lunch around sea, you will taste the marine cuisine considerate one the best in the world. Plenty time to swim and then continue to Nasca. 28 km before to arrive Nasca enter to the pre- Inca cemetery where we can see real mommies of the Nasca Culture, this impressive archaeological site is located on the left bank of Chauchilla valley, this valley have large forest of carob trees. After complete guided tour and explanation about this Nasca cemetery continue our travel to Nasca. Arrive and stay in the selected hotel (B - L).
DAY 22: NASCA - DUNE BUGGY - USACA SANDBOARDING - SAN FERNANDO MARINE RESERVE
Usaca dune buggy and sandboard tour can be departure at 7am the trip begins from the hotel in Nasca, firstly we aboard our Dune buggy vehicle (4WD) and Off road tour on let bank of Nazca Valley. The first stop will in Cahuachi ceremonial center and a sacred destination of Nazca pilgrims between 100 and 500 AD. The visit includes the main cultural-urban center, pyramidal temples, terracing of fossil sand dunes streets and squares give the site a general city aspect.
After complete guided tour to this recently excavated great pyramid we continue through the Cahuachi valley, enter to Tambo de Perro village, group of farmers leave in this charm valley, from here we use the buggy to drive in stony ad dirty road till Usaca valley. Usaca is nice quiet oasis in the middle of hundreds sand dunes and the encounter of Nazca and Pajonal River. Uphill in the buggy and downhill Sandboarding on the amazing dunes, after 2 hours of fun time and observing the great coastal natural sceneries and strange desert forest we return by the same way we used to get there, stop in Estaqueria it was considerate a solar observatory, on platforms made of adobes and columns of "Huarangos" trunks (carob trees).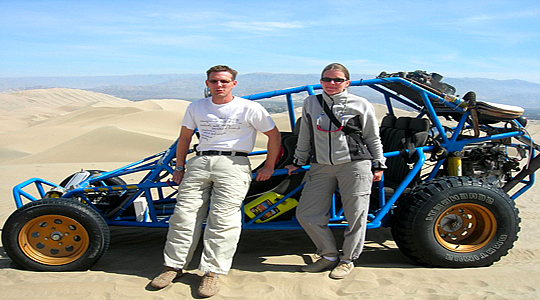 Later continue with 4X4 Off Road expedition to San Fernando marine reserve through dry landscape and stony and sandy routes. On the way will possible to appreciate Guanacos (Lama Guanicoe) grazing on over sand hills. The Guanacos is family of the Llama, to see this animal near of the Pacific Ocean is unbelievable. After 3 hours will descend and will appear the marine reserve of San Fernando watched by pure and abandoned beach. On the bay we walk along the reserve accompanied by our tour guide who will show us the best lookout to see sea Lions, Pelicans, Humboldt Penguins, Cormorants and amazing flying of the Andean Condor looking for some death sea animal landed by the wave.
Continue exploring this amazing marine reserve you have unique opportunity to walk over roach formation and sea salt mines, below the mines are many huge cliff where the birds nest in different season of the year. Plenty free time for explore on your own and if you wish, you can swim in the cold waters of San Fernando. At mentioned time will be picnic next of the beach accompanied with best natural and beautiful view of San Fernando bay. At 4pm will be the return to the hotel in Nasca, the drive back takes about 3 hours by another route (B - L ).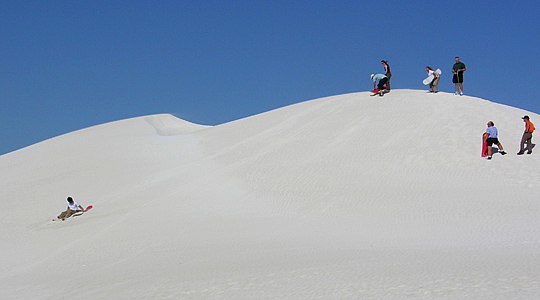 DAY 23: NASCA LINES - PAMPAS GALERAS DOWNHILL MOUNTAIN BIKE
At 6AM we leave from your hotel and 2 hours travel in our four wheel drive vehicle by the highway to Cusco up to 4400m located at the 105 km. There is the flat land and highest point (4800m) to begin our adventure full day Mt. biking tour. Here we will appreciate this amazing national reserve of Vicuñas, we do a short walk getting acclimatization and pictures from these animals and also, our guide will show us everything and give us a completely explain about the bike gears. After a good hot and energetic breakfast we will be ready to enjoy this trip.
At 10AM everybody have the helmet, glove testing the bikes and beginning the downhill Mt biking by asphalt serpentine route on the mountains, trying to go faster than the Vicuñas running away from us, most of the bikers ride between 35 - 50 KPH. The spectacular views of Andean Condor, flying close to our head, on this trip we will ride the Mt. bikes in the small canyons, over the mountains, feeling different temperatures from the Andes to the cost. The asphalt route is for people who want to go as fastest as possible, but there are single tracks cutting the serpentine, that's are for adventurous people who want to feel the adrenaline breaking hard, jumping and hitting the rocks on the dirt tracks.
At 3AM after the 5 hours riding, 3800m descending on the bike and 105 km distance of ride we will back to Nasca (600m) and will have a late delicious lunch included a nice refreshing in the swim pool (B - L ).
DAY 24: NASCA LINES - LA HUACACHINA OASIS - LIMA
At 8AM transfer to the aerodrome Maria Reiche where we will watch informative video about the Nasca civilization. Aboard the Cessna light planes for 4 or 6 capacity people, each participant will have window to make more comfortable and guarantee to take the best photos of the lines and mysterious figures. The Nasca lines are located in the desert, a high arid plateau that stretches between Nasca and Palpa on the Pampa (a large flat area of southern Peru). The Nasca lines are geoglyphs and geometric line clearings in the Peruvian desert. The pilot will show you the most important and interesting figures flying around till fine the best view of the lines and figures.
After nice experience flying over the pass of the Nasca ancient civilizations we will return to the hotel to have breakfast. At 10AM aboard our private vehicle and travel by the Panamericana highway to Ica region. After passing Palpa, Rio Grande valley will arrive to the oasis of la Huacachina. Optional dune buggy tour on the hundreds sand dunes around this paradise. Last lunch will be served in this wonderful oasis accompanied with the best white in the wineries of Ica. Later visit the winery shop and to see the artesian process. Ica valley produce lot of wine and Pisco (national recognized drink) made of grape; to visit the Bodegas Vitivinicolas will be a nice introduction to the famous Pisco sour drink. At 4pm transfer to the hotel in Lima (not included) or directly to the international Jorge Chavez airport and you can get your flight back home (L).
PERU ADVENTURE TOURS INCLUDES
English speaking tour leader (whole tour)
Official local tour guides (speak english) for complete guided tour of the archaeological sites or national parks
Private 4x4 whole trip, from to Lima
Experienced driver
All mentioned food at program (B = Breakfast, L = Lunch, D = Dinner). Vaialable vegetarian food according your request
Experienced cook for cooking food every camping place
13 nights of accommodation in the selected hotels according your request
10 nights in basic accommodation or camping according the program
Adventure activities suc as; Horseback riding, River rafting, Atv - Quads bike tour, Downhill Mountain Bike, 4X4 Off Road, Mountain climbing, Sandboarding, Dune buggy and Marine reserve
Internal flight ticket from Lima to Cusco
Airport tax in Lima airport, before to take the flight to Cusco
Oxygen and first aid kit
Train ticket from Ollantaytambo - Aguas Calientes - Cusco
Quality camping gear (4 season tents, mattress, dine tent, table and camp chairs)
Food, accommodation and camping gear for our camp staff
NOT INCLUDED
Alcoholic drinks
Sleeping Bag -10ºC (can be hired from us for $5 USD per day)
Not mentioned meals
Not mentioned tours
International flight tickets from to Lima
International airport tax $28.24 USD
Extra nights in hotels
Travel insurance
Rain gear
Flight confirmation
Phone calls
Tip for guide and camp staff
RATE FOR ADVENTURE TOUR IN PERU
CATEGORY
OF ACCOMMODATION
SINGLE
OCCUPANCY
DOUBLE
OCCUPANCY
TRIPLE
OCCUPANCY
Backpacker
2* Hostels
$8628 USD each
$6323 USD each
$5723 USD each
Standard
3* Hostels or 2* Hotels
$8758 USD each
$6383 USD each
$5773 USD each
Comfort
4* Hotels
$9018 USD each
$6543 USD each
$5893 USD each
Luxury
4* or 5* Hotels
$9678 USD each
$7216 USD each
$6623 USD each
All prices stated above are subject to change.
Exchange rate $1 USD = S/. 3.02 (rate may vary daily).
Tour
Schedule
CONFIRMED DEPARTURES
EVERY 5TH, 15TH AND 25TH OF EACH MONTH.
Other departures can be fixed any other day under request ONLY.
(Min. 3 participants)
Discounts
Discount: $15 USD of discount for South American Explorers Club Members
Discount 3%: Tour Operators or Travel Agencies Only
Students: $15 USD of discount only with valid green ISIC card
Group size
5 participants for each 4X4 and tour guide
Organized Groups
We have special rates for larg group more than 5 people
Rain season
December to April (Andes and Jungle), but some days are with blue sky permiting to get good views of the zone
Best time to visit
The best time to visit Peru and explore is between April and June, before the high tourist season
ADVICE FOR ADVENTUROUS TRAVELERS
We recommend to book this tour 4-3 months prior your arrive to Peru.
The best season to visit Peru is between April to November.
WHAT YOU NEED TO BRING/CARRY
Personal riding gear (December to April)
Rain jacket for the Andes and the Jungle
Waterproof boots
Sandals for thermals baths
Sleeping bag -10ºC (can be hired from our office for $5 USD per day)
One complete change of clothing
Headlamp and batteries
Hat or cap to protect you from the sun
Sun block (sun protection cream)
Insect repellent
Toiletries, towel and toilet paper
Waterproof bags to protect your items from the rains and dust
Camera, plenty of film and spare batteries
Good sunglasses
Swimsuit, on the tour are many possibilities to find hot spring
Personal first aid kit
Waterproff backpakc to protect your items from the rain (December to April)
Extra money (soles)
CONTACT US For more information about the tour or you request a new date to departure for this tour, please contact us....
Some of our clients e-mail us saying our confirmation e-mails are placed to their spam folder rather than their inbox. We recommend to modify your JUNK or SPAM FILTER SETTINGS to receive our e-mails
peruadventurestours@hotmail.com
on the correct inbox. You may also want to add this email address to your list of known contacts. This will prevent our responses from being filtered into your Junk or Spam mail folder.