NAZCA LINES TOUR FROM LIMA $685 USD Per Person
Land & Aircraft Travel To Discover The Mysterious Past - Full Day Tour
Discover The Enigmatic And Mysterious Of The Nazca Civilization.
Visiting the Nazca lines by light aircraft beginning in Lima and discover a gigantic calendar used anciently for agricultural purposes according to renowned German scholar Maria Reiche, who died in 1998 after dedicating 40 years of her life to study the lines. For archaeologist it is still mystery and an enigma the origin and meaning of the lines and figures drawing on the plateau desert of the Peruvian coast. Huge figures of animals, birds and people engraved in the sands of the desert, in an area of 500 square kilometers, remain as testimony of an extraordinary Culture that flourished 2500 years ago.
This tour program is dedicated for tourist does not have much time to spend in Peru, we offer a land private trip from Lima and then flight in Cessna caravan airplane to see the Nazca lines from the air, to take the most incredible photos of this natural attraction in order to take the most incredible photos of the mysterious Nazca civilization. On the way we will visit the Museo Regional de Ica and the Oasis La Huacachina.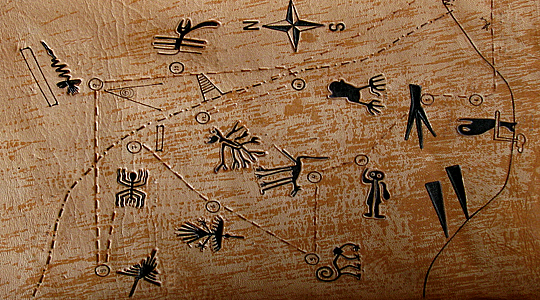 TOUR ITINERARY OF NASCA LINES FROM LIMA
At 5AM our official guide will pick up from the hotel in Lima or from the international airport Jorge Chavez and then travel to south of Lima by the Pan-American Highway. We drive through large valley as such as Mala, Cañete, Chincha, San Clemente and finally arrive to the airport of Pisco or Ica, from where we take light airplane and overflight run through south valley of Ica, Rio Grande and Palpa valley, San Jose and finally arrive to plateau of Pampas San Jose. The flight takes 2 hours and 20 minutes to see the mysterious and enigmatic figures and lines of the Nasca civilization. After the flight come back to Ica and complete guided tour to oasis La Huachina, propitious region to do dune buggy (4x4 vehicle) and Sandboarding (downhill) over thousand dunes on the driest desert of the coastal region of Peru. The lunch will be served in the Oasis and after that transfer to the Museo Regional - Ica, place where is possible to appreciate remain of the Paracas and other ancient cultures of this region.
Continue we visit the winery shop, you can taste the Peruvian typical drink named Pisco, drink is made of different type of grapes, also you can taste the famous wine considerate the best one in all Peru. Late afternoon drive back to the hotel in Lima or drop off at the airport of Lima. Normally the tour ends between 7pm or 8pm.
IMPORTANT
This tour can depart from Lima until 7AM. If you plan to arrive to Lima and then connect with this trip we will be able pick up you from the airport or any bus station. If this tour departs around 8AM the tour will be short and we will back to the hotel in Lima around 9PM or 10PM. If you plan to take your international flight at same night we will transfer you directly to the airport. We recommend telling us your flight itinerary at booking time. Any risk to miss your flight international flight or lateness will be under your responsibility. We recommend departing from Lima as early as possible and the tour will be more flexible and comfortable.
FLIGHT RESTRINCION/CANCELLATION
In the flight from Lima-Pisco-Lima you have right to carry up to 23 kilograms per person in each flight - In the flight from Pisco to Nasca lines is not permit to bring any luggage - You just can bring your handbag.
The time of flight the Nazca Lines are subject to change depending of the weather conditions in the region of Nazca plateau - From June to September is the winter season along the coast line of Peru - If the air company cancel any flight mentioned in the tour itinerary PERU ADVENTURE TOUR is not responsible to refund your payment for the flight(s) - We recommend to read our
TERMS & CONDITIONS
before you book this tour.
To reserve basic services is advisable to ask us before if you can join a group according to the date of the flight.
We remind you not forget to bring your valid passport for checking at the control of the airport before boarding the flight.
Without passport you will lose your space to fly over the Nazca lines and shall have no opportunity to claim money back or request a new flight date. The airline and Peru Adventure Tours are not responsible for this failure that you can commit, your passport is the only valid document to pass all the controls at the airport.
NAZCA LINES TOUR FROM LIMA INCLUDES
English-Speaking tour guide for whole trip
Private car/van from Lima - Ica/Pisco - Lima (according the group size)
Entrance to the museo regional of Ica
Over flight Nazca Lines from Pisco or Ica (around 2 hours)
Dune buggy and Sandboarding tour (2 hours)
Tax for the sand dune tour
Lunch at the oasis La Huachachina or other places selected by the local stuff
Airport tax
TOUR SCHEDULE & COST 2014
DATE
TOUR
COST
Any day


NAZCA LINES TOUR FROM LIMA $685 USD Per Person

Land & Aircraft Travel To Discover The Mysterious Past - Full Day Tour


Backpacker Service (Join group)
Not applicable

Private Service (Private van/guide)
2 participants $685 USD each one
3-4 participants $615 USD each one
5 to more participants $555 USD each one
Discount: $5 USD for South American Explorers Club Members
Discount 3%: Tour Operators or Travel Agencies Only
Students: $5 USD discount only with valid green ISIC card
Organized Groups: We offer private service and any time/day according request
Group size: 12 participants per each aircraft - Cessna Grand Caravan
BOOK HERE: We highly recommended to book space prior you arrive to Peru
All prices stated above are subject to change.
Exchange rate $1 USD = S/. 3.02 (rate may vary daily).
NOT INCLUDED
Alcoholic drinks or bottled water
Not mentioned meals
Not mentioned tours
Internal flight tickets from Lima - Ica - Lima
International flight tickets from to Lima
International airport tax $28.24 USD
Hotel in Lima
Travel insurance
Personal medicines
Tip for guide and camp staff
Phone calls, radio calls or messages
Reconfirmation of flights
Items of personal nature
WHAT YOU NEED TO BRING/CARRY
Summer clothes
One complete change of clothing
Hat or cap to protect you from the sun
Sun block (sun protection cream)
Insect repellent
Camera, plenty of film and spare batteries
Good sunglasses
Personal first aid kit
Extra money to buy some handicraft (soles)
For more information about the tour or you request a new date to departure for this tour, please contact us....
WE WILL RESPONSE AS SOON AS POSSIBLE.
Some of our clients e-mail us saying our confirmation e-mails are placed to their spam folder rather than their inbox. We recommend to modify your JUNK or SPAM FILTER SETTINGS to receive our e-mail
peruadventurestours@hotmail.com
on the correct inbox.You may also want to add this email address to your list of known contacts. This will prevent our responses from being filtered into your Junk or Spam mail folder.