AREQUIPA 4x4 OFF-ROADING TOUR $195 USD Per Person
Full Day 4x4 Excursion Surroundings Three Volcanoes Of Arequipa
Welcome to one more four wheel drive adventure excursion created exclusively by PERU ADVENTURE TOURS since 2007 making us one more time pioneers introducing to the tourist industry the Off-Roading expeditions around Arequipa – Travelers visiting Arequipa region easily can be surprised with this new alternative because is not mentioned or recommended in the travel guide books or handbooks known by local tour guides/operators as known as "the travelers bible" (lonely planet & others) - PERU ADVENTURE TOURS invite to all travel guides book writers/journalists reserve one seat in one of our 4x4 vehicles to recognize and enjoy this new circuit through volcanoes.
Arequipa Off-Roading excursion bring us to explore surrounding volcanoes such as Picchu Picchu extinct volcano (5640M) Misti volcano (5825M) and Chachani extinct volcano (6070M) – All those volcanoes are located around and near of Arequipa making towering scenery between highlands and the southern coast of Peru.
Off-Roading expedition surroundings volcanoes of Arequipa was designed thinking in all tourists wanting to enjoy the best highlights of volcano land but specially dedicated for geologists, volcanologists and 4x4 adventure lovers – The 4x4 excursion around the volcanoes perfectly combines volcanology, geology, bird watching, the highland weather inclement (from -15°C to 28°C), the different ecological floors offer lot flora and fauna, stunning views of the three volcanoes from different angles and of course includes adventure Off-road drive through rugged road testing our powerful 4x4 vehicles well equipped for muddy and sandy terrain easily can be founded along the route – The landscape also offer plenty opportunity to get acclimatize to altitude as training if you are thinking to climb one of those volcanoes or just make camping somewhere through the mountains to feel the peaceful and serenity seeing the sunset and next day being rewarded spectator of nice sunrise over the crater of the volcanoes.
All this kind of expedition are develop in one our 4WD safety vehicles (Toyota Land Cruiser 4000cc - Nissan Patrol 4500cc) including private accident insurance (all Peru), GPS (Peru road mapping), Tow truck, Full tank of gas/diesel, Medical bottle of oxygen, First aid kit, Fire extinguisher, Cooler to keep fresh your drinks, Airport pick-up, Tents and foam sleeping mattresses (under request only), UHF radio with 25 sequences, Repair kit, Spare A/T or M/T tire, Winch (9.500lb) and energy convertor (110v - 220v) to recharge your batteries of camera or headlamp.
Welcome to adventure…..welcome to enthusiastic Off-roaders expeditionary.
Peru 4x4 Off-Roading Tour - 4x4 Off-Roading Across In Peru - Peru 4x4 Adventure Tours - Peru Off Road Tour Packages - 4x4 Tours - Off-Roading - 4x4 Tours Guides In Peru - 4 Wheel Drive Tours In Peru - Peru 4WD Routes - Amazing Off Road 4x4 Challenge Trips In Peru - Private 4x4 Expeditions In Peru - Rent A Car In Peru - Peru 4x4 Sports - Arequipa 4WD Adventure - Amazing 4WD Tour Through Peru Adventure - ToyotaLandCruiser - NissanPatrol - Peru 4x4 Adventure People - Private & VIP 4WD Tours - 4x4 Off Roaders - Peru 4x4 Pickup Truck - Full Day 4WD Tours In Peru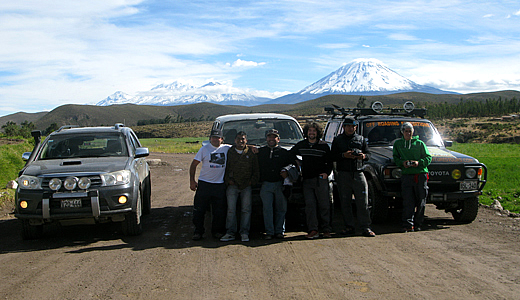 AREQUIPA 4x4 TOUR ITINERARY
At 7AM we meet the costumers at their hotel or picking up from the airport or bus station to begin this adventure – The 4x4 tour around volcanoes of Arequipa includes drive on paved road through Chiguata village (2969M) – This Andean valley located on the slopes of Picchu Picchu volcano and surrounding with pre Inca terraces making spectacular view of canyon between Misti and Picchu Picchu – Chiguata also have the privilege of Catholic colonial church (Holy spirit) build with
SILLAR
(volcanic lava bricks) dating from 1543 - Short recognize of the church and main square for nice picture with Misti volcan on the background.
From Chiguata village we start the off-road expedition driving on slopes of Picchu Picchu volcano – The road fellow through farming terracing, a forest of Queñuales (Polylepis trees) - The genus Polylepis is specifically distributed along the Andean mountain ranges and this perfect habitat for different kinds of Andean birds.
After 2 hours of 4x4 drive through stunning scenery we arrive to Lagunas de Salinas (4317M) as known as Salt dry lake between June to December (dry season) – This lagoon is home of big population of Andean pink-flamingos pecking the mud to find their food – We drive the four wheel drive around the lagoon to find other type of birds if you are bird watching lover – From the Lagunas de Salinas you can get amazing pictures of backside of Picchu Picchu, Misti and Ubinas volcano – Next of the lake we can see lot of Llamas and Alpacas grassing.
Continue 4x4 tour through volcanoes we take abandoned gavel road but very attractive going up to 4805 meters above sea level which is the highest point of this journey at the bottom of "CONDORI MOUNT" (5255M - 16°12'49.33"S - 71° 8'50.19"O) – Luckily we can find snow during some season of the year making more interesting the view around.
From the highest point we take very poor condition road to seeing nice Andean plateau and groups of Vicuñas (Vicugna) running and standing up looking us very curiously.
Just behind Misti volcano are two dams as known as El Fraile and Aguada Blanca – If time permit and having our fishing gear (not included) we can fish river trout – Picnic next of the dam will be offered by our camp staff – If weather permit free time to walk around.
Around 1PM we take other road to the base of Misti volcano for more pictures of the backside which is very steep and black surface – We drive to cross the dam of Aguas Blanca and drive up to the slopes of Chachani volcano (4200m) where is located the other part of reserve national de Salinas y Aguada Blanca which is recognize as home of the Vicuñas – Spectacular view of Misti and Chachani volcano.
From Chachani we take bumpy and dirt-road to return to Arequipa – Around 5PM arrive to your hotel and end of this 4WD adventure across volcanoes of Arequipa.
AREQUIPA OFF-ROADING TOUR INCLUDES
Experience and English-speaking driver
4x4 (Toyota Land Cruiser or Nissan Patrol)
Binocular to watch the Andean birds
UHF radio for emergency
Plenty of drinking water and snack (chocolates, fresh fruits and energy bars)
Medical bottle of oxygen and first aid kit for all participants and our camp staff
Repair kit and new parts
TOUR SCHEDULE & COST 2015
DATE
TOUR
COST
April to December
(Summer season)

AREQUIPA OFF-ROADING TOUR $195 USD Per Person

Full Day 4x4 Excursion Surroundings Three Volcanoes Of Arequipa


Backpacker Service (Join group)
No available

Private Service
2 participants $195 USD each one
3 participants $145 USD each one
4 participants $125 USD each one
Discount: $5 USD for South American Explorers Club Members
Discount 3%: Tour Operators or Travel Agencies Only
Students: $5 USD discount only with valid green ISIC card
Organized Groups: We offer private service and any time/day according request
Group size: 4 participants per each 4WD
BOOK HERE: We highly recommended to book space prior you arrive to Arequipa and take Private Service
All prices stated above are subject to change.
Exchange rate $1 USD = S/. 3.02 (rate may vary daily).
NOT INCLUDED
Travel insurance
Alcoholic drinks
Breakfast or lunch
Tip and gratuities for our camp staff
Hotel in Arequipa
Rain gear
4x4 TOURS DURING THE RAIN SEASON
The raining season in the region of Arequipa is from December to April - Some days can be very heavy rain or some shower during all day, late afternoon or all night. During the raining is not recommend to do this tour avoid any risk of the electric storm.
Some days can be done but not all the circuit and this can be requested according the weather report and the conditions of the road and what are the river level.
TECHNICAL DETAIL
AREQUIPA:
2350 M.A.S.L – 16°23'55.52"S - 71°32'12.62"O (Main Square).
PICHU PICCHU VOLCANO:
5640 M.A.S.L - 16°26'30.69"S - 71°14'20.67"O (Main summit).
EL PICO MOUNT:
5255M M.A.S.L - 16°12'49.33"S - 71° 8'50.19"O (Highest pass).
MISTI VOLCANO:
5825 M.A.S.L - 16°17'46.49"S - 71°24'38.10"O (Main summit).
CHACHANI VOLCANO:
6070 M.A.S.L 16°11'40.74"S - 71°31'55.00"O (Main summit).
DISTANCE:
230KM of pure Off-road to be drive.
ROUTE:
Dirt & muddy road.
ADVICE FOR FUTURE COSTUMERS
This excursion is graded EASY (for all ages) but high altitude makes hard to brief or walk if you don't have minimum of acclimatize to altitude and especially if this will be your first time in high altitudes - We really recommend to spend one night in Arequipa before to do is tour in order to feel better when we drive up to 4800M.
- The tour guide and 4x4 are equipped with medical bottle of oxygen and first aid kit in case you require t calm the high sickness.
- All participants should wear trekking shoes suitable for rugged terrain or jogging shoes at least – Also we recommend to bring wind proof jacket even if is not raining – Between April and November is the dry season but still cold even if is very sunny day.
- All participants must be in good health (no asthma, no respiratory disorders, no heart problems, and no blood pressure problems).
WHAT YOU NEED TO CARRY/BRING
Small backpack
Rain Jacket or Poncho (December - March )
Hiking boots
Bottle of Water
Hat or cap to protect you from the sun
Sun block (sun protection cream)
Toiletries (towel and toilet paper)
Selection of small snacks (Chocolate, fruits, biscuits, etc)
Camera, plenty of film and spare batteries
Sunglasses
4x4 RENTAL FOR $148 USD PER DAY
Toyota Prado and Toyota Land Cruiser - Nissan Patrol (Manual Transmission).
5 comfortable seats and 3 back seats plus roof luggage rack.
$148 USD per day and includes 280km FREE per day.
$0.40 USD per extra km.
Driver service $95 USD per day including his meals, salary and lodging in each destiny.
INCLUDES
Theft and private accident insurance (all Peru), GPS (Peru road mapping), Tow truck, Full tank of gas/diesel, Medical bottle of oxygen, First aid kit, Fire extinguisher, Cooler to keep fresh your drinks, Airport pick-up, Tents and foam sleeping mattresses (under request only), UHF radio with 25 sequences, Repair kit, Spare A/T or M/T tire, Winch (9.500lb) and Energy convertor (110v - 220v).
NOT INCLUDED
Diesel - Road toll taxes ($3 USD each time) - Parking cost - Extra payment for pick-up or drop-off in another city of Peru, pick up price vary according the distance of the city where you leave our transport.
CONTACT US
For more information about the tour or you request a new date to departure for this tour, please contact us....
Some of our clients e-mail us saying our confirmation e-mails are placed to their spam folder rather than their inbox. We recommend to modify your JUNK or SPAM FILTER SETTINGS to receive our e-mail
peruadventurestours@hotmail.com
on the correct inbox. You may also want to add this email address to your list of known contacts. This will prevent our responses from being filtered into your Junk or Spam mail folder.