Arequipa
Trekking Tours
Climbing Tours
Biking Tours
Horseback Riding
Classic Tours
Sandboarding Tours
DAY TRIP TOUR TO LAGUNA DE SALINAS - VISIT THE SALT FLATS $62 USD Per Person - Group Service
Full Day Trip To Recognize The Andean Fauna And Flora Of Arequipa Region
La Laguna de Salinas (4300M) is located on the back side of Misti volcano and Pichu Pichu Mountain – From Arequipa is possible to get there by paved road toward Baños de Jesus and Chiguata (3000M) and then uphill following a dirt and bumpy road on Pichu Pichu slopes passing a peculiar Andean forest as known as Queñuales and of La Llareta (Azorella compacta) – The distance from Arequipa to Salinas salt lagoon are 68KM and driving takes around 3 hours thanks to not good condition of the road – The road pass through Misti volcano and Pichu Pichu Mountain.
Salinas salt lake is part of the national reserve of Salinas and Aguada Blanca – The 60% of the lake is located in the territory of Arequipa region and the other 40% is part of Moquegua region – The Salinas salt lake is home of many kind of birds especially during and after the raining season till June – Easily the bird watcher lover can recognize Puna, Andean and Chilean flamingos, Andean goose, Andean avocet, Tamarugo Conebill, Puna plover, Canasteros, eagle and if you are lucky is possible to see some Andean Condors flying around – Within the bosque de Queñuas or Quiwiña (Polylepis) sometime is possible to see different of sizes of hummingbirds as known as Picaflor Andino – Also are present the Andean foxes, Viscacha (Lagidium peruanum), lizard, falcons, deer, Vicuña, Llamas, Alpaca and sometimes Huanacos and Andean Puma.
Trip To Laguna De Salinas - Reserva Nacional De Salinas & Aguada Blanca - Salinas And Aguada Blanca National Reserve - Salinas Salta Lake In Arequipa - Peru National Reserves - Peru National Parks - Reserva De Salinas Y Aguada Blanca - Salinas Salt Lake Tour - Tour To Salinas - Peru Salta Lake Tours - Salt Tours In Peru - Bird Watching Tour To Salinas Lagoon - Tour Guide Tour Salinas Lagoon - Salinas Lagoon Highlights - Arequipa And Salinas Aguada Blanca Reserve - Day Trip To Salinas Salt Lake Tour - Flamingos Watching In Laguna De Salinas - Salt Mines Of Salinas Lagoons - Guided Tour To Salinas - Guide Book Of Reserva National De Salinas And Aguada Blanca - Arequipa's Day Tours - Full Day Excursion In Arequipa - Day Tour To Lagunas De Salinas - Photos Of Salinas Salt Flat - News About Laguna De Salinas - PeruTours
For serious weather report about Laguna De Salinas
CLICK HERE ...
ITINERARY OF FULL DAY TRIP TO WILDLIFE OF NATIONAL RESERVE OF AGUADA BLANCA AND SALINAS
GROUP SERVICE depart from Arequipa at 6AM with a transfer from customer's hotel to bus stop - Then 3½ hours of travel up to Salinas Salt Lake - The public bus stops along the way to pick up local's and drop off other is small remote villages - Taking the public bus service can be very exciting and challenge or a very uncomfortable experience - If you never did a travel with very picturesque people, their things or animals aboard (some days only), noise Andean music, dusty and not A/C.... sorry but we there is not other option.... but if you like this you can get a different and maybe very nice experience and of course easily you can make friends in 3 hours.
At 8AM meeting at your hotel in Arequipa (Private Service) and then we start to travel to the Salt Lake of Salinas and Aguada Blanca following a dirt road for about 3 hours getting close to the base of the Misti and Picchu Picchu volcano, driving through Chiguata village surrounded of lot pre-Inca terraces and seeing people dedicated to agriculture activities over 3000 meters on the sea level and from here begin to ascend on the abandoned road to Puno - Drive on zigzag road facing the south face of Volcan Misti and passing between Qeñuales forest trees, those kinds of tree grow on the skirts of snow-covered one belonging to the Picchu Picchu (5460m). Sights the geological fault of Misti volcano and of Picchu Picchu snow-peak - All way up offer spectacular view of Andean panorama making very interesting this journey for travelers looking to get the best pictures of volcanic landscape and small towns dedicated to work the pre-Inca terraces located at the both sides of Chiguata River.
At 10:30AM you will be at Salinas Salt Lake, located in National Reserve of Aguada Blanca and Salinas, this lake is in the mid-way between volcan Misti, volcan Ubinas and the snow-covered Pichu Pichu.
Trekking around this lake, sighting variety of animal life, specially Andean and migratory birds (Ducks - Condors - Eagles - Flamengos - Hummingbirds - etc), Llamas, Alpacas, Vicuñas, Foxes, savage Rabbits and others - During dry season (June to Dec.) the trip includes a nice walking from one to other side of the lagoon to get amazing pictures and luckily you will enjoy how the local people collect the salt as known as borato.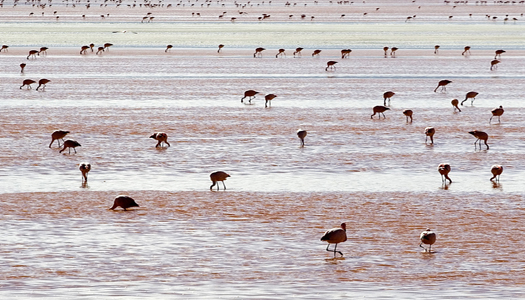 Around 1PM time to start our return to Arequipa taking the same route - From El Simbral will be optional downhill trekking to Chiguata - This trek takes around 2 hours passing a forest of Queñuas, view of Volcan Misti and other attraction as pre-Inca terraces.
The tour ends in your hotel of Arequipa around 5PM.
FLAMINGOS SEASON IN SALINAS SALT LAKE
The best time to watch the Flamencos at this lake is from January to June. The rest of the year this lagoon is completely dry covered with Borato until next raining season.
La Laguna de Salinas is considered by bird watching lover as a good place to see Andean water birds as: Jamesi Flamingos - Andean Flamingos - Chilean Flamingos
TOUR TO SALINAS LAGOON INCLUDES
English-Speaking tour guide
Pick up from and drop off at customer accommodation
Pick up ONLY from bus station or airport of Arequipa (PRIVATE SERVICE only and under request at booking time)
Round trip public bus service (Group Service only)
Private transport from Arequipa - Laguna De Salinas - Arequipa (Private Service only)
Enough snack for whole trip (chocolates, cookies, fresh fruit, drinking water, etc)
2 or 3 hours of hike around the lagoon and on the way back to Arequipa (Private Service Only)
Binoculars for watching different Andean birds (under request only)
Medical oxygen and first aid kit
PRICE FOR ONE DAY TRIP TO LAGOON OF SALINAS
DATE
TOUR
COST
Any day
(April - November)
TOUR SALINAS LAGOON - VISIT THE SALT FLATS $62 USD Per Person - Group Service

Wild Life Of National Reserve Of Aguas Blanca And Salinas - Full Day Guided Trip
Group Service (public bus)
1 to more paticipants $62 USD each

Private Service (Private 4x4/Guide)
2 participants $99 USD each
3-4 paticipants $80 USD each
5 to more participants $70 USD each
Discount 5%: Tour Operators or Travel Agencies Only
All prices stated above are subject to change
Organized Groups: We offer private service and departures any time
Group size: 6 bikers per each 4x4 and tour guide - We need minimum tow participants to develop this trip.
BOOK HERE: We highly recommended to book space prior you arrive to Arequipa - Take Private Service.
EXCLUDED
Travel insurance
Hotel in Arequipa
Soft and alcoholic drinks - Drunk people are prohibit to join the tour and no money refund.
Breakfast or lunch
Tip for guide and camp staff
WHAT YOU NEED TO BRING/CARRY
Rain/wind jacket or poncho (plastic ponchos can be purchased in Arequipa/Peru)
Strong comfortable and waterproof footwear
Sweater and jacket (something warm)
Water bottle
Hat or cap to protect you from the sun
Sun block (sun protection cream)
Toiletries, towel and toilet paper
Selection of small snacks, chocolate, dried fruit, biscuits, etc
Camera, plenty of film and spare batteries
Sunglasses
Optional: walking sticks or poles.
GROUP SERVICE (Public Bus Service)
For customers booking this type of service they must know the public bus is not comfortable thanks to road condition which is not good, bumpy and dusty - This cheap option will be offered according the real situation of few local busses from Arequipa to Andean villages around the lagoon - Sometimes customers have to spend time on the road waiting for any bus coming from somewhere or have to miss the option of trekking and back directly to Arequipa.
In case someone is not happy with bus service accept our apologies because we can manage the public bus for better service.
PRIVATE SERVICE (Private Transport)
we really recommends to book this trip taking a private transport from our company - This option give you more comfort and time to explore more and see more the lagoon - Also you will get more time for trekking and get back to Arequipa according your conveniences.
CONTACT US
For more information about the tour or you request a new date to departure for this tour, please contact us....
Some of our clients e-mail us saying our confirmation e-mails are placed to their spam folder rather than their inbox. We recommend to modify your JUNK or SPAM FILTER SETTINGS to receive our e-mail
peruadventurestours@hotmail.com
on the correct inbox. You may also want to add this email address to your list of known contacts. This will prevent our responses from being filtered into your Junk or Spam mail folder.