Cusco
Trekking Tours
Biking Tours
Horseback Riding
Classic Tours
ATV Tours
HORSEBACK RIDING TOUR IN THE SACRED VALLEY - CUSCO Full Day Tour
April 11th, 2007
Saul, thank you, I truly loved Peru, it is a lovely country with equally lovely people.
Our horseback riding tour in the sacred valley was excellent. It truly was one of the highlights of our trip to Peru. The horses were great and well cared for; the tack was appropriate for the trip. Our tour crew was excellent, very friendly and helpful. The actual trek was beautiful and fun. We ended with a very nice lunch and were said to have to say goodbye to everyone. I would certainly recommend the trip to anyone who loves riding and has some experience. It could be a little scary for a first-time rider, buy anyone with a little experience would love the trip!
It is always tough to select a riding tour, and I've done many, when you don't know how the horses are treated, etc, but your tour was perfect. I may come back in November if all goes well. I will definitely be sure to make recommendations. Thanks, and I guarantee when we come back, we will look at doing another ride, perhaps an overnight!
Debbie
Switzerland
RIDING IN THE SACRED VALLEY OF THE INCAS $595 USD Per Person
Horseback Riding Tour In The Heart Of The Inca Valley 2 Days - 1 Night
DAY 1: OLLANTAYTAMBO - SALINERAS - MORAS - TIOBAMBA
At 8am Pick you up from your hotel in Cusco. Transfer to ranch, located in the sacred valley (Ollantaytambo). At ranch we will meet our Peruvian Paso horses and complete explanation about the premises and an introduction of our national horse, riding courses and equitation lead by an experience instructor. After lunch we depart toward the picturesque village of Ollantaytambo. We will cross the Urubamba River. Then to the salt platforms of Salineras (Inca times), still being used by the locals to extract salt from the mountain spring water. Where the salty water is channelled through an impressive irrigation system and left to evaporate in the sun.
Continue 2 hours climbing riding the horses (1000m) to reach the high Andean. Over at 3750m the stunning scenery and the snow-capped mountains of Chicon, Veronica and SalKantay are impressive. Following a typical Andean trail to Maras village and then connect to Tiobamba, where we will leave our horses to rest. Stay in tents in the middle of the country.
DAY 2: TIOBAMBA - CHEKOQ - MORAY - CUSCO
After breakfast departure from the church of Tiobamba, will continuing to visit the ruins of Chekoq (cold storage depots). Cooling of the products was achieved by using a genius system of underground air-circulation. Ride to Lake Huaypo, there will have lunch with spectacular scenery of snow-capped mountains, wildflowers and beautiful mountain lakes. Ride to Moray terraces, this area was served as an experimental agricultural station for the development of different crop strains, using the climates of different ecological zones. There are no great ruins in Moray to impress visitors. Moray is more for the contemplative traveller with an affinity for such phenomena as the Nasca Lines. From Moray we come back down to the Valley floor, after 6 hours arrive to the ranch.
At 4pm transfer back to Cusco.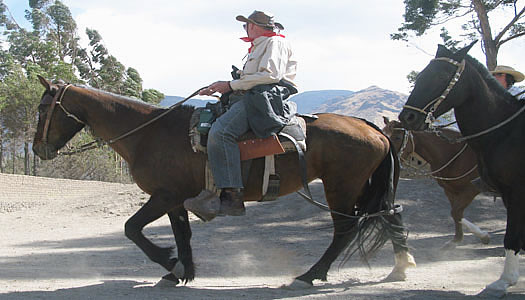 RIDING IN THE SACRED VALLEY OF THE INCAS INCLUDES
Private transfer from Cusco to ranch, located in Urubamab the heart of the sacred valley (round trip)
Experienced english tour guide
Peruvian paso horses, well cared
Snack (water - chocolates - fruits)
4 capacity tent (four season tent) - 2 persons per tent with plenty space for backpacks
Double inflate sleeping mattresses
Meals (2 lunches - 1 dinner - 1 breakfast), vegetarian food is available under request
Teatime everyday (coffee, tea, popcorn, biscuit)
Plenty drinking water on riding time only
Experienced cook whole horseback tour
Dining tent with camp tables and chairs
Kitchen tent
Accommodation and meals for our camp staff
First aid kit and oxygen bottle for any participant and our camp staff
Entrances to each complex mentioned in the program
SEE OUR CAMPING GEAR,
Click here...
TOUR SCHEDULE & COST 2012
DATE
TOUR
COST
Any day
(all the year)
RIDING IN THE SACRED VALLEY OF THE INCAS $595 USD Per Person

Horseback Riding Tour In The Heart Of The Inca Valley 2 Days - 1 Night
Backpacker Service (Join a group)
No appicable

Private Service (private guide)
2 participants $595 USD each
3-4 participants $495 USD each
5 to more participants $420 USD each
Discount: $5 USD of discount for South American Explorers Club Members
Discount 3%: Tour Operators or Travel Agencies Only
Students: $5 USD of discount only with valid green ISIC card
Organized Groups: We offer private and any time departure
Group size: 6 participants per guide
BOOK HERE: We highly recommended to book space prior you arrive to Peru
TIP
: You will receive a basic course in riding Paso horses in the safety of our corral (beginners).
All prices stated above are subject to change.
Exchange rate $1 USD = S/. 3.02 (rate may vary daily).
NOT INCLUDED
Soft and alcoholic drinks
Hotel in Cusco
Sleeping Bag (can be hired in our office in Cusco, $5 USD per day)
Breakfast on the first day
Tipping for guide and camp staff
This site is operated by PERU ADVENTURE TOURS a legally constituted company to the Peruvian government, which operates from offices in Arequipa and Cusco in Peru. In accordance with the relevant statutory provisions referred in Peru Tourism law, its regulations, its decrees and other legislation applicable in both the country and abroad are issued these general conditions and responsibility as outlined below, which govern the provision of services on the one hand between the passenger or user of services "CLIENT", by other hand the "TRAVEL AGENCY" by the other hand the entities of the service providers such as airlines, hotels, restaurants, transport, guides and other tourism-related services and in connection with this contract.
For more information about full information of terms and conditions
CLECK HERE
.
WHAT YOU NEED TO BRING/CARRY
Small backpack to carry the most important items
Sleeping bag (can be hired from our office in Cusco for $5 USD per day)
Rain jacket or poncho (December - April)
Strong comfortable and waterproof footwear
One complete change of clothing
Sweater and jacket (something warm)
Bottle of water and purification tablets (Micropur are recommended and can be bought in local pharmacies in Cusco)
Flashlight and batteries
Hat or cap to protect you from the sun
Sun block (sun protection cream)
Toiletries, towel and toilet paper
Selection of small snacks, chocolate, dried fruit, biscuits, etc
Camera, plenty of film and spare batteries
Sunglasses
We don't hire our horses, sorry :-(
CONTACT US
For more information about the tour or you request a new date to departure for this tour, please contact us....
Some of our clients e-mail us saying our confirmation e-mails are placed to their spam folder rather than their inbox. We recommend to modify your JUNK or SPAM FILTER SETTINGS to receive our e-mails
peruadventurestours@hotmail.com
on the correct inbox. You may also want to add this email address to your list of known contacts. This will prevent our responses from being filtered into your Junk or Spam mail folder.