Cusco
Trekking Tours
Biking Tours
Horseback Riding
Classic Tours
ATV Tours
SALKANTAY TREK TO MACHU PICCHU - CLASSIC ROUTE SINCE $725 USD Per Person
Trekking Through Highlands Of Cusco In 5 Days - 4 Nights
Salkantay Trek to
Machu Picchu
, this new amazing trail runs from the high valley up to Salkantay mountain (20569ft/6271m) located on the Vilcabamba range on the northwest of
Cusco
, in the south central
Peru
. This fantastic Salkantay adventure!! you will cross one of the most astonishing Andean landscapes and see the most beautiful panoramic views of mountain chains and will be in the vicinity of the tropical rainforest. On the way up and down the ecosystem change rapidly and also are marvels flora and fauna a long the way. On our final hiking day we are rewarded with an incredible view of
Machu Picchu
. From the small village of Aguas Calientes where we finish our trek, the last day visit the "lost city of the
Incas
" with guided tour.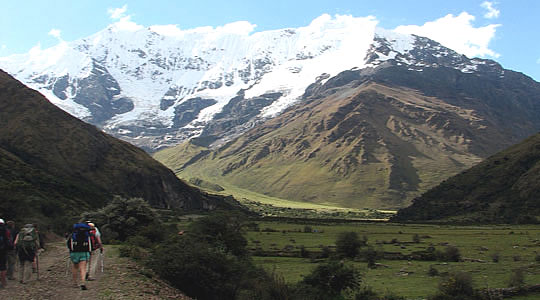 ITINERARY OF SALKANTAY TREK TO MACHU PICCHU
DAY 1: CUSCO - MOLLEPATA - SORAYPAMPA
At 7am pick up from your hotel and transfer from Cusco to Mollepata, We will initiate the long walk accompanied by an experienced bilingual guide (English & Spanish). Mules loaded our entire luggage, thus also we will have some horses of emergency, in case that it is needed later. After 4 to 5 hours arrival to our camp site in Soraypampa (Tee time - Dinner).
DAY 2: SORAYPAMPA - SALKANTAYMAYU
After breakfast we ascend slowly towards the pass of Markokasa (3650m) continuing through beautiful landscapes until the viewpoint of Humantay (5917m) soon we continued towards the gorge of Salkantay where we will set up our tents (Breakfast - Lunch - Tee time - Dinner).
DAY 3: SALKANTAYMAYU - PLAYA
Today we will initiate our long walk with exceptional views of the snow-covered of Salkantay (6271m) as we promote towards the pass of Incachiriasca (4880m) this beautiful mountain will astonish to us. Soon we descend to Sisaypampa, we will continue until the river/beach where we will camp on the foot of the majestic Salkantay Mountain (Breakfast - Lunch - Tee time - Dinner).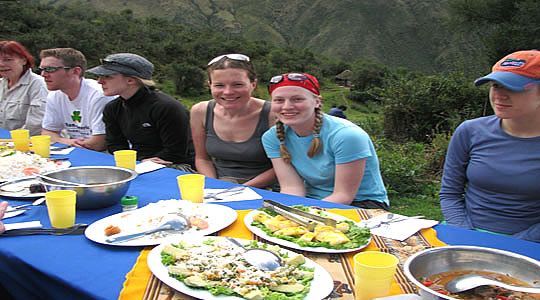 DAY 4: PLAYA - SANTA TERESA - HYDROELECTRICA - AGUAS CALIENTES
After a healthful breakfast, we will initiate the long walk, towards the valley of Pampacahua where we will find rest of Inca channel, later we will descend till the archaeological site of Paucarcancha. Continue hiking along the Urubamba River until arriving finally at the hydroelectrica of Machu Picchu and then connect Aguas Calientes. Lunch in Aguas Calientes and if time permits you can visit the thermal baths and stay in a comfortable hotel 3* (Breakfast - Lunch - Tee time - Dinner).
DAY 5: MACHUPICCHU DAY - RETURN TO CUSCO
This last day will start at 5am and after breakfast short hike up or travel by bus to Machu Picchu archaeological site, complete guided tour to this amazing complex, leisure time to explorer on your own. At 1pm time to return hiking down or by tourist bus to Aguas Calientes, time to have your lunch (OPTIONAL) and transfer by train to Cusco. After 4 hours arrival to Cusco, transfer to your hotel and end service (Breakfast).
SALKANTAY TREK TO MACHU PICCHU INCLUDES
Official English-Speaking guide
Private transfer by van from Cusco to Mollepata (Private Service only)
Public bus transfer From Cusco to Mollepata (Backpacker Service)
Entrance to Salkantay trail
Entrance to Machu Picchu ruins (day 5)
Permit to climb the Wayna Picchu Mountain (day 5)
Horse to carry food and camping gear and backpacks up to 8 kilograms per participant
01 emergency horse to be ride in case you feel sick/tired or to carry all your backpacks (Private Service only)
Experienced cook
Cooking equipment
Teatime everyday (coffee, tea, popcorn, biscuit)
4 capacity tent (four season tent) - 2 persons per tent with plenty space for backpacks
Double thickness foam sleeping mattress
All meals on the trail (4 breakfasts - 4 lunches - 4 dinners)
01 night of hotel in Aguas Calientes; private bath and hot shower (3* category - Day 4)
Water supply (boiled) after every dinner or breakfast
Return train ticket from Aguas Calientes to Cusco (Backpacker class)
Bus from Aguas Calientes to Machu Picchu and then return to Aguas Calientes (Not all tour operators include this service)
Kitchen and dining tent with camp tables and chairs
Camping and meals for our camp staff
First aid kit and oxygen bottle for any participant and our camp staff
SEE OUR CAMPING GEAR,
Click here...
TOUR SCHEDULE & COST 2012
DATE
TOUR
COST
Any day
(Except January to March)
SALKANTAY TREK TO MACHU PICCHU - CLASSIC ROUTE SINCE $725 USD Per Person

Trekking Through Highlands Of Cusco In 5 Days - 4 Nights
Backpacker Service (Join a group)
1 to more participants $725 USD each one

Private Service (Private guide)
2 participants $1085 USD each one
3-4 participants $955 USD each one
5 to more participants $745 USD each one
Discount: $5 USD of discount for South American Explorers Club Members
Discount 3%: Tour Operators or Travel Agencies Only
Students: $5 USD of discount only with valid green ISIC card
Organized Groups: We offer private and any time departure
Backpacker Service Group Size: 8 Participants per tour guide
Private Service Group Size: Just participants, tour guide and camp staff
BOOK HERE: We highly recommended to book this trek prior you arrive to Peru
All prices stated above are subject to change.
Exchange rate $1 USD = S/. 3.02 (rate may vary daily).
IMPORTANT
Every night keep all your items locked up in your tents to prevent any problems with robberies.
NOT INCLUDED
Alcoholic drinks
Last day lunch is not included
Horse to carry your personal items (see below)
Sleeping Bag can be hired in our local office in Cusco $5 USD per day (-15ºC)
Breakfast on the first day before to be collected from your hotel, if your hotel don't offer early breakfast service, we stop at Mollepata village to have breakfast for additional cost
Tips for guide and camp staff
This site is operated by PERU ADVENTURE TOURS a legally constituted company to the Peruvian government, which operates from offices in Arequipa and Cusco in Peru. In accordance with the relevant statutory provisions referred in Peru Tourism law, its regulations, its decrees and other legislation applicable in both the country and abroad are issued these general conditions and responsibility as outlined below, which govern the provision of services on the one hand between the passenger or user of services "CLIENT", by other hand the "TRAVEL AGENCY" by the other hand the entities of the service providers such as airlines, hotels, restaurants, transport, guides and other tourism-related services and in connection with this contract.
For more information about full information of terms and conditions
CLECK HERE
.
STAY AN EXTRA NIGHT AT AGUAS CALIENTES?
Yes, if you want to stay an extra night in Aguas Calientes after Salkantay trek this can easily be arranged. We will purchase your train ticket to return to Cusco the following day. You need to let us know at the time of making the trek reservation so we can reserve your train tickets in advance. Obviously if you stay an extra night then you will have to pay for your accommodation.
WHAT YOU NEED TO BRING/CARRY
Backpack 65lt and big enough rain cover or plastic bag to cover the backpack when the horse will be carrying
Sleeping bag can be hired from our office for $5 USD per day
Rain jacket or poncho (plastic ponchos can be purchased in Cusco/Peru)
Strong comfortable and waterproof footwear
One complete change of clothing (you can afford to carry more changes of clothing if you hire a personal porter, see options below)
Sweater and jacket (something warm)
Water bottle and purification tablets (Micropur are recommended and can be bought in local pharmacies in Cusco)
Flashlight and batteries
Hat or cap to protect you from the sun
Sun block (sun protection cream)
Insect repellent
Toiletries, towel and toilet paper
Selection of small snacks, chocolate, dried fruit, biscuits etc
Camera, plenty of film and spare batteries
Swimsuit (if you plan on visiting the hot springs)
You also need to bring your original passport on the trail
Optional: walking sticks or poles
SALKANTAY WEATHER
Dry season (April & November)
Day temperature 20ºC/25ºC
Night temperature -1ºC/7ºC
Wet season (December & March)
Day temperature 17ºC/22ºC
Night temperature 4º;C/10ºC
HORSES AND HORSEMAN SERVICE
Will cost $75 USD per day to ride or carry your personal items. You will need to carry with you a daypack with your Camera, bottle of water, snacks, a fleece or something warm and a poncho in case of rain (unlikely in dry season but as a precaution) and anything you will need before lunch as porters do not walk alongside you. Your bag will be waiting for you in your tent at campsites.
Please note there are fines if you give an excess of 18kgs so try to underpack rather than overpack.
NEW REGULATION FOR SALCANTAY TREK TO MACHUPICHU
Since July first of 2006 the INSTITUTO NACIONAL DE CULTURA and the UGM park control just anounced a new entrance for all the hikers (foreigner or peruvians).
CONTACT US For more information about the tour or you request a new date to departure for this tour, please contact us....
Some of our clients e-mail us saying our confirmation e-mails are placed to their spam folder rather than their inbox. We recommend to modify your JUNK or SPAM FILTER SETTINGS to receive our e-mail
peruadventurestours@hotmail.com
on the correct inbox. You may also want to add this email address to your list of known contacts. This will prevent our responses from being filtered into your Junk or Spam mail folder.