Arequipa
Trekking Tours
Climbing Tours
Biking Tours
Horseback Riding
Classic Tours
Sandboarding Tours
TREKKING TOUR TO EL MISTI VOLCAN $55 USD Per Person - Group Service
Half Day Trekking To Volca El Misti
El volcan Misti (5825M) is only 23km northeast of Arequipa as known as the white city of Peru – Our company provide this alternative trek for adventure people looking for trekking to one base camp on the slopes of an active volcano – Trekking Volcan Misti includes very nice landscaped of upper zone, villages and countryside contrast around Arequipa.
Half Day Trek To Volcan Misti - Misti Trekking Tours - Picture Of Misti Volcano - Map Of Misti - Short Hike Tour To Volcan Misti - Climbing Tour To Misti - Mysti Trekking - Misty Tours - Arequipa Trekking Tours - Tours To Volcan Misti - Climbing Equipment For Volcan Misti - Misti Base Camp - Guided Trek To Mysti Volcan - Peru Volcanoes Trek - Hiking Tours Around Arequipa - Misti Day Trekking - Arequipa's Day Trips - Trekking Guides For El Volcan Misti - 4x4 Transport To El Misti
For serious weather report about El Misti
CLICK HERE ...
ITINERARY OF HALF DAY TREKKING TO VOLCAN MISTI
This trip can begin at 8AM or 1PM from the lobby of your hotel in Arequipa – The tour also can begin from bus stop or airport of Arequipa with additional payment at booking time.
Firstly we drive for about half hour to get out from the city and then we start to drive on gravel road on the slopes of volcan Misti – Finally we arrive to the limit between urban zone and Reserva Nacional de Aguada Blanca, where is located this active volcano recognized as guardian of Arequipeños.
The trek begins about 3400M of altitude following a narrow and steep path – The trek goes through lot bushes, small canyons and tree forest of Queñuales (Polylepis) to provide shelter for some birds of this region – The uphill trek whenever becomes stronger thanks to low oxygen about 3800M height – Everyone have 4 hours as maximum time to ascend and descend by the same path - El volcan Misti offer beautiful views of Arequipa from the highest point and then downhill trekking to the vehicle and drive back to your hotel in Arequipa and end of service.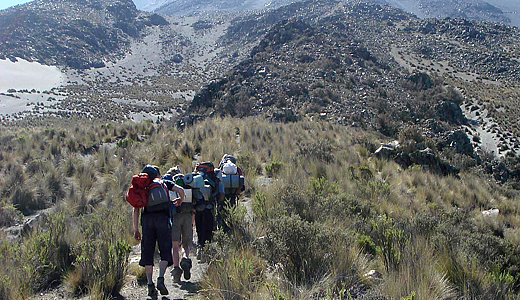 MISTI VOLCANO TREK INCLUDES
Experienced English-Speaking guide
Pickup and drop off at customers hotel
Private four wheel drive (4x4) from Arequipa up to 3400M
Plenty of water drinks and snack
Oxygen bottle and first aid kit for the participants and our camp staff
Walking sticks or poles (Private Service only)
TRIP RATE FOR TREKKING TO VOLCAN MISTI
DATE
TOUR
COST
Any day
(April to November)

Some days in the rain season, between december to March
TREKKING TOUR TO EL MISTI VOLCAN $55 USD Per Person - Group Service

Half Day Trekking Around El Misti
Backpacker Service (Join a group)
1 to more paticipants $55 USD each

Private Service (Private 4x4/guide)
2 participants $115 USD each
3-4 participants $95 USD each
5 to more participants $70 USD each
Discount: $5 USD of discount for South American Explorers Club Members
Discount 3%: Tour Operators or Travel Agencies Only
Students: $5 USD of discount only with valid green ISIC card
All prices stated above are subject to change
Organized Groups: We offer private and any time departure
Group size: 4 participants per guide - We need two participants minimum to develop this tour
BOOK HERE: We highly recommended to book space prior your arrival to Arequipa
See the classic map of climbing to Misti Volcano.
EXCKUDED
Travel insurance
Soft and alcoholic drinks - Customers under effect of alcohol or other drugs are prohibited to join this trip without money refund
Drinking water
Tip for guide and camp staff
Hotel in Arequipa
WHAT YOU NEED TO BRING/CARRY
Small backpack 35Lt to carry your personal things
Windproof jacket just for raining season (December/March)
Hiking boots
2 liters of water per person minimum
Hat or cap and sun block to be protected from the strong sun
Toilet paper
Selection of small snacks, chocolate, dried fruit, biscuits, etc
Camera, plenty of film and spare batteries
Sunglass is strongly recommended to protect your eyes from the snow and sun
Your personal medications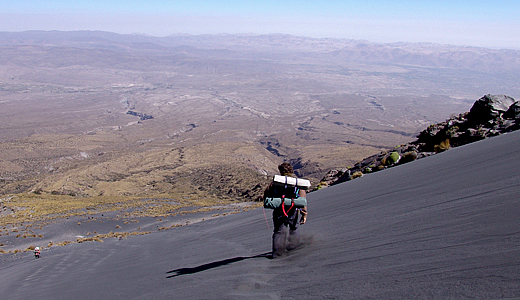 PORTER SERVICE
This service cost $55 USD per day, to carry your personal items. You will need to carry with you a daypack with your Camera, bottle of water, snacks, a fleece or something warm and a poncho in case of rain (unlikely in Dry season but as a precaution) and anything you will need before lunch as porters do not walk alongside you. Your bag will be waiting for you in your tent at campsites. Please note there are fines if you give an excess of 18 kgs so try to underpack rather than overpack. You can hire a porter from Arequipa to carry your pack over the base camp.
RAIN SEASON
December to March. Some days blue sky with good conditions to climb.
BEST TIME TO CLIMB THE MISTI VOCANO
April to December, on the rain season same days are with good weather (blue sky) permiting to climb this volcano. before to book your tour please see the weather report.
ADVICE FOR CLIMBERS
To have good acclimatization, good physical conditions and good quality winter clothes. One day before all the climbers will have meeting with the mountain guide at our office or in the hotel, who will give a BRIEFING about this climb and also you can check the quality of the climb gear will be used on the mountain.
CONTACT US
For more information about the tour or you request a new date to departure for this tour, please contact us.... Some of our clients e-mail us saying our confirmation e-mails are placed to their spam folder rather than their inbox. We recommend to modify your JUNK or SPAM FILTER SETTINGS to receive our e-mail
peruadventurestours@hotmail.com
on the correct inbox. You may also want to add this email address to your list of known contacts. This will prevent our responses from being filtered into your Junk or Spam mail folder.