TOUR TO VOLCANOES VALLEY OF ANDAGUA $565 USD Per Person - Private Service
Discover the Largest Volcanic Valley In The South Of Peru 3 Days - 2 Nights
El Valle de los Volcanes of Andagua or Andahua is locate d 377km from Arequipa – Andagua is located in the province of Castilla, in Arequipa department and for the tourism is recognized as "Volcanoes Valley of Andagua" at the food of Nevado Coropuna (6377m) – The 70km long valley is considered inter-Andean valley thanks to altitude location (3580m) and natural wonders untouched by travelers – At present the valley is a deep open fails whose bottom now appears as a valley and this filled by abundant basaltic lava scattered in several stages and thanks to this geological fails Andagua is great tourist circuit offering more than 85 volcanic cones dating from prehistoric times when the planet was still in full training like a lunar landscape – According to some reports there were small eruptions in 1913 destroying some settlements in the Inca era – The constant lava flows changed the river course and also modified the topography of Andagua Valley.
Andahua Valley also offer great opportunities for trek lovers – A nicer place for downhill hike is Mirador de Shankilay, in middle lower zone of the valley where is nice powerful falls which are formed the Rio Andagua and the lagoon of Chachas – Another place for nice trekking through small volcanic cones is the ruins of "Maucallaqta" dating from pre-Inca times with influence of Wari culture, the ruins is located on the top of hill on the right bank of Andagua River – The most typical tourist route is to the "Mellizos" (twins), there are two very similar volcanoes next of the town with good access following a nice path to reach the perfectly conical top.
Visit Antigua El Valle De Los Volcanes and you will discover more than you were expecting to see.
Tour To Andagua Volcanoes Valley - Valle De Los Volcanes - Valle De Andagua - Trip To Valle De Los Volcanes - Tour To Andagua - Toro Muerto Petroglyphs - Hotels In Andagua - Trip To Andagua - Trek In Andagua - Photos Of Andagua Volcanoes - Andagua Travel Guide - Andagua Trek - Colca Andagua Tour- Valle De Majes - Rio Majes - Valle De Viraco - Mount Coropuna - Nevado Coropuna - Andagua Adventure Tours - 4x4 Tour To Andahua - Trekking And Camping In Andahua - Peru Volcanoes
For serious weather report about Andagua Valle De Los Volcanes CLICK HERE...
ANDAGUA VOLCANOES VALLEY TOUR ITINERARY
DAY 1: AREQUIPA - VALLE DE MAJES - TORO MUERTO - ANDAGUA
At 6AM pick up from your hotel in Arequipa and 3 hours travel to west by the Pan American highway through the impressive desert zone giving a view of all of Arequipa's volcanoes: El Misti, El Chachani, El Ampato and Coropuna. We will arrive to Corire - Majes valley is 170km from Arequipa, closer the left side of the river is located the Toro Muerto petroglyphs, is a volcanic rock area over approximately 5 km2, most probably the result of violent eruptions of the Coropuna and Chachani volcanoes. Consist of carved boulders strewn over hot desert. More than a thousand rocks of all sizes and shapes have been crudely, yet strikingly, engraved with a wide variety of distinct representations. No archaeological remains have been directly associated with these pictures they date from between 1000 and 1500 years ago, largely attributed to the Wari culture, though with probable additions during subsequent Chuquibamba's and Inca periods of domination in the region. The engravings include images of humans, snakes, llamas, deer, parrots, sun discs and simple geometric motifs. Some of the figures appear to be dancing; others look like spacemen with large round helmets – Obviously potential for the author Eric Von Daniken extraterrestrial musings.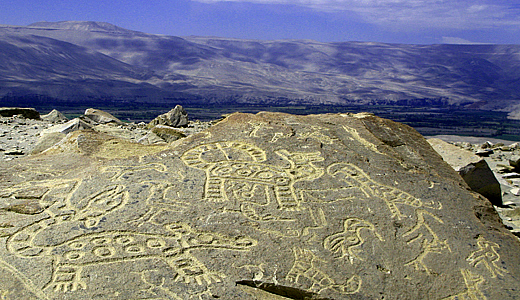 After 2 hours walking around the petroglyphs we continue with a visit to see pre Inca tombs located in poor area of the valley – The next stop will be at small Jurasic park as known as Qerulpa, this place is recognice thanks to the tracks of the Dinosaurs founded in one the sand hill next of the road between Corire and Aplao (700m).
Around 12PM will be the lunch served in a local restaurant and according the season we can offer local dish prepared with river shrimp.
Around 1PM continue driving ascending on asphalt road passing small valley like Andamayo (928m), Tipan (1928m), Tagre (2190m), Viraco and Machaguay (3200m) – All those places have fully of agriculture terraces thanks to the water of the snow-capped of Coropuna (6377m) – From Viraco the road conditions change to dirt and bumpy road until Andagua – The dusty road offer great view of mountains, canyons, small rivers and valleys.
After 4 hours of driving we reach the highest pass on this day – The name of the highest point of today will be Paso Coropuna (4930m) – This is the base of the 3rd highest peak in Peru and considered sacred mountain for local farmers around here – On the way down we pass small villages, wetlands where you can see large groups of Llamas, Alpacas, few Vicuñas and other Andean wildlife – From the pass downhill drive following same road conditions to Andagua (3580m).
Around 6PM arrive to Andagua, this is considered small town surrounded by small volcanoes – Here we will provide small accommodation with private bath and hot shower only if is available – The dinner will be supply by local family prepare with local recipes (L - D).
DAY 2: TREKKING IN ANDAGUA VALLEY - MAMACOCHA LAGOON - AYO VALLEY
Today we wake up at 6AM and begin to explore two small extinct volcanoes as known as "Los Mellizos" (Twins) – This sort trek will takes around 2 hours following very clear path up to the top of one of these cones and get different angles of spectacular view of entire town and the valley of Andagua – Around 8:30AM return to the hostel to get country breakfast.
Around 10AM we start our trekking for about 3 hours through the Valle de los Volcanes, agriculture fields, cactus forest, some pre-Inca remains and lot flora of this region – Our trekking will be mostly downhill following dusty trail and crossing a region look as lunar valley – For this trek we recommend to bring good hiking boots, water and everything to protect you from the sun.
Around 1PM we will meet 4WD vehicle and then drive on dirt road down to valley of Ayo (1950m) – This valley is located at bottom and near of the intersection of Andagua and Colca River – The typical characteristic of valley are the vineyards thanks to the dry climate and arid field which is appropriate to produce good artisanal vine and Pisco (grape brandy) and of course you can taste them in a local shop – Today for lunch we will make some picnic (box lunch) next of the two rivers – If we are lucky we can try river shrimp again but this depends of local and very small restaurant in Ayo – After lunch nice and short walk to see the a mysterious and blue waters of Mamacocha lagoon (1690m). The lagoon is surrounded by volcanic lava if time permit we can watch the river otter and other wildlife around the lagoon.
At 5PM drive back to Andagua to get diner and sleep in the same hostel (B – L - D).
DAY 3: ANDAGUA - VIRACO - APLAO - CORIRE - AREQUIPA
Today is the last day your stay in El Valle de Andahua – Before breakfast we driver for 10 minutes to the southwest of the town to find a nice trail between cactus forest and pre-Inca's constructions – Short uphill trek to "Mirador de Antaymarca" and get amazing views of many volcanoes and after nice shots return to the 4WD and drive back to the hotel to get huge breakfast and then begin of return to Arequipa for about 8 hours of driving on the same road – Along the road some stops for pictures, to use toilet and get lunch in Valle de Majes (600m).
Around 5PM arrive to your hotel in Arequipa and end of this tour (B - L).
ANDAGUA VOLCANO VALLEY INCLUDES
English-speaking tour guide
Pickup from hotel, from bus station or airport of Arequipa
Private transport for whole trip
Camping equipment under request only
2 night of accommodation in small hostel or homestay
2 breakfasts, 3 lunches and 2 diner
Entrance to petroglyphs of Toro Muerto
Drop-off at hotel in Arequipa on last day
SEE THE OUR CAMPING GEAR,
Click here...
PRICE FOR TOUR TO VALLE DE LOS VOLCANES ANDAGUA
DATE
TOUR
COST
Any day
(April - December)
VOLCANOES VALLEY OF ANDAGUA $565 USD Per Person


Discover the Largest Volcanic Valley In The South Of Peru 3 Days - 2 Nights
Backpacker Service (Public bus)
No available

Private Service (Private 4WD)
2 participants $565 USD each one
3-4 participants $498 USD each one
5 to more participants $415 USD each one
Discount: $5 USD for South American Explorers Club Members
Discount 3%: Tour Operators or Travel Agencies Only
Students: $5 USD of discount only with valid green ISIC card
Organized Groups: We offer private service and any time/day according request.
Group size: 4 participants per each guide.
All prices stated above are subject to change.
BOOK HERE: We highly recommended to book space prior you arrive to Arequipa.
NOT INCLUDED
Hotel in Arequipa
Travel insurance
Soft and alcoholic drinks
Sleeping bag if you decide camping in the valley of volcanoes
Breakfast on the first day
Tips for guide and camp staff
WHAT YOU NEED TO BRING/CARRY
Small backpack
Rain jacket or poncho (plastic ponchos can be purchased in Arequipa/Peru)
Hiking boots
One complete change of clothing
Bottle of water for each day
Flashlight and batteries (optional)
Hat or cap to protect you from the sun
Sun block (sun protection cream)
Insect repellent will be necesary for low places as Valle de Majes
Toiletries, towel and toilet paper
Selection of small snacks, chocolate, dried fruit, biscuits etc,
Camera, plenty of film and spare batteries
Sunglasses
Extra money (soles).
PRIVATE SERVICE
With this service you will have supporting vehicle from the begining to the end of the trip and and the trip will be more flexible according tour itinerary and booking conditions.
DEPARTURES
The tour is available all around year but this need to be booked in advance and our tour company can guarantee the depart according your request - During the rainy season (Dec. to March) the trip is available only if weather conditions permit.
CONTACT US
For more information about the tour or you request a new date to departure for this tour, please contact us....
Some of our clients e-mail us saying our confirmation e-mails are placed to their spam folder rather than their inbox. We recommend to modify your JUNK or SPAM FILTER SETTINGS to receive our e-mail
peruadventurestours@hotmail.com
on the correct inbox. You may also want to add this email address to your list of known contacts. This will prevent our responses from being filtered into your Junk or Spam mail folder.