ONE DAY TREK TO NEVADO MISMI FROM CHIVAY $198 USD Per Person - Group Service
Trekking To Source Of Amazon River And Climbing To The Summit Of Nevado Mismi
Nevado Mismi is a 5,597m (18,358ft) mountain peak of volcanic origin located in the Andes mountain range of Arequipa, Peru. A glacial stream on the Mismi was firmly identified as the most distant source of the Amazon River in 1996 by scientist expeditions; this finding was confirmed in 2001 and again in 2007. The waters from Nevado Mismi flows into the Quebrada Carhuasanta and Apacheta, which flow into the Río Apurímac which is a tributary of the Ucayali which later joins the Marañon to form the Amazon proper.
Nevado Mismi is about 160km west of Lake Titicaca and 700km southeast of Peru's capital city, Lima, in the Arequipa Region. It is one of the highest points of Colca Canyon. There are several glaciers on the peak as Quehuisha, Huilcayo and Choquecorao. Their defrosting forms a small lagoon near the summit which is known as Laguna Inti Cocha (in ancient Quechua language meaning "sun lagoon").
From Arequipa is possible to get to Mismi Mt by private 4x4 or rarely public bus passing through Chivay (Colca valley), Canocota and Tuti. The distance to drive is not more than 200km.
In the summit of Mismi it happens a "Divortium aquarium": The waters of their defrostings are divided and take two-way traffic: On the one hand they go away towards the Pacific Ocean (Through river Colca, Majes and Camaná) and by the other side towards the Atlantic Ocean (Through river Apurimac, Ene, Ucayali and Amazonas).
Quebrada Carhuasanta is at 4.900 meters high (16,072 ft.); in the beginning the small river is called Lloqueta, then Challamayo and finally Hornillos River (This we can see it in the road to Caylloma); after few kilometers Hornillos join its waters in "La Angostura" with Apurimac River (or Caylloma that comes from Vilafro lagoon. In its route the Apurimac receives waters of many tributary rivers that contribute to increase considerably their volume more and more impressive. When joining itself with the Apurimac in La Angostura and being a greater river goes towards Cusco, soon will cross the departments of Apurimac, Ayacucho, and part of Junin until arriving in Loreto to continue his fabulous trip towards Brazil.
One Day Trek To Nevado Mismi From Chivay - Trekking To Nevado Mismi - Tour To The Source Of Amazon River - Tour To Nevado Mismi - Mismi Trek Origen Del Rio Amazonas - Nevado Mismi - Tour Al Origen Del Rio Amazonas En El Nevado Mismi - Trek To The Source Of The Amazon - NevadoMysmi - MismyMountain - MismiTrek - MysmyMountain - Guide Hike To Summit Of Nevado Mismi - 4x4 Tours To Mismi Mountain - Transport To Nevado Mysmi - Travel Guide To The Origin Of Rio Amazonas - AmazonRiver - RioAmazonas - Excursion To Source Of The Amazon River - Exploring The Amazon River Source Adventure Trek To Nevado Mismi - Information Of Mismi
For serious weather report about El Misti
CLICK HERE ...
MISMI MOUNTAIN EXPEDITIONS
The Cousteau Amazon Expedition
: In 1982 Jean Michael Cousteau led a large scale scientific exploration of the Amazon from its mouth to its origin. The "Cousteau Amazon Expedition" cost eleven million dollars and culminated in a six-hour television documentary titled "Cousteau's Amazon" released in 1983. It offered study information to last years and gave insights into the biology and geology of the largest river system on earth. Traditionally, explorers and geographers defining the origin of a river system by tracking the longest tributaries while heading upstream, as volume can change dramatically from month to month. In a system as complex as the Amazon basin with dozen of streams as candidates in previously poorly mapped areas, no consensus could plausibly be substantiated for some time, and the origin was left to speculation. Half a dozen sites claimed title to "The Origin of the Amazon River" and until 1982 several were in the running.
Using an international team of twelve and bringing in expeditionary specialists from Germany, France, Argentina, Peru and the USA, Jean-Michel Cousteau put together resources and logistics spanning a thousand miles of unknown jungle.
The Upper Amazon expedition (The Flying Expedition) included an Eastern European multi-axle reticulated Land Rover for use on land, a float plane Papagaiu, for air support and reconnaissance, and the Peruvian Air Force offered a high elevation helicopter to reach the upper levels of the Cordillera de Chila Mountain range in Peru.
Expedition support bases were established in Cusco, in the mountains, in Arequipa near of the Pacific coast, and high in the Cordillera de Chila at Caylloma for the quest to find the origin of the Amazon River. Many locations were remote, making it necessary to surmount language, terrain and logistical difficulties, as the mountain team made their way up the Río Selinke to the flanks of Nevado Mismi. At this mountain's base, Jean Michael dispatched a team of German alpinists who climbed the 18,000 foot volcano and returned in two days. During their descent, they found melt water dropping into a fissure. This cleft varied from two meters to half a meter wide, angling down the slope. This stream flowed nearly fifty meters before disappearing, emerging again lower down to flow between stones and continues its course. They discovered that within the fissure, the water was deep enough to float a small craft and realized that they were presented with an opportunity. Utilizing pack llamas, kayaker Caril Ridley was brought to the site, and in June 1982, navigating by kayak, became the first person to run the origins of the Amazon. Later expeditions refined our understanding of the river's many origins and its subsequent course to the Atlantic Ocean.
National Geographic Society Expedition
: In 2001, it was verified that the main headwater of the Amazon River has its glacial source on Nevado Mismi. An expedition of the National Geographic Society discovered that Carhuasanta stream flowing into Río Apurímac originates on the mountain's northern slopes and then runs its course through other tributaries and rivers to help form the main Amazon River. The fact that the headwaters of Río Apurímac are the source of the Amazon River was confirmed by Brazilian scientists in 2007, who pointed at Quebrada Apacheta as the most probable source of Rio Amazonas.
PERU ADVENTURE TOURS thanks to other expeditions not mentioned in this page. Thanks to those expeditions the region of Mismi Mt is getting more popular for mountain climbers and hikers coming to visit all these remote places located on the heart of the Andes of Peru.
We invite to all explorers and expeditions to contact us and provide relevant information about the source of the Amazon River to add to this page.
TOUR ITINERARY OF ONE DAY TREK TO NEVADO MISMI
Today you need to be ready at 3AM in the lobby of your hotel in Chivay – The tour start with transfer from Chivay up slope of Mismi as known as "Quebrada Carhuasanta (5100M)" and this takes around 2 hours following a gravel road where is the trailhead to the top of Nevado Mismi - According to the season we must bring the technical equipment, this is mostly trekking on high altitude and that is the main reason to get good acclimatization. The ascent to summit takes around 4 hours on a very unclear and rocky path making difficult the steps - If there is snow the way up will be harder and is going to take one or two hours more to reach the summit but you need to be ready for this challlenge experience. From the top we get spectacular view of entire Colca canyon as known as Colca valley, snow-capped and volcanoes of the Arequipa region – No everyone reach the summit of Nevado Mismi to get amazing memories (5585m -18,318ft).
After 30min time for pictures on the summit of Mismi Mountain downhill for about 3 hours following a single track to find the source of Amazon River located on the northeast face of Nevado Mismi – Around midday we find a huge vertical wall (granite) and there exist is a water fountain coming out from the rock and this is recognized as "Source of the Amazon River" as known as the longest river in the world and flows to the Atlantic Ocean.
Around 2PM transfer back to Chivay (2hrs) with ALTERNATIVE stop to visit the thermal pools close to Chivay ($5 USD of entrance) - Then transfer to your hotel in Chivay and end of adventure (Breakfast – Box Lunch).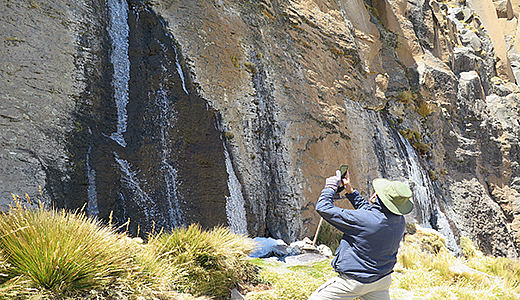 INCLUDES
Pickup and drop-off at your hotel in Chivay
Experienced Mountain English-Speaking guide
Shared 4WD vehicles (Group Service only)
Private 4WD (Private Service only)
Personal porter to carry the items of each participant, meals and camping gear (Private Service only)
Climbing equipment such as crampons, ice axe and rope, only if there is snow on the way up to reach the summit of Nevado Mismi
1 breakfast up on the mountain
Bottle of medical oxygen (Private Service only)
Headlamp - Wind proof gloves - Wool hat - Walking sticks or poles (Private Service only)
SEE THE OUR CAMPING GEAR,
CLICK HERE.
PRICE FOR ONE DAY TREK TO NEVADO MISMI FROM CHIVAY
DATE
TOUR
COST
Any day from
April to Nov.

Some days in the rain season, between december to March - Under request only
ONE DAY TREK TO NEVADO MISMI FROM CHIVAY $198 USD Per Person - Group Service

Trekking To Source Of Amazon River And Climbing To The Summit Of Nevado Mismi
Group Service (Public bus)
2 or more paticipants $198 USD each

Private Service (Private 4x4/Guide)
2 participants $325 USD each
3-4 participants $271 USD each
5 to more participants $225 USD each
Discount: $5 USD of discount for South American Explorers Club Members
Discount 3%: Tour Operators or Travel Agencies Only
Students: $5 USD discount only with valid green ISIC card
All prices stated above are subject to change
Organized Groups: We offer private and any time departure
Group size: 4 participants per guide according technical recommendations - We need minimum two participants to develop this tour - If the group is more than 3 people request special tour quote.
BOOK HERE: We highly recommended to book space prior your arrival to Arequipa
GROUP SERVICE (Min. 2 Participants):
This option is available every day but only if we get 2 or more participants otherwise we reserve the rights to post-pone the date trip or refund your deposit if is not possible to develop the trip with ONLY one participant OR you can UPGRADE the trip for Private Service with additional increase according the new deal.
PRIVATE SERVICE (Min. 2 Participants)
Booking this type of service the trip will done in any case without postpone or changes - The depart and end for this option is suitable according the interesting of customers - This service is designed just for you, the trek guide and driver (no other people from other group).
EXCLUDED
Travel insurance
Hotel in Arequipa
Soft and alcoholic drinks - Drunk participants are prohibited to join the group (no money refund)
Walking poles, gloves, boots, headlamp, jacket, pants and other personal gear
No mentioned food
Tip for guide and camp staff.
WHAT YOU NEED TO BRING/CARRY
Backpack 45Lt to carry your personal items
Rain gear or poncho (plastic ponchos can be purchased in Peru)
Strong comfortable and waterproof footwear
One complete change of clothing (OPTIONAL)
Sweater and jacket (something warm)
Bottle of water 4Lt minimun per person
Flashlight and batteries
Hat or cap to protect you from the sun
Sun block (sun protection cream)
Selection of snacks, chocolate, dried fruit, biscuits etc,
Camera, plenty of film and spare batteries
Swimsuit (if you plan swim in the hot spring of Chivay, after the trek)
Binoculars
Personal first aid kit
Optional: walking sticks or poles.
PRICE FOR LARGE GROUP - TREK LEVEL TO NEVADO MISMI
Find below the best price for small organize groups (minimum 3 people) and large organize groups:
4 participants = $170 USD each
5 participants = $160 USD each
6 participants or more $147 USD each
This is a basically a trek on high altitude but you need to be in good shape and acclimatize to high altitude - 4 hours can be very hard if you are not prepare to hike over 4000M of high - This is not a ice or rock wall climb - If we use the climbing gear as ice axe and crampons is mostly for safety reason hiking on the snow or some ice section (glaciars) but no all year because after August the nevado Mismi is without snow on the backside where is the path to the top - To do this trek you don't need to be experience mountaineering, this is suitable for people in good physical condition - Normally we recommend to bring your own walking poles (no climb gear) because the snow is temporal and soft making more easy the way up.... WELCOME TO MISMI CHALLENGE TREK.
RECOMMENDATION FOR RAINY SEASON - BEST TIME TO TREK/CLIMB - ACCLIMATIZE ADVICE FOR NEVADO MISMI - BRIEFING
December to March there are some days blue sky with good conditions to climb but the booking will be accepted only under resposability of each customer - PERU ADVENTURE TOURS strongly recommend to bring and wear good raining gear as waterproof boots, windproof gloves, windproof jacket and pants, walking poles, windproof backpack (45lt) - The sunglass are very important to walk on the snow and protect your eges from the wind and sun.
The best season to trek to summit of Nevado Mismi is between April and November (less rainy and cloudy) but this period of the year is considered the coldest thanks to the dry winds and low temperature during the night (-15° C +-) - Of course during this "dry season" is possible to get rain any day if the clouds comes up from the east (amazon) and easily can be raining for a week or more time - So, we recommend to check weather report to prevent inconveniences.
For everyone planning a trek to Nevado Mismi we really recommend to spend one night over 3600M and acclimatized to altitude and get better physical performance on the way up to the top - Along the canyon are many alternatives as trekking and biking which is good to adapt your lung to less oxygen or you can try other treks around Cusco and lake Titicaca (3800M) before this trek.
COLCA TREKKING TOURS
COLCA BIKINK TOURS
THE TOUR BRIEFING normally is done the night before the trek in the hotel located in Chivay - The briefing serve to talk about the trekking distance, temperature, weather, timetables, what's included, what's not included, equipments, what to wear and other common questions - If you thinking to avoid this tell us at booking time and we will understanding - Another option is to contact us by email some days before with your relevant questions and finalize everything in advance.
PORTER SERVICE:
This service cost $95 USD per day, to carry your personal items. You will need to carry with you a daypack with your Camera, bottle of water, snacks, a fleece or something warm and a poncho in case of rain (unlikely in Dry season but as a precaution) and anything you will need before lunch as porters do not walk alongside you. Your bag will be waiting for you in your tent at campsites.
Please note there are fines if you give an excess of 18 kgs so try to underpack rather than overpack. You can hire a porter from Arequipa to carry your pack over the base camp.
CONTACT US
For more information about the tour or you request a new date to departure for this tour, please contact us....
Some of our clients e-mail us saying our confirmation e-mails are placed to their spam folder rather than their inbox. We recommend to modify your JUNK or SPAM FILTER SETTINGS to receive our e-mail
peruadventurestours@hotmail.com
on the correct inbox. You may also want to add this email address to your list of known contacts. This will prevent our responses from being filtered into your Junk or Spam mail folder.