Arequipa
Trekking Tours
Climbing Tours
Biking Tours
Horseback Riding
Classic Tours
Sandboarding Tours
ONE DAY HORSEBACK RIDING TOUR IN THE COLCA VALLEY $188 USD Per Person
A Day Riding By Ancient Paths Of The Collahuas Culture
The Spaniards conquered the Colca valley since 1540 and found a rich agriculture terracing along the canyon – They brought the first horses in this zone of the Andes to ride long distances and continue collecting riches of Inca Empire – Those horses were part of the Spanish army to fight with Inca's army and continue conquering territory for the Spanish colony.
Thereafter and until today the horses are used as transport in a different regions of Peru - The geographic variety, different weather conditions and the efforts of many horse owners for more than 400 years developed a unique breed of horse in the world - Today there is "The Peruvian Paso horse", is a native horse breed Peru and protected by Peruvian law - Is a special race for their body proportions and a side walk or "flat step" that will is characteristic.
The Colca Valley is a natural refuge for "The Peruvian Paso horse", extensive agricultural terraces and the benefits of dry weather are the perfect formula to enjoy a ride in a horse race unique in the world.
Not need experience……… Welcome to riding trip in the Colca valley.
1 Day Horse Tours In The Colca Valley - Colca Valley Horse Tours - Horseback Riding In The Valle Del Colca - Peruvian Paso Horses- Ride Tour Of Peruvian Paso Horse - Peru Horse Breed Profile - Horse Riding In The Colca Canyon - The World Of Peruvian Paso Horses - Peruvian Horse World - Adventure Colca Horse Tours - ColcaHorseTrip
TOUR ITINERARY
At 9AM pick up from your hotel of the Colca canyon (Chivay, Coporaque and Yanque) and then transfer to location of our horses – Safety talking about horses and tricks for better riding.
The tour starts from the village of Yanque (3450M) with nice ride along the Colca valley with lot panoramic view of snow-capped of Sabancaya, Ampato and Walka Walka Mountain – We cross the Colca River from the left to the right side and continue riding on narrow path to Ichupampa with a beautiful 400-years-old colonial church in front of little main square.
Continue riding you on narrow path going up to upper zone of the valley to get impressive view of the lot agriculture terraces – Around 1PM will be a brake to rest and enjoy picnic lunch seeing the wonderful of Colca valley and the neighboring mountains.
The second part of the trip will follow narrow trails with fully wildflowers and birds across the canyon seeing Andean Quechua people working their fields and local children saying "hola" as friendship – One of the highlight of this riding tour will be visit to the archaeological site of Uyo Uyo, this is ruins dating from pre-Incas time and well preserved – The walking tour inside the complex takes around 40 minutes to be introduce to Andean world as thousand years ago.
Around 3PM or 4PM return to the ranch and then drop off at your hotel and end of service.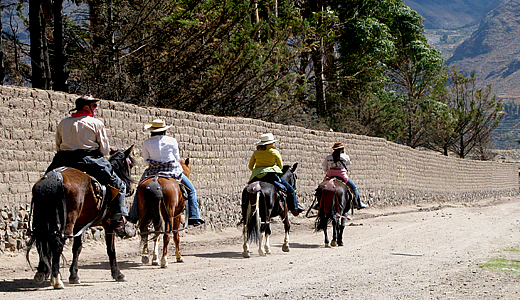 COLCA CANYON HORSE RIDING TOUR INCLUDES
Official English-Speaking guide
5 - 6 hours riding on the first day
Peruvian Paso horses and saddles
Horseman to help you with horses
Snack and drinks
Oxygen bottle and first aid kit for participants and our camp staff
SEE THE OUR CAMPING GEAR,
Click here...
PRICE FOR ONE DAY HORSEBACK RIDING TOUR IN THE COLCA CANYON
DATE
TOUR
COST
Any day
(even rain season)
ONE DAY HORSEBACK RIDING TOUR IN THE COLCA VALLEY $188 USD Per Person

A Day Riding By Ancient Paths Of The Collahuas Culture

Backpacker Service (Join a group/van)
1 to more participants $188 USD each

Private Service (Private van/guide)
2 participants $350 USD each
3-4 participants $285 USD each
5 to more participants $220 USD each
Discount: $5 USD of discount for South American Explorers Club Members
Discount 3%: Tour Operators or Travel Agencies Only
Students: $5 USD of discount only with valid green ISIC card
Organized Groups: We offer private and any time departure
Group size: 8 participants per guide - We need minimum 2 participants to develop this tour
BOOK HERE: We highly recommended to book space prior you arrive to Peru and take private service.
All prices stated above are subject to change.
*You will receive a basic course to ride the horse (beginners)
*We strongly recommend taking the Private Service and you will receive the supporting of the vehicle in case you don't want to continue riding anymore and return to your hotel.
*We recommend to book Private Service to get more flexibility as depart and ending time.
*Group Service include to join a group up to 6 or 8 participants and not flexibility.
*To participate on this tour we suggest having little experience riding long time (5-6 hours)
*The horses are great, well cared, very quiet, peaceful and friendly.
*If you plan to travel from Colca to Puno after your horseback riding trip is possible but this means to START the trip around 6AM and and end the trip around 12PM and we can drop-off you at bus stop in Chivay in order to catch your bus to Puno - This need to be notify us at booking time otherwise you will miss part of the trip without refund.
*We also arrange additional PRIVATE TRANSFER from:
- From Colca Valley to Arequipa cost $220 USD for a van for 6 people capacity (4hrs).
- From Colca Valley to Puno cost $330 USD for a van for 6 people capacity (6hrs).
NOT INCLUDED
Travel insurance
Alcoholic and soda drinks
Breakfast on the first day
Hotel in Arequipa
Tip for guide and camp staff
Hotel in Arequipa
International and internal flight tickets
WHAT YOU NEED TO BRING/CARRY
Day backpack if you take Private Service, you can put your staff in the supporting vehicle
Rain jacket or poncho (December - April)
Strong comfortable and waterproof footwear
One complete change of clothing only on the raining season
Sweater and jacket (something warm)
Bottle of water (Backpacker service)
Flashlight and extra batteries
Hat or cap to protect you from the sun
Sun block (sun protection cream)
Toiletries, towel and toilet paper
Selection of small snacks, chocolate, dried fruit, biscuits, etc
Camera, plenty of film and spare batteries
Sunglasses
Extra money (soles) for tip or to buy some souvenirs
We don't hire our horses, sorry.
CONTACT US
For more information about the tour or you request a new date to departure for this tour, please contact us....
Some of our clients e-mail us saying our confirmation e-mails are placed to their spam folder rather than their inbox. We recommend to modify your JUNK or SPAM FILTER SETTINGS to receive our e-mail
peruadventurestours@hotmail.com
on the correct inbox. You may also want to add this email address to your list of known contacts. This will prevent our responses from being filtered into your Junk or Spam mail folder.
ADDITIONAL BOOKING SERVICES
PERU TRAVEL INFORMATION
PERUVIAN GASTRONOMY INFORMATION
TYPICAL DRINKS OF PERU
People interesting to take this COLCA HORSEBACK TOUR needs to know ride horse on the up and downhill, serpentine trails, jump over the water channels and understand the horses feeling.