Arequipa
Trekking Tours
Climbing Tours
Biking Tours
Horseback Riding
Classic Tours
Sandboarding Tours
ONE DAY TREK AND CLIMB TO MISTI VOLCANO $125 USD Per Person- Group Service
Challenge Trek To Summit Of Active Volcano - 1 Day Tour
El Misti volcano (5825m) haves symmetrical cone of considerable scenic beauty, is located in southern Peru near of Arequipa city, the second largest city in the country, lies at the foot of El Misti in a fertile valley located 2400m above sea level. El Misti is a Quechua name, means the gentleman. El Misti volcano stands at 5825m and lies between the mountain Chachani (6075m) and the volcanoPichu Pichu (5669m), these impressive mountains, located northeast of Arequipa, are visible almost year-round, but especially during winter (April-December).
Misti has been active numerous times since historic records began. The last strong eruption of Misti is thought to have occurred between 1438 and 1471. Many other eruptions have been reported since the mid-15th century affected Inca inhabitants living near the volcano. The last eruption of this volcano was in 1870. Also the archaeologist found several Inca mummies near the crater. Most of the city's colonial buildings were constructed from El Misti's white volcanic stone (sillar).
One Day Tour To Volcan Misti - Trekking & Climbing To El Misti Volcano - El Mysti Trek
Guided Trek To El Misty - Volcan El Misti - Misti Volcano Trek - Climbing Tours To Misti - Certified Mountain Guides To Volcan Misti - Ascenso & Trekking Volcan Misti 5825M - Mountain Climbing Tours In Peru - Arequipa Climbing Tours - Mysty Volcanoes Tours - Trekking To Misti Volcano - Climbing El Misti Volcano In Arequipa - El Misti Organized Ascent - Information About Trek To Misty - Maps Of El Misti - MistiTrek - PeruVolcanoesTours - MistyTours - Tour Reviews Of El Misti - Photo Of El Misti - El Misti volcano In Peru - The Route Of Volcan Misti - 4x4 Transport To Volca Mysti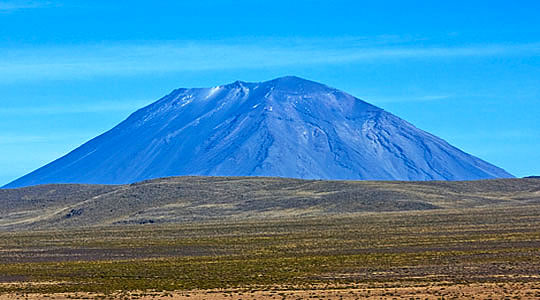 TOUR ITINERARY OF HIKE AND CLIMB TO MISTI VOLCANO
At 00:00HRS (midnight) you will collected from your hotel by experienced and certified mountain guide and 1 hour of travel in our 4x4 truck from the city to the trailhead (3400m), this is the highest point reached by the 4x4. Trek on stony path climbing through bushes and Andean tree forest as known Queñuales and Andean grass. This climbing will during the night following sandy path and sometimes will be necessary to climb small section of rock walls like 1 or 2 meters high.
After 7-9 hours of hard climb you will arrive to the small crater of the Misti volcano (5730m), hike around the crater to see the deepest point of the volcano, you will appreciate volcanic activity of sulphuric gas coming out.
After amazing break we continue climbing to the highest point of the volcano following a sulphur track, where is planted iron cross looking to Arequipa. The highest point of Misti volcano is above 5825m, 30 minutes for picture and spectacular views of volcanic and snow-capped range of south of Peru and the amazing view of Salinas lagoon.
Fast downhill following a dark volcanic sand trail to meet our 4x4 truck located at the bottom of the volcano. Aboard the 4x4 and return to the hotel of Arequipa and end the service.
ONE DAY TREK TO VOLCAN MISTI INCLUDES

GROUP
SERVICE $125 USD P.P

SEMI-PRIVATE
SERVICE
$198 USD P.P

PRIVATE
SERVICE $305 USD P.P

1 English-Speaking Guide (certified)
2 Shared 4WD up to 3400M (drop off/pick up only)
3 Private 4WD transport at any time
4 Meals on the mountain (1B - 1BL)
5 Tent, mats and sleeping bag in case is needed
6 Porter to carry camping gear (food and equipment)
7 Personal porter to carry personal items
8 Climbing equipment (crampons, ice axe, etc)
9 Headlamp & Walking poles
10 Personal medical bottle of oxygen (1m cubic)
11 4x4 rescue evacuation service at any time
12 First aid kit for all participants and our camp staff
13 Pre-talk trek
14 Food and camping gear for our camp staff

All prices stated above are subject to change

YES
YES
--
YES
--
--
--
YES
--
--
--
YES
--
YES

YES
YES
--
YES
--
--
YES
YES
--
--
--
YES
--
YES

YES
--
YES
YES
YES
YES
YES
YES
YES
YES
YES
YES
YES
YES
See the classic map of climbing to Misti Volcano.
NOT INCLUDED
Travel insurance
Soft drinks are okay but alcoholic drinks are prohibited
Drinking water - 4 liters per person for all day
Extra batteries for your headlamp
Tip for guide and camp staff
Wind proof jacket or wind proof pants (can be hired from our office of Arequipa $3 USD per day each thing)
Water proof climbing boot (can be hired from our office of Arequipa $5 USD per day)
WHAT YOU NEED TO BRING/CARRY
Backpack 45Lt minimum
Windproof jacket
Strong comfortable and waterproof boots
One complete change of clothing
Headlamp and plenty of batteries
Sweater and thermal pants and everything you can have to be warm
4 liters of water per person minimum
Hat or cap and sun block to be protected from the strong sun
Toilet paper
Selection of small snacks, chocolate, dried fruit, biscuits, etc
Camera, plenty of film and spare batteries
Sunglass is strongly recommended to protect your eyes from the snow and sun
Your personal medications
PORTER SERVICE
will cost $95 USD per day, to carry your personal items. You will need to carry with you a daypack with your Camera, bottle of water, snacks, a fleece or something warm and a poncho in case of rain (unlikely in Dry season but as a precaution) and anything you will need before lunch as porters do not walk alongside you. Your bag will be waiting for you in your tent at campsites. Please note there are fines if you give an excess of 18 kgs so try to underpack rather than overpack. You can hire a porter from Arequipa to carry your pack over the base camp.
IMPORTANT BEFORE YOU BOOK A TREK TO EL MISTI VOLCANO
PERU ADVENTURE TOURS as a certified tour operator never works as intermediarian or pass our customer to other local operator to develop this adventure - We sell our treks/tours/services and we develop them according our own logistics (transportation, guides, equipments, camp staff and others) without compromise with other tour companies - We really recommend to take lot care before you book a cheap trek to Volcan Misti with other "
tour company
" because easily they can cancel the depart if they don't get more than 4 participants to make a group or they can change the date of your trek to join other later group or they will refund your money saying fake excuses to avoid any responsability as intermediarian.
4x4 RESCUE EVACUATION SERVICE (Group & Semi-Private Service)
This service is available at any time and for Group & Semi-Private Service for $105 USD for picking up from the base of the volcano and drop off at your hotel or near hospital - Normally this happen with people feeling high sickness or other accident on the mountain.
Our tour price doesn't include this service but easily can be covered by your travel insurance.
The PRIVATE SERVICE already have included this service at any time.
RAIN SEASON
December to March. Some days blue sky with good conditions for trekking up to Misti volcano - During the rain season easily we can find lot snow close of the summit and for this section of the trail we need to use ice axe, crampons, rope and harness but everything depends how high is the snow up there - Of course we recommend to bring good rain gear as waterproof backpack and hiking boots, and others.
BEST TIME TO CLIMB THE MISTI VOCANO
April to December, on the rain season same days are with good weather (blue sky) permiting to climb this volcano. before to book your tour please see the weather report - Between June and September is the dry season in all the Andes and the coldest season during the night and we recommend to bring good sleeping bag to stay warm during the night.
ADVICE FOR CLIMBERS - TREK DIFFICULT
To have good acclimatization, good physical conditions and good quality winter clothes. One day before all the climbers will have meeting with the mountain guide at our office or in the hotel, who will give a BRIEFING about this climb and also you can check the quality of the climb gear will be used on the mountain.
THE TREK TO VOLCAN MISTI IS ONE OF THE HARDEST TREK EVEN DURING THE WET AND DRY SEASON - THE WAY UP IS VERY SANDY AND STEEP MAKING HARDER, COLD, HOT, DUSTY, WINDY AND YOU WILL AWARDED WITH NICE VIEW AROUND - TO ALL CUSTOMERS WE RECOMMEND TO BE IN GOOD SHAPE TO GET THE SUMMIT OTHERWISE OUR CAMP STAFF COULD NOT HELP YOU.
All prices stated above may change prior to the travel date. All prices are subject to availability and or can vary without notice at any time.
The information provided in this tour itinerary is intended for informational purposes only and our company (Peru Adventure Tours) can change or update the itinerary without notice for a better performance of the trip or in case by force majeure such as social problems, natural phenomena (climates, earthquakes, etc).
CONTACT US
For more information about the tour or you request a new date to departure for this tour, please contact us....
Some of our clients e-mail us saying our confirmation e-mails are placed to their spam folder rather than their inbox. We recommend to modify your JUNK or SPAM FILTER SETTINGS to receive our e-mail
peruadventurestours@hotmail.com
on the correct inbox. You may also want to add this email address to your list of known contacts. This will prevent our responses from being filtered into your Junk or Spam mail folder.