2 DAYS INCA TRAIL AND CLIMBING TO PUTUCUSI MOUNTAIN $618 USD Per Person
Hike The Short Inca Trail And Climb To The Sacred And Mysterious Mount Of Putucusi In 3 Days
If you are planning a hike 2 days the classic short Inca trail to Machu Picchu and stay one more night in Aguas Calientes expending your time seeing around the Machu Picchu this is a great trip itinerary combining the Inca trail trek to Machu Picchu ruins and the third day some challenge climb to the one mysterious mountain located in front of ruins.
The Quechua name of the mountain is Putucusi (2350m) which means "Happy Mountain".
You already known the Inca trail to Machu Picchu is consider one of the most important and preserve trail in Peru and this enquires to be booked in advance through one certified local tour operator in Peru.
The networks were known as Qhapap Nan (the sovereign's highway). There is remains of the Qhapaq Nan (The Inca trail) throughout Peru that are still used to this day by local farmers sometimes accompanied by pack animals, usually the Llama. The trails were used by the Inca people as a means of relaying messages, carried via knotted-cord Quipu, books, and by memory; and for transporting goods. Messages could be carried by Chasqui runners covering as much as 242km (150mi) per day. There were approximately 2,000 inns, or Tambos, placed at even intervals along the trails. The inns provided food, shelter and military supplies to the tens of thousands who traveled the roads. There were corrals for Llamas and stored provisions such as corn, lima beans, dried potatoes, and Llama Jerky. Along the roads, local villagers would plant fruit trees that were watered by irrigation ditches.
The trek itinerary as known as 2 days Inca trail and climbing to Putucusi Mountain is one of the best alternatives for people wants to discover more amazing landscape around the mountains of Machu Picchu ruins. Wayna Picchu Mountain (2530m), Machu Picchu Mountain (3010m) and Putucusi Mountain are available to be explored taking guided tours with additional night in Aguas Calientes.
Important: Concern about overuse leading to erosion has led the Peruvian government to place a limit on the number of people who may hike this trail per season, and to sharply limit the companies that can provide guides. As a result, advance booking is mandatory.
A maximum of 500 people per day, including guides and porters, are permitted to begin the Trail every day. As a result, the high season books out very quickly.
Note: that the Trail is closed every February for cleaning.

INKA TRAIL TREK FAQS - Trail Permits for the Inca Trail To Machu Picchu

[Inca Trail Trek Permit Availability 2011]
DAY 1: CUSCO - 104 Km - WIÑAY WAYNA - SUN GATE VIEWPOINT - MACHU PICCHU - AGUAS CALIENTES
At 5:00am pick up and transfer from your hotel to the train station of Poroy. Travel by train to trailhead at Kilometer 104.
10am after find the checkpoint over the Ollantaytambo River and start to walk guided by official English-Speaking tour guide into Chachabamba ruin located next of old Inca Trail, this complex was considered the second gate to Machu Picchu. 3 hours climbs the hillside leaving the woods for open grassland till lunch time.
The path continues descend to cloud forest crossing a nice waterfall and then arrive to the impressive Wyñay Wayna ruin, where you will have completely guided tour. Next to Wyñay Wayna ruins are facilities to use toilets and buy drinking water and short rest on the urban area of terraces. We walk slow following the ancient Inca Trail and getting the best view of the Urubamba Canyon and passing the cloud forest up to the final pass named Inti Punku (Sun Gate). From here you will have unforgettable scenery of Machu Picchu ruin and Wayna Picchu Mountain. At 3/4pm we arrive to Machu Picchu gate, if you like we can wait out or inside the ruins for nice sunset over the ruins. The first day entrance to Machu Picchu ruin is with additional cost of the entrance ($89 USD Per Person).
Today you will stay at nice and comfortable hotel in Aguas Calientes town; the room includes private bath and hot shower (L - D).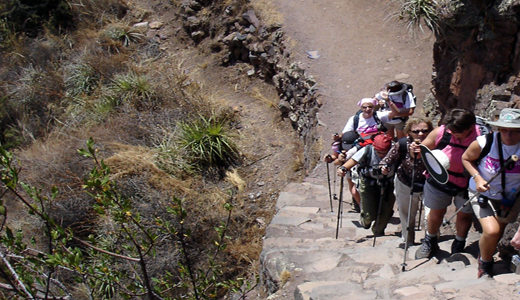 DAY 2: AGUAS CALIENTES - MACHU PICCHU - WAYNA PICCHU MOUNT
At 7am begin of completely guided tour of most important sectors of Machu Picchu which takes around 2 or 3 hours. And then extra free time to explore and climb Wayna Picchu Mountain (2530m), to climb and back takes 2 hours approximately. Then we include a lunch at the Machu Picchu Sanctuary Lodge – Hotel, is one of the best places to have nice food feeling the Inca land atmosphere in the middle of nature.
At 2pm OPTIONAL climb to Machu Picchu mountain (3010m), this is the highest mountain next of the ruins and thius takes around 1 hour to get the top following ancient inca trail.
Aroun 5pm meeting with the tour guide at the main gate of Machu Picchu Ruins and then bus transfer to the hotel in Aguas Calientes or OPTIONAL downhill hike through the forest (1hr). If the time permit you can visit the thermal bath located next of the town.
Diner and stay the second night at the same hotel (B - L - D).
DAY 3: CILBING TO PUTUCUSY MOUNTAIN - OLLANTAYTAMBO - CUSCO
After breakfast you will be picking up from the hotel and then begin the guide hiking to Putucusi Mount (2350m). The new discover Inca trail from Aguas Calientes to the top requires a challenging 1.5 hours trek up the mountain with approximately 1600 wood and rock steps.
The trail is muddy even in the dry season making more challenge the vertical rock steps and wooden ladders, the first part of the trek is through native flora including Pisonay's trees, alisos, ferns, puya palm trees and more than 93 species of orchids. The second part of the trek will be surrounding the mountain and seeing the Urubamba River Valley as the trail ascends the eastern face of Putucusi in switchback.
After appropriate time including explanation about this sacred place where the Incas performed ceremonial and religious rituals to their gods begin descend to Aguas Calientes.
At 1pm OPTIONAL lunch will be can served in Aguas Calientes and then free time to walk around handicraft market until 4pm to catch the train to Ollantaytambo (2hrs). From Ollantaytambo will be 1.5 hours of van transfer to your hotel in Cusco and end of the service (B).
IMPORTANT:
This hike is only available for people in good physical condition and without vertigo problems (dizziness to vertical altitudes).
2 DAYS INCA TRAIL TREK AND PUTUCUSI MOUNTAIN INCLUDES
Backpacker train ticket from Cusco (Poroy) - Trailhead (104km).
Official English-Speaking tour guide.
Entrance to the Inca Trail.
Entrance to Machu Picchu ruin (Second day).
Permit to climb the Wayna Picchu Mountain (day 2)
Porter to carry food.
Personal porter will carry the backpacks (Private Service only).
First day snack (Lunch) and dinner.
2 nights of hotel in Aguas Calientes - room with private bath and hot shower (3* category).
Meals according the tour itinerary

Tourist shared bus from/to Aguas Calientes.

Backpacker train ticket from Aguas Calientes town to Ollantaytambo (Sacred Valley).
Private transfer by tourist van from Ollantaytambo (Sacred Valley) to the hotel in Cusco.
First aid kit and oxygen bottle for any participant and our camp staff
WE HAVE DAILY DEPARTURE and is recommended making your reservation 3 or 4 months before you arrive to Peru.
TOUR SCHEDULE & COST 2012
DATE
TOUR
COST
Any day
(Except February)
2 DAYS INCA TRAIL AND CLIMBING TO PUTUCUSI MOUNT $618 USD Per Person

Hike The Short Inca Trail And Climb To The Sacred And Mysterious Mount Of Putucusi In 3 Days

Backpacker Service (Join a group)
1 to more participants $618 USD each one

Private Service (Private guide)
2 participants $875 USD each one
3-4 participants $827 USD each one
5 to more participants $783 USD each one
Discount: $5 USD for South American Explorers Club Members
Discount 3%: Tour Operators or Travel Agencies Only
Students: $46 USD discount only with valid green ISIC card
Organized Groups: We offer private trekking at any time departure
Group size: 8-12 participants per 2 guides - We need minimum two participants to develop this trek.
BOOK HERE: We highly recommended to book your permit prior you arrive to Peru
All prices stated above are subject to change.
Exchange rate $1 USD = S/. 3.02 (rate may vary daily).
AVAILABLE DEPARTURE DATES 2010
FEBRUARY: The 2 or 4 days Inca trail will be closed for maintenance, not available permit... sorry. Machu Picchu opens all year.
JANUARY - MARCH - APRIL - JUNE - JULY - AUGUST - SEPTEMBER- OCTOBER - NOVEMBER - DECEMBER:
The Inca Trail Trek leaves every Monday, Wednesday and Friday. If you have like to book for other day let know us to add the departure date. We recommend that you make a trek booking as early as possible with bank deposit of 50% and the final balance (50%) can be paid when you arrive in Cusco, one day before we will meet you in your hotel or you come to our local office.
IMPORTANT
The Peruvian government has not announced the increase for Inca Trail permit price 2009; same is happen with the train company from
Cusco
to
Machu Picchu
(
www.perurail.com
). If any of costs listed above change to increase the cost of the trek permit and the train tickets we will update the new price on our website. We will notify by email all our clients affected by the price increase who will be liable for paying the increased cost of the Inca Trail trek upon arrival in
Cusco
.
After you fill the
BOOKING FORM
and you provide us the copy of your passport we will buy your Inca Trail trek permit using the same passport number that you send us with your
BOOKING FORM
. You must bring this same passport with you to the Inca Trail (departure date). If your passport number is different from the number on the Inca Trail trek permit the government authorities don't will accept you to start the trek and also you will not be entitled to a refund.
If you like to stay an extra night in Aguas Calientes we can arrange any hotels. If you spend an extra night in Aguas Calientes we will book your train tickets to return to Cusco on the following day.
NOT INCLUDED
Optional bus down from Machu Picchu to Aguas Calientes on the first day ($6 USD)
Optional entrance to the hot springs in Aguas Calientes ($3 USD)
Towel can be hired for $1 USD at the hot spring - Aguas Calientes
Alcoholic drinks
Last day lunch in Aguas Calientes is not included
Breakfast on the first day
Tips for guide and camp staff
Personal porter to help you to carry your item cost $30 USD per day
WHAT YOU NEED TO BRING/CARRY
Original passport to be showed in the park control of the trail (day 1).
Original and valid International Student Card (ISIC), only if you booked the trek as student.
Hiking boots (waterproof), sneakers is welcome to but for the rainy is not enough comfortable.
Long pants or slacks.
Long-sleeved shirts to prevent you from the sunburn.
T-shirts.
Sweaters and a jacket (something warm for the night).
Rain wear or poncho for the rainy season December - April, but during the dry season can be raining too.
Camera with extra batteries.
Bottle of water, more bottle of water can be purchase at Winay Wayna camping show, in Machu Picchu or in Aguas Calientes town.
Snack (dried fruits, chocolates, etc).
Insect repellent to protect you from mosquitoes along the Inca Trail.
Hat and sun block to protect you from the sun.
Personal toilet items.
First Aid kit (Band-Aids, cotton, bandages, alcohol, aspirin, tablets for stomach troubles, medicines to avoid altitude sickness).
Day pack is good to bring to carry your camera, water, rain jacket. Only if you hire a personal porter to help you with the big pack.
Swimsuit (On the last day there is possibilities to swim on the hot spring of Aguas Calientes – only if time permit).
Optional: Trekking Poles with rubber covers (No damage the Inca Trail), without rubber covers you CAN'T use them.
Optional: Binoculars if you like to appreciate birds along the Inca route.
Optional: GPS to map the campsites, the ruins and the Inca Trail to Machu Picchu.
INKA TRAIL WAETHER
For more information about the weather in the Inca Trail Trek Machu Picchu, and around Cusco region
CLICK HERE.
PORTERS
to carry up to 12Kg = $75 USD per day.
Regarding porters who carry personal items. You will need to carry with you a daypack with your Camera, bottle of water, snacks, a fleece or something warm and a poncho in case of rain (unlikely in Dry season but as a precaution) and anything you will need before lunch as porters do not walk alongside you. Your bag will be waiting for you in your tent at campsites.
Best to put everything up to 12kgs in one backpack for the porter so that you don't have 2 large backpacks in your tent. We can provide you with a big rice sack that is not heavy but also not water proof so use plastic bags around your gear. The porters have large ponchos to cover them and the bag.
IMPORTANT NEW TRAIL REGULATIONS INC (Instituto Nacional De Cultura)
Please note the INC has confirmed a 50% increase on the Inca trail fee for trekkers and porters but from August not January 2007 as previously indicated.
A
- Limited number of people can enter the trail each day (500 PEOPLE PER DAY) and hikers require permits obtained in advance by a licensed tour operator to do so.
B
- Your passport details and ISIC student card if applicable must be presented to the
UGM
park control to obtain a permit. You most scan / fax your valid ISIC card at the time of booking and carry these documents on the trail or risk losing your permit. YOUTH TRAVEL CARD or ISTC is not accepted by the control.
C
- We have daily departures for the 4 day Inca trail (except in all February) and from May to October (high season) you need to confirm your booking at least 3 months in advance if you do not have flexibility in a departure date.
D
- For lower season dates November to April there are often many dates with permits available so just make your reservation through the website and confirm by email the deposit booking. CONTACT US
For more information about the tour or you request a new date to departure for this tour, please contact us....
Some of our clients e-mail us saying our confirmation e-mails are placed to their spam folder rather than their inbox. We recommend to modify your JUNK or SPAM FILTER SETTINGS to receive our e-mail
peruadventurestours@hotmail.com
on the correct inbox. You may also want to add this email address to your list of known contacts. This will prevent our responses from being filtered into your Junk or Spam mail folder.