PUNO - MISTI VOLCANO - COLCA CANYON TREK $539 USD Per Person
From The Highest Navigable Lake Titicaca To Misti Active Volcano And Trekking Into The Colca Canyon, The Second Deepest Canyon In The World In 5 Days And 4 Nights
PERU ADVENTURE TOURS organize one of the best connections to climb Misti volcano in 2 days beginning in
Puno
. This new alternative was designed by PERU ADVENTURE TOURS Mountain guides for travelers coming from the Altiplano and connecting directly to the base camp without loss of acclimatization. The expedition starts in Puno or another point over 3500m. This alternative is better of the classical option beginning in
Arequipa
. Many tour operators travel guide books (lonely planet and others) say spend two nights over 2300m (
Arequipa
) is enough to be ready climb Misti volcano, this is not true because
Arequipa
is not enough high. If you really want to reach summit of Misti Volcano or another high Mountains over six thousand meters we strong recommend spending few nights over 3500m to get better acclimatization and
Puno
-
Lake Titicaca
is the best place for you.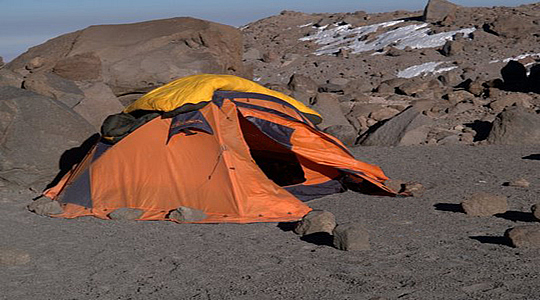 PUNO MISTI VOLCANO CANYON TREK TOUR ITINERARY
DAY 1: PUNO - JULIACA - LAGUNILLAS LAGOONS - AGUADA BLANCA REPRESS - MISTI BASE CAMP (4700M)
Today we offer plenty Andean buffet breakfast served in the hotel. At 7am aboard our private 4X4 to travel through Cordillera de los Andes, the journey pass Lagunillas lagoon, Imata rock forest, Pampas Cañahuas Vicuña park.
After 5 hours of driving from Puno we will do Off Road tour on the slopes of Misti volcano, our 4X4 vehicle drop us up to 4200m. At 1pm begins our climb (3 hours) on black sandy trail up to 4700m where will set up the base camp on the slopes of Misti volcano. Very spectacular view of other mountain surrounded us making felling what tine place we occupy in the world.
Rest of the afternoon is free for rest or try to climb little more up to recognize the trail for next day. Early dinner in the dining tent and overnight in the four season tents (L - D).
DAY 2: MISTI BASE CAMP – ATTACK THE SUMMIT OF MISTI VOLCANO – CHIVAY – COLCA VALLEY
At 2 or 4am wake-up time depending on how is the weather and after a hot energetic breakfast we start the climb to the summit. If Misti is completely covered with snow, we take all our necessary climbing equipment such as ice axe and crampons. From the base camp to Misti summit (5825m) takes between 4 - 5 hours of slow steps and battling with the altitude and following single serpentine trail. After reaching the top, there we stay for a nice time getting spectacular views of the landscapes of Chachani, Pichu Pcihu, Coropuna, Ampato, Hualca Hualca, Sabancaya, Misti, Ubinas, Salinas salt lake, Arequipa valley, etc. If the time permitting descend into the mayor crater from where is possible to see the activity of this volcano or short walk over the top around the biggest crater of this volcano.
After stay at the top of Misti, one hour of downhill to our base camp for lunch, packing all the camping equipment and continue descending to the private 4WD.
At 1pm transfer from the base of the volcano to Chivay (3600m), this transfer takes around 4 hours. Stay in a nice hotel with private bath and hot shower (B – L - D).
DAY 3: CHIVAY - COLCA CANYON - SAN JUAN DE CHUCCHO VILLAGE
At 630am will be the breakfast and then aboard our private transport and transfer to the Condor lookout to see the flight of the Condors. Plenty of time for his viewpoint and then continue the journey along the canyon until arrive to Pampa San Miguel, where is the trailhead and begin the hiking in the second deepest canyon in the world. The hike starts descending around 4 hours following dirt path to the Colca River (2160m), a difference of 1200 meters. We will cross to the other side of the Canyon and ascend to our family cabins or camping place.
16am arrival to the lodge and short walk to the San Juan de Chuccho village (2300m). Get together with the children and locals from this valley, participation in agricultural and other activities. Campfire, dinner and family lodge (B - L - D).
DAY 4: SAN JUAN DE CHUCHO VILLAGE - COSÑIRHUA VILLAGE - MALATA - SANGALLE /OASIS
At 07am continental country breakfast and begin long ascent to our next village called Tapay (3000m). Visit Cosñirhua and Malata (2600m) its church of mixed racial ancestry, sights of the local landscape, very old terraces, snow-capped summits, varieties of flora and fauna.
At 1pm Descend again to the Colca River and arrival to Sangalle valley - Oasis (2100m) and accommodation in the cabins or camping, relax at the swimming pool, lunch and exploration to the abandoned mines, waterfalls and fish for trout in the Colca river.
At 6pm Diner and rest in the bamboo rooms (B - L - D).
DAY 5: CABANACONDE - CONDOR CROSS VIEWPOINT - CHIVAY HOT SPRING
At 4 or 6am have breakfast and begin ascent of three hours to the left rim of the Colca Canyon, to Cabanaconde. We walk up 1100m; this is the last hard and steep trail of this excursion.
At 8 or 11am travel by bus for 30 minutes to the Condor's Cross lookout, viewing many small towns all around the Colca Valley, located in the high part of this canyon. Optional visit to the Hot Springs - Thermal swimming pools in Chivay, 3600m above sea level of altitude.
At 12pm have lunch in Chivay and travel to Arequipa, the bus ride takes around 4 hours to the selected hotel. End of tour (B - L).
MISTI CLIMBING TOUR INCLUDES
Expert mountain English speaking guide
Porters to carry food and camping gear (Private Service only)
Public bus service from Puno to Patawasi (Pampas Cañahuas)
Private 4x4 from Patawasi (Pampas Cañahuas) to Misti Volcano
Public bus service from Patawasi (Pampas Cañahuas) to Chivay (day 2)
Camping equipment (Four season tent and inflate mats)
Dining Tent (Private Service only)
Sleeping bag -15Cº (Private Service only)
Camp tables and chairs (Private Service only)
Experienced cook (Private Service only)
Guide assistant (Private Service only)
Personal porter to carry your items (Private Service only)
Climbing gear (Crampons - Ice Axe - Rope)
Complete food (2 lunches - 1 dinner -1 breakfast)
Plenty of Coca hot tea
Oxygen and first aid kit for all participants and our camp staff
Wind pant - wind jacket - headlamp - waterproof gloves - poles (Private Service only)
Communication system for any emergency
COLCA CANYON TREK INCLUDES
English-Speaking tour guide
Public bus tickets from Colca canyon to Arequipa
All meals according the program (3 breakfasts - 3 lunches - 3 dinners)
Experienced cook (Private Service only)
Tea time (hot drink, biscuit, pop corn)
2 nights into the canyon - we will provide basic bamboo cabins with shared bath and cold shower
One night in Chivay - Comfortable room with private bath and hot shower (Day 2)
Colca canyon park entrance, many tour operators don't include this entrance
Trekking gear such as poles, backpack and head lamp (without batteries) available only for Private VIP service
Personal porter to carry your items (Private Service only)
IMPORTANT:
If you take the Backpacker Service (public bus and join group) you will be assisted by local tour coordinator with the transfer from hotel to bus station and then travel via public bus from Puno (5am) to the half way where you will meet the tour guide and 4x4 machine and then connect to with the trip to climb Misti volcano according the description of the tour itinerary mentioned above.
For Backpacker Service we require minimum two participants.
PRIVATE SERVICE
includes 4x4 transport from Puno, Misti volcano, Colca canyon and drop off in Arequipa on the 5th day.
TOUR SCHEDULE & COST 2013
DATE
TOUR
COST
Any day between April to November

PUNO - MISTI VOLCANO - COLCA CANYON TREK $539 USD Per Person

From The Highest Navigable Lake Titicaca To Misti Active Volcano And Trekking Into The Colca Canyon, The Second Deepest Canyon In The World In 5 Days And 4 Nights

Backpacker Service (Public bus/group)
1 to more paticipants $539 USD each one

Private Service (Private 4x4/guide)
2 participants $848 USD each one
3-4 participants $788 USD each one
5 to more participants $664 USD each one
Discount: $5 USD of discount for South American Explorers Club
Discount 3%: Discount for Travel agencies and travel agents
Students: $5 USD of discount only with valid green ISIC card
Organized Groups: We offer private service and any time/day according request, ask our special rates for froup more than 5 climbers.
Group size: 4 participants per each guide according tecnical recommendations.
BOOK HERE: We highly recommended to book this tour prior you arrive to Peru.
All prices stated above are subject to change.
Exchange rate $1 USD = S/. 3.02 (rate may vary daily).
NOT INCLUDED
Travel insurance
National and International airplane tickets
National and International airport tax
Soft or alcoholic drinks
Breakfast on the first day
Hotel in Puno and Arequipa
Tipping for guide and camp staff
Laundry service
Flight confirmations
Phone calls
RAINING SEASON
November to April, some high passes are covered with snow. This tour leave every day even the rain season.
BEST TIME TO CLIMB THE MISTI VOLCANO
After raining season (April to June) the mountains are completely covered with snow and the slops are cover with new vegetation and wildlife amazing and spectacular views for photos lovers.
ADVICE FOR CLIMBERS
On the rain season take you rain gear and some medicines for altitude, some of this medication are Coramina or Soroche pills both can be buy in the local pharmacies.
We recommend to spend few nights above 3800m (Lake Titicaca) to get good acclimatise to the altitude.
WHAT YOU NEED TO BRING/CARRY
Backpack 70Lt minimum
Sleeping bag -10ºC (can be hired from our office in Arequipa $5 USD per day)
Windproof jacket
Headlamp with plenty of batteries
Strong comfortable and waterproof boots
One complete change of clothing
Sweater and thermal pants and every thing you can have to be warm
5lt of water per person minimum
Hat or cap and sun block to be protected from the strong sun
Toilet paper
Selection of small snacks, chocolate, dried fruit, biscuits, etc
Camera, plenty of film and spare batteries
Swimsuit for the thermal pools in the Colca Canyon
Sunglass is strongly recommended to protect your eyes from the snow and sun
Your personal medications
According the program you don't will back to Puno, which means to bring all your stuff and can be storage in our 4x4 machine where will stay safe until your return from the expedition.
Porters will cost $45 USD per day, to carry your personal items. You will need to carry with you a daypack with your Camera, bottle of water, snacks, a fleece or something warm and a poncho in case of rain (unlikely in Dry season but as a precaution) and anything you will need before lunch as porters do not walk alongside you. Your bag will be waiting for you in your tent at campsites. Please note there are fines if you give an excess of 18 kgs so try to underpack rather than overpack. You can hire a porter from Arequipa to carry your pack over the base camp.
CONTACT
For more information about the tour or you request a new date to departure for this tour, please contact us.... Some of our clients e-mail us saying our confirmation e-mails are placed to their spam folder rather than their inbox.
We recommend to modify your JUNK or SPAM FILTER SETTINGS to receive our e-mail
peruadventurestours@hotmail.com
on the correct inbox. You may also want to add this email address to your list of known contacts. This will prevent our responses from being filtered into your Junk or Spam mail folder.