GUIDED BIKE TOUR FROM PUNO TO THE RAINFOREST OF PUERTO MALDONADO SINCE $562 USD Per Person
Downhill Mountain Bike Tour From The Highest Navigable Lake To Amazon Jungle Of Peru In 3 Days
The Southern
Selva
regions of
Peru
have only been systematically explored since the 1950s and were largely unknown until the twentieth century, when rubber began to leave
Peru
though Bolivia and Brazil, eastwards along the rivers. The forest of this lowland region (200m) is technically called sub-tropical Moist Forest, which means that it receives less rainfall than tropical forest and is dominated by the floodplains of its meandering rivers.
PERU ADVENTURE TOURS offers this new alternative trip for adventurous travelers who want a downhill mountain bike from the highlands (Tiawanaco culture –
Lake Titicaca
4400m) to the dense rainforest of
Puerto Maldonado
(200m). The descent of 4200 meters through snow-caps, rivers and deep canyons offering spectacular panoramic views of the mountain walls of the Andes, cloud forest, picturesque Andean and Amazonian village along the road. The scenery of this route is indescribable by the great variety of flora and fauna that exists in each ecological floor along three amazing days touring this vast territory in bike specially equipped for off-road tours in
Peru
.
This downhill on mountain bike is designed for travelers looking for a new experience with many contacts with local people, tasting the local cuisine, spending nights in small family lodgings with little presence of other tourists.
This is not a classical guided and easy tour, this is a new and challenge experience with nature and essence of the local customs without classic looks for tourism.
PERU ADVENTURE TOURS invite you to start your discovery the Amazon of
Peru
on two wheels along 348 km of full adventure.
DAY 1: PUNO/JULIACA - MACUSANI - OLLAECHEA - SAN GABAN
TERRAIN:
Affirmed, dusty and muddy (Downhill)
DISTANCE:
102km
LEVEL:
Easy
HIGHLIGHTS:
Andean Lanscaped, Mountain range, canyons, cloud forest, Andean remote village, Inca terraces, rivers and lagoons.
WEATHER CONDITIONS
: Cold wind at the begining of downhill (2ºC - 15ºC), dry and some months can be raining even if you do this tour on the dry season (May - December).
DAY 2: SAN GABAN - PUENTE IÑAMBARI - MAZUCO
ROAD CONDITION
:
Affirmed, dusty and muddy (Hownhill and cross country).
DISTANCE:
78km
LEVEL:
Easy - Medium
HIGHLIGHTS:
Cloud fores, green canyon, waterfall, rivers, remote villages and lot of flora.
WEATHER CONDITIONS:
Hot since 7am to 5pm (20ºC - 32ºC). Some day can be raining even if is dry season (May - December). If is raining is not bu to continue biking.
DAY 3: MAZUCO - SANTA ROSA - CANDELARIA (110KM) - PUERTO MALDONADO
ROAD CONDITION:
Affirmed and paid road (Cross country - Mustly flat).
DISTANCE:
50km
LEVEL:
Medium - Hard
HIGHLIGHTS:
Full flora along the road, rivers, cascades and
and some rare animals along the oute
.
WEATHER CONDITIONS:
This day will be very hot (25ºC - 38ºC) making hard to continue pedaling.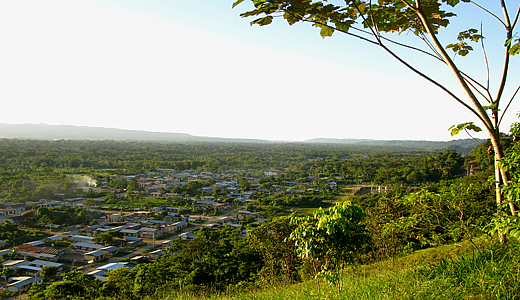 BIKE TOUR FROM PUNO TO PUERTO MALDONADO INCLUDES
Private supporting vehicle during all tour (Private Service only)
Public transportation between Puno and Puerto Maldonado (Backpacker Service only)
English-Speaking guide
3 nights of local accommodation
Camping gear as tents and mattresses (Private ervice only)
All meals (2 Breakfasts - 3 Lunches - 2 Dinners)
Food and lodging for our camp staff
GT - TREK - BIANCHI MT bikes in maintenace (full disc brakes)
Gloves; windproof and full-finger glove which can also be worn during the cold season or high altitudes
Helmet; light ventilated and comfortable for your head
Plenty of drinking water and snack (Private Service only)
Repair Kit and new parts
TOUR SCHEDULE & COST 2013
DATE
TOUR
COST
Any day
(even the rain season)
GUIDED BIKE TOUR FROM PUNO TO THE RAINFOREST OF PUERTO MALDONADO SINCE $562 USD Per Person

Downhill Mountain Bike Tour From The Highest Navigable Lake To Amazon Jungle Of Peru In 3 Days


Backpacker Service (join group)
1 to more participants $562 USD each

Private Service (private 4x4/guide)
2 participants $835 USD each
3-4 participants $752 USD each
5 to more participants $580 USD each
Discount: $5 USD of discount for South American Explorers Club Membes
Discount 3%: Tour Operators only
Students: $12 USD of discount only with valid green ISIC card
Organized Groups: We offer private and any time departure
Group size:
Backpacker Service up 4 participants per guide
Private Service up 5 participants per guide and supporting vehicle
BOOK HERE: We highly recommended to book space prior you arrival to Peru
All prices stated above are subject to change.
Exchange rate $1 USD = S/. 3.02 (rate may vary daily).
DEPARTURES
Daily departures are available between April to November (Highland dry seson). We recommend to check the weather before to book this bike tour. Some days can be raining even if is dry season and we recommend to bring rain gear.
During the raining season (December - March) we don't recommend to make this tour because the first day of the tour can be complicate because the rain is very hard on the Altiplano.
PRIVATE SERVICE
We really recommend to book this trip with private service, this private service include a supporting vehicle whole bike tour. If you book the backpacker service you must need to know the tour will be more hard and in case the biker (s). feel sick or tired the only option we have is to catch public busses between each place to spend the night. If you decide to book the backpacker service you must need to be in good physical conditions to complete all the bike itinerary.
NOT INCLUDED
Soft and alcoholic drinks
Sleeping Bag; is necesary only if you book Private VIP Service and if you liek to make camping instead to spend the night in little basic accommodations. The sleeping bag can be hired from us for $5 USD per day (-10ºC)
Headlamp will be necessary to walk out of the family home or to walk to the party place
Breakfast on the first day
Extra not mentioned snack and drinking water (water can be buy along the route)
Mosquito net
Cycling shoes
Tips for guide and camp staff
WHAT YOU NEED TO BRING/CARRY
Backpack to carry your personal item such as toilet paper, towel, etc
Sleeping bag; only if you book this tour with private VIP service
Boots or tennis shoes to cycle long distances
Rain gear and summer clothes
Water bottle to be refill every day before or after each cycle time
Flashlight and batteries
Hat or cap to protect you from the sun
Sun block (sun protection cream)
Camera, plenty of film and spare batteries protected with plastic bag
Sunglasses
Vacination for yellow fiber or malaria (ask your doctor before to go in this tour)
NOTE
: This tour include stay in local accommodation with toilet and shower facilities but they are very basic and some days we can't find hot shower, you must be prepare for this unconfortable situation. Sorry but we can't do to much when there is not good places to spend the nights.
CONTACT US
For more information about the tour or you request a new date to departure for this tour, please contact us....